Should I travel by trains in Ukraine? My Observations
If you are reading this article you are wondering what the best way is to travel between the cities in Ukraine. you must be wondering if you should travel by trains in Ukraine. Ukraine is the largest country in Europe that lies entirely in the European continent. That makes distances between the cities very long! Distance between L'viv and Donetsk is similar to distance between L'viv and Munich or Venice. This not only depicts how vast is Ukraine, but also points to why there is a visible difference between Eastern and Western Ukraine.
Should you travel by trains in Ukraine? – Yes!
If you are travelling from eastern corner to the western corner in Ukraine, then flying might be a viable option. However, if you are in Kyiv which is almost in the center, going in any direction is not that long. Moreover, with the relatively newer high-speed trains you can visit most of the cities from Kyiv within four to six hours.
I had a chance to travel between Kyiv and L'viv in the first class of a fast-intercity+ Hyundai Rotem train as well as in the first class of a regular train. I love trains and I have travelled in trains in India, Japan, Russia, Switzerland, USA, UK and Canada (not including airport trains or metro trains). Not a lot of countries to add in the list, but I have some reference to compare my journey in trains in Ukraine to the rest of my similar journeys in different countries.
If you have not been in the Ukrainian trains before, be sure that you might end up making some friends.
No security check in the Railway Stations.
One of the reasons I love trains over flights is that there is no need to arrive 2 hours earlier for security check. However, this is changing recently. In Russia, almost every railway station has security check and if you are travelling by high speed Sapsan train then you might have to cross two security checks. Luckily it takes only 5 minutes.
I was happy to see that you do not have to pass through any security checks when you travel by trains in Ukraine. I do not know if it is a concerning or not, but I like it. This is also an answer to everyone who thinks travelling to Ukraine is dangerous. It is all very normal in Ukraine, may be more than where you are from 😉
No indication of platform number on the platforms.
I am the type of guy who likes to reverify everything. Do I still have my passport? Is my wallet in right place? Do I have enough battery in my phone? When I am on a railway platform waiting for my train, I like to reverify if I am standing on the right platform. Not that I have any bad experience of ever being on a wrong platform, but still. It was a bit uncomfortable to realize that there was no marking of platform number on the platforms in Kyiv and L'viv railway stations.
So how do you make sure you are on the right platform?
As soon as you enter the station you will see a huge status board which has information about all the trains, their arrival and departure time and the platform number. Check the platform number for your train on this screen, then take the alley to all the platforms. You will see the platform numbers written on this alley pointing to the stairs. Confirm that you are taking the correct stairs, because after that you may not be able to confirm.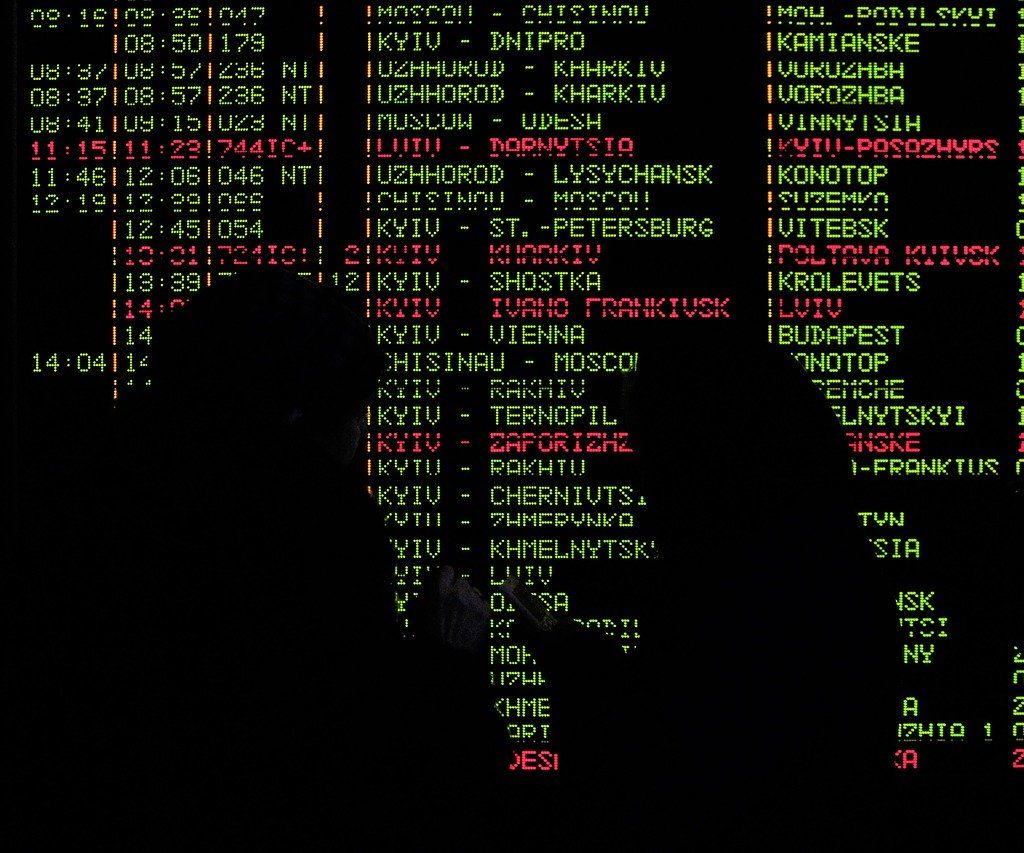 No indication of wagon number on the platforms
There may not be any indication of where the wagon of your coach might stop. I observed that mostly people were just chilling at one place while waiting for the train. You must wait for your train to arrive and find the coach you will be in.
Tickets and identity will be checked before you board
When you travel by trains in Ukraine, you might find yourself on the wrong platform, however, you won't find yourself in the wrong train. Unlike in many other countries, a ticket checker will check your boarding pass and your identity card before you board the train. I have seen the similar procedure in Russia and Canada. However, in India, Japan and USA you have ticket checker coming to your seat to verify your ticket.
You must keep your passport and ticket handy before you board. My passport was deep inside my handbag, I only had my US driving license in my hands. This made the ticket checker a little uncomfortable, but they let me in because there was a long queue of people behind me.
Boarding the train can be difficult
If you are carrying a heavy luggage with you, boarding and alighting a regular Ukrainian train may not be easy. I noticed that the level of train coaches is way higher than the platform at the station itself. You must climb a few stairs as you get in your coach. This can be troublesome as you try to make your way in through very narrow stairs.
Finding my seat was also a bit confusing. Luckily there was a guy who helped me. Since, I do not know Ukrainian properly, I used four rules of using Russian language in Ukraine to get a friendly response!
Luckily this was not a problem in the newer intercity trains, you can enter without having to climb any stairs, thanks to low floor coaches.
Not enough space for large luggages
While boarding a regular train could be difficult with large and heavy luggage, stowing it in the train can also be a problem. You can lift the seat/berth of the train and under it you have plenty of space to stow your luggage, but my airline check in size luggage could still not fit in there. So, I put my luggage on the top berth, which I think is ab it risky, but I had no other option.
In faster intercity trains you have enough space to stow your luggage, I had no issues in it.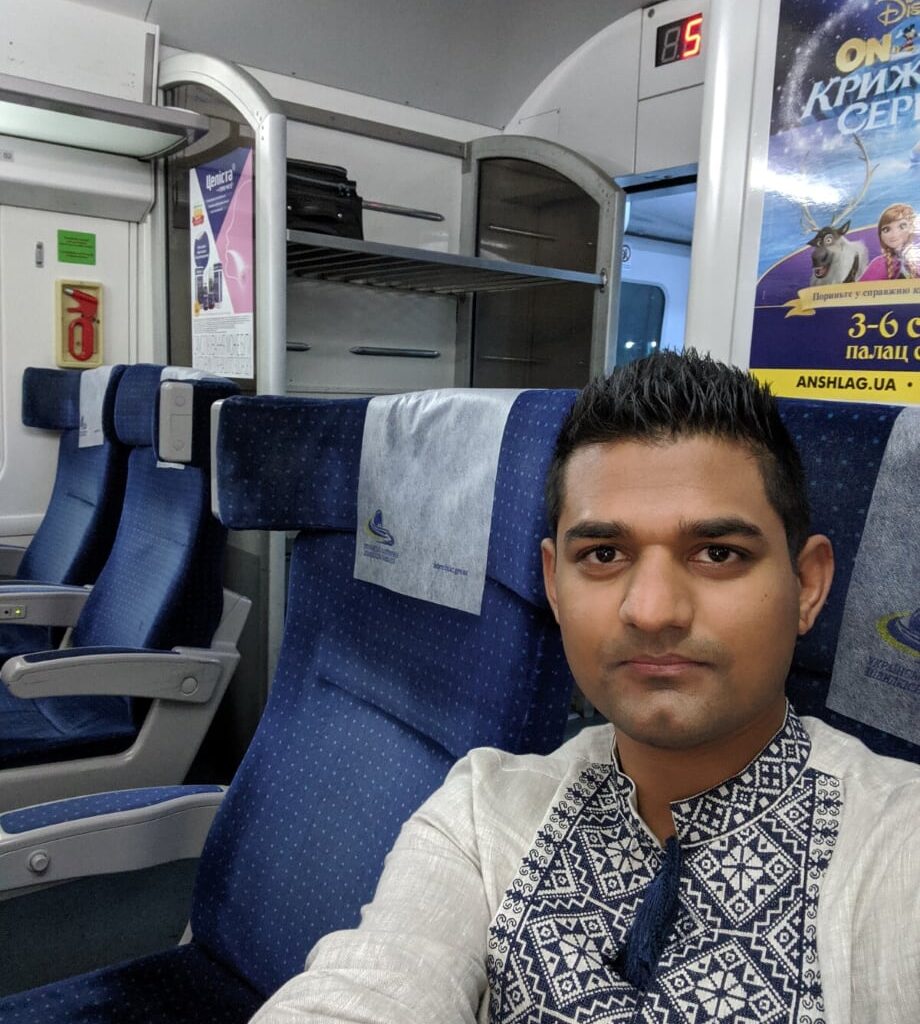 Vegetarian Sandwich in Intercity
The food in the first class of intercity train is included in the price. I was surprised that in my train from Kyiv to L'viv I could find a vegetarian sandwich. Even though the concept of veganism and vegetarianism is not new to Ukraine. It was a huge sandwich and it was pretty good. The server in the train was very happy to see me finding a vegetarian option!
While sandwich may not a traditional food in Ukraine, There are many traditional vegetarian and vegan options in Ukraine.
However, there was no free food in the first class of the regular train on my journey back to Kyiv from L'viv.
Tea is not free in the trains
Interestingly, my food was included in the price, but not the tea. They will not charge you for the tea right away. They came back to me after an hour asking for the money. I was a bit confused because usually tea is free of charge or they charge you right away. Anyway, it was only 20 UAH which is around $1 for which they did not provide me with any receipt.
On my return journey from L'viv to Kyiv, they served the tea in a very special glass, which reminds me of old Soviet times.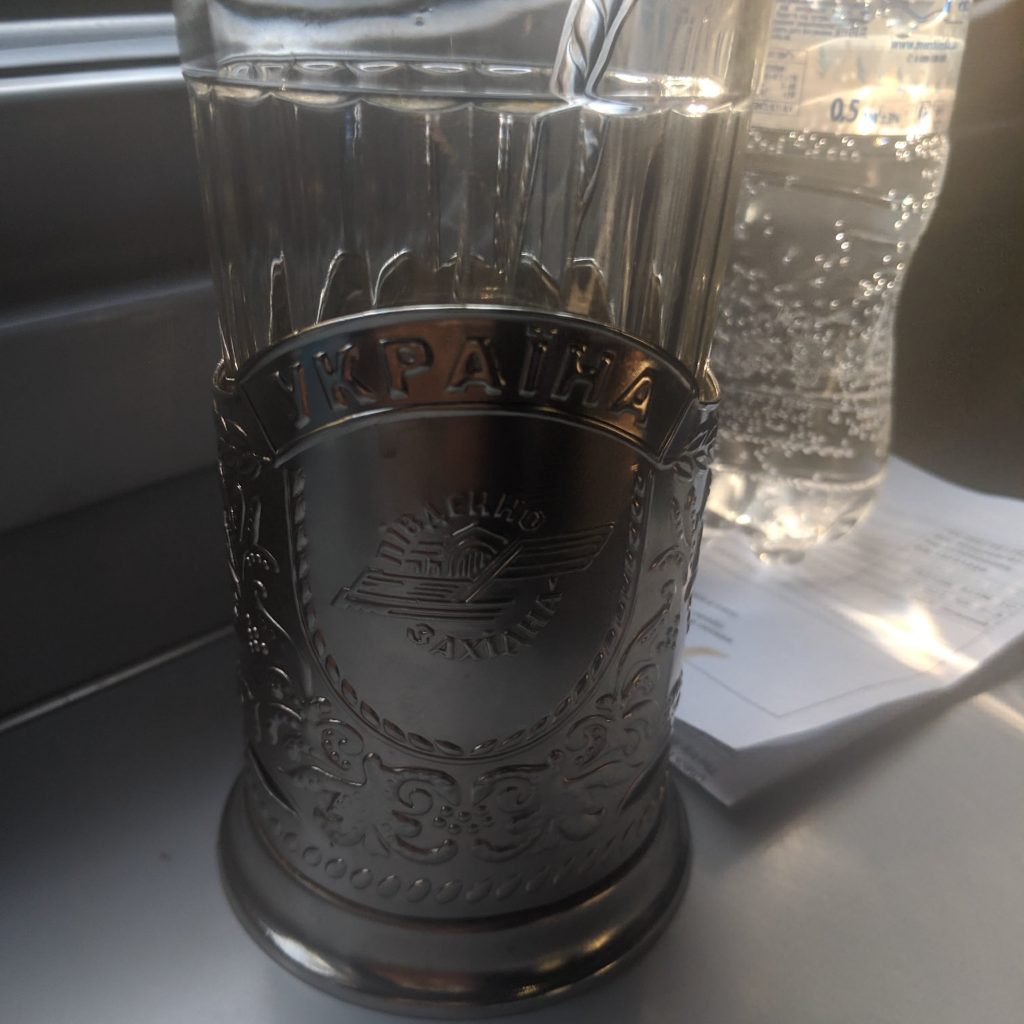 No Wi-Fi in Trains/Metro
Honestly, my entire ride in the train in Ukraine was very smooth, my only problem was that there was no Wi-Fi. Moreover, the mobile connectivity was not very good to use the cellular internet. However, it works when you are near a city.
I will travel by trains in Ukraine again!
My journey in Ukrainian trains was comparable to most modern train experiences I have had around the world. It is safe, it is punctual, it is smooth and clean. If you are in Kyiv, I believe travelling by trains is the best way to explore other cities such as L'viv, Odessa and Kharkiv. Book your trains only from the official Ukrainian Railway website. Print your boarding pass or save it in your mobile phone. It is fine either way. Do keep your passport handy and let me know in comments if you will travel by trains in Ukraine.
What next?
Do you like my article? Let me know in comment section if I missed anything or if you would like to know more about something else.