Popular Vegan and Vegetarian Cuisine of Ukraine
Cooking is one of the oldest arts in the world. You can find reflection of special and inherent tastes in the cuisine of each nationality. Ukrainian dishes are an integral part of Ukrainian culture, traditions and various rituals. It is not a surprising fact that today Ukrainian food finds its place among the most diverse and exciting cuisines in the world.
Ukraine is widely perceived as a predominantly urban country. Ukrainians are well-known for their revering attitude to agriculture. They are used to preparing meals from the products available in their gardens, which is both cost-effective and nutritious.
Ukrainians are very fond of their cuisine. It is because of this, they have preserved the ancient recipes and techniques of cooking each dish and passed them through generations. Many Ukrainian dishes consist of simple ingredients, which are suitable for vegetarians and vegans.
Ukrainians have been always known for their hospitality. In fact, whenever there is a significant event, such as a child birth, a wedding, a funeral, a harvest, or New Year's holidays, you cannot celebrate without preparing unique dishes. Traditionally, in every house, women prepare special dishes during these events or festivals. Subsequently, these dishes began to bear the name of the so-called ritual or event. These include Uzvar, Kutya, Borscht and much more. 
Ukrainian Vegan Borscht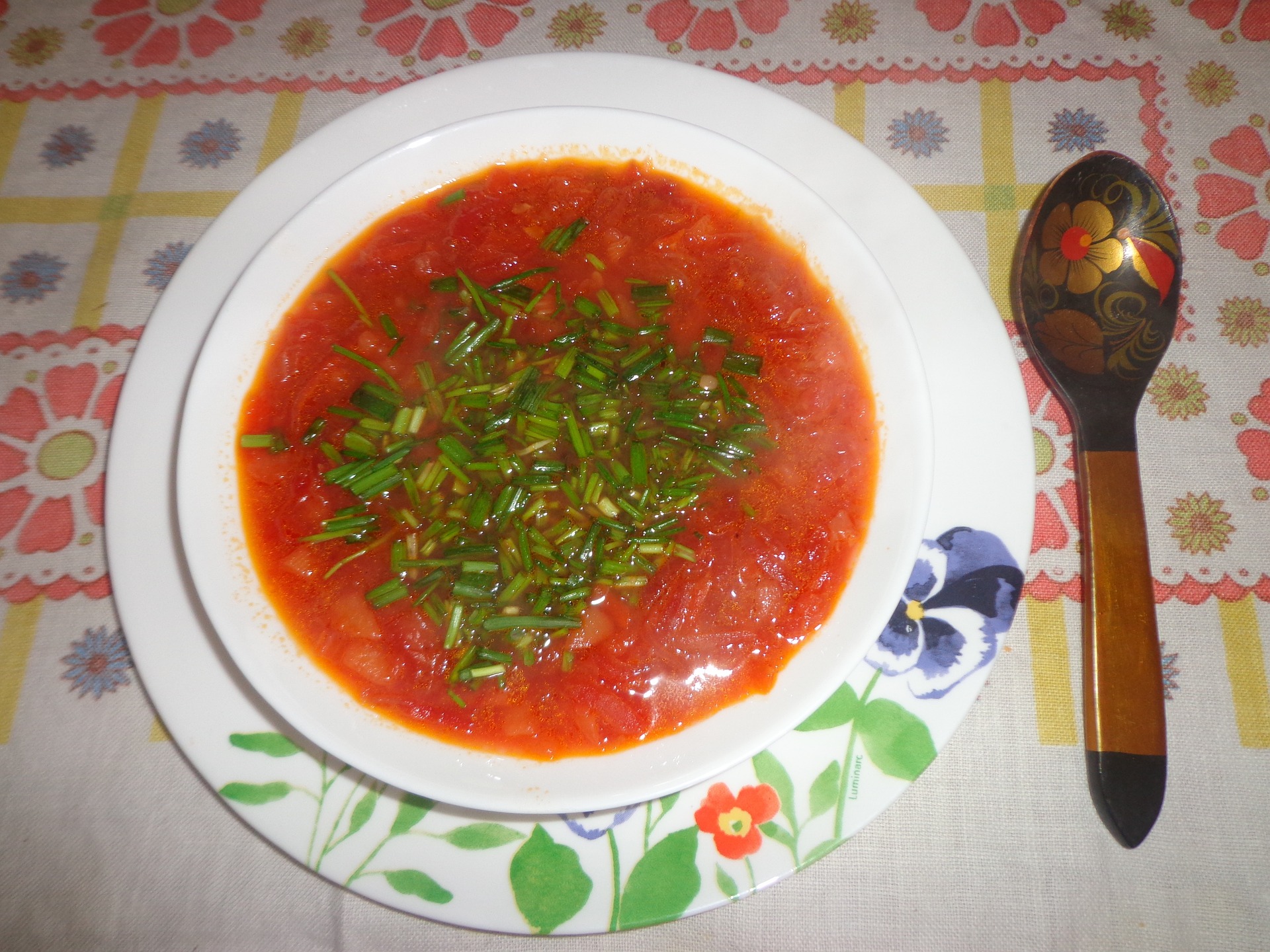 Each hostess has her own unique recipes. However, if you speak about traditional, exclusively Ukrainian cuisine, then the crown place in the list of dishes goes to borscht. No wonder, as the saying goes: "when there is no borscht in the house, then there is no food at all." Borscht is one of the most popular dishes in Ukraine. There are mainly three varieties of borscht. One of them is the red borscht, the most beloved of all. You can prepare traditional Ukrainian borscht with cabbage, beets, carrots, parsley, and with potatoes. People prepare red borscht not only as a daily dinner, but also for Christmas, wedding or baptism. You can pair borscht with sour crème. Once the crème is added Borscht is not vegan anymore, but vegetarian.
Ukrainian Bread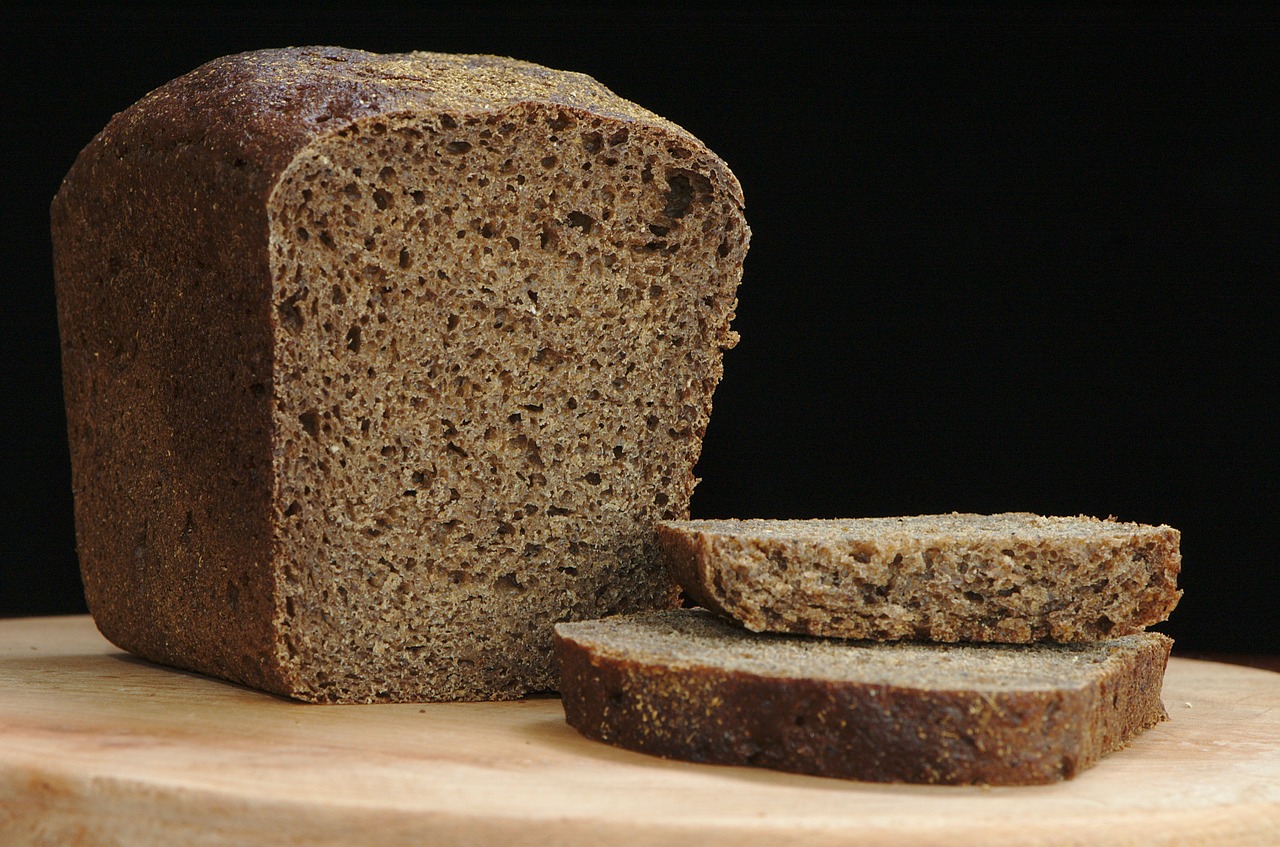 Ukrainians love their breads and the country is famous for its dough products. In fact, Ukraine is famous as the bread basket of Europe. It is not just because of its varieties of bread, but also bumblebees, pancakes, potatoes, buckwheat, and many other delicious dough products.
Bread is the most distinctive, most popular, most significant attribute of Slavic food. Baked products are common in Ukraine as they are low in calories. People eat the bread with soups, potatoes, and even porridge. One of the most popular bread in Ukraine is made with leavening solution. People bake it in a well-fired oven placing the cabbage leaves on the loaves. You can prepare it all at once for the whole week. In summer, Ukrainians eat fresh cucumbers, fruits, and berries with a slice of tasty bread. Usually people grow these fruits and vegetables in their own yard or garden. 
Vareniki, Ukrainian Vegan or Vegetarian Dumplings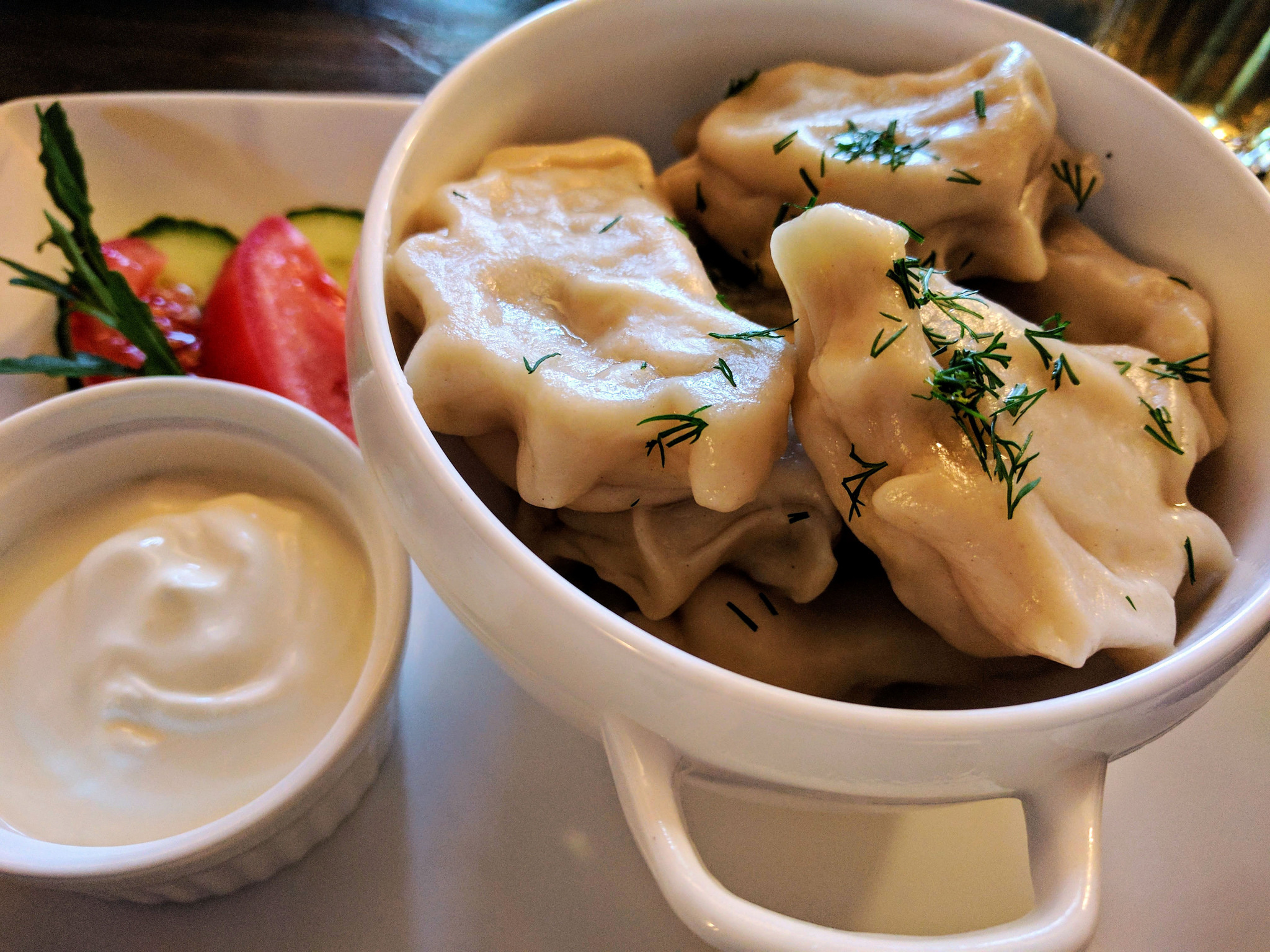 When we are talking about vegan and vegetarian food from Ukraine, It is impossible not to mention Vareniki (dumplings). Vareniki are delicious dumplings. You can pair them will with sour cream if you are a vegetarian. You can find them stuffed either potatoes, mushrooms, cabbage, spinach, poppy seeds, cranberries, cherries, berries, apples, fried fruits, beans, peas puree, caramelized onions or even millet and buckwheat porridge. Not just that! You can find many legendary literary work that mentions vareniki! They are perfect for both vegetarians and vegans. Vareniki were rarely present in the daily meal of a Ukrainian peasant. They made vareniki occassionally, such as on Sunday or on festival.
Vegans should avoid sour crème and cheese fillings. Please confirm with the server or the host if the dough of vareniki contains any eggs. 
Deruni
Another popular vegetarian dish is Deruni (potato pancakes). It finds its place with enormous popularity in the folk cuisine, especially in the northern regions of Ukraine. Ukrainians eat this delicious meal for breakfast or supper, most often – on Sunday.
Ukrainian dishes are mostly simple, unpretentious, but delicious, creamy and aromatic. What is the secret here? I believe that it is the love that every Ukrainian woman puts into the food at the time of cooking!
If you decide to come to Ukraine on vacation, you might need a Ukrainian tourist visa. Find out if you need a Tourist Voucher in order to get Ukrainian Tourist visa.
Also, you might want to check out four rules of using Russian in Ukraine.