Vegetarian and Vegan Food in Russian Stolovaya – Cheap, Healthy and Homely
Are you in Russia on a long trip? Are you tired of eating in restaurants every day? Do you think you can do with some cheaper, healthier and lighter food options in Russia? If you said yes to any of the questions above, then let me introduce you to Stolovaya.
What is a Stolovaya?
It is difficult to explain the concept of Stolovoya in one word, but I will do my best to explain and you will love to visit it. Stolovoya is like a canteen or cafeteria or officer's mess that you can find in any part of a Russian city. You will find all the food items displayed on a glass covered shelf like in a buffet. However, Stolovaya is different from a usually unlimited buffet in two ways:
The quantity of each serving is limited and is mostly served by the staff
Any item you add to your plate also adds to the cost.
The shelf where food is displayed has a railing in front of it. You have to grab a tray and place it on the railing and slide it towards the cashier while you add food item to your tray.
What can I find in Stolovaya as a Vegetarian or Vegan?
If you are vegetarian or vegan, the food here is simple and light. I was surprised to see how much non-meat options these places have.
Common vegan food that you can find in a Russian Stolovaya
Boiled beet root salad
Beet root and violet cabbage salad
Mushroom and vegetable soup
Potato purée
Fried potatoes
Boiled potatoes and beans
Kompot (Russian fruit drink)
Grechka (Russian Buckwheat)
Rice
Common vegetarian food that you can find in Russian Stolovaya
All of the above
Peirogi with Cabbage/mushroom/potato filling
Khachapuri (bread with cheese filling)
Potato with cheese
Beans with eggs
Syrniki (fried quark pancakes)
Blini (Russian pancakes)
Desserts (mainly cakes)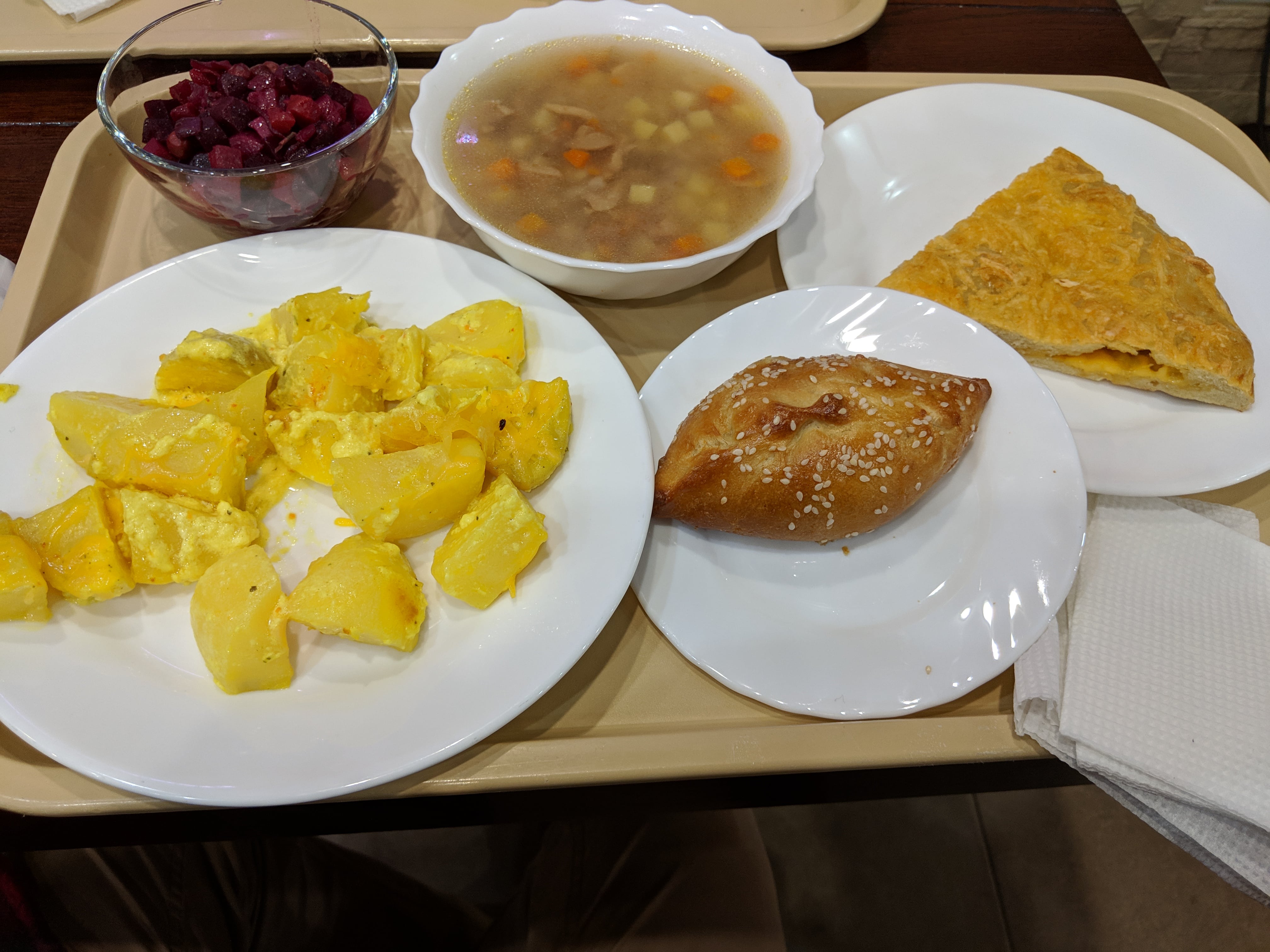 These are typical common vegan and vegetarian food that I found in different Stolovayas across St. Petersburg. There could be slightly different menu in your Stolovaya, but vegetarian and vegan options should not differ much.
Where can you find Stolovaya?
I suggest download Google maps and Yandex Maps apps on your phone. A good tip is to download offline maps of the city you are visiting before travelling to save data. Just search for Stolovaya in these apps and you will find many Stolovayas around you. If you are in a busy section of a city, you might find them on every street. Sometimes they are next to each other.
How much does it cost?
As I mentioned above each item that you add-on your plate adds to the cost. I eat slightly more than an average person. Each item is very reasonably priced. Sometimes I paid for two people and together the bill would stay between 350 to 400 Rubles that is about 5 USD  for two people!!
You can pay by card in most of the Stolovayas in St Petersburg. However, I will still suggest confirming with the staff before buying anything.
A general tip given by my hotel Crowne Plaza Ligovsky was to keep the money in the safe in hotel and carry only credit card due to the presence of many thieves in the city. I had one such personal experience in St. Petersburg.
Who goes to Stolovaya?
I have seen that Stolovaya is the number one choice for many domestic Russian tourists. Many office going people also visit Stolovaya over lunch. Last time when I was in Moscow, my friend who is an investment banker, took me to a Stolovaya near her office. I do not see many international tourists here. I did see some Chinese and American tourists. This may not be a very popular choice among western tourists. I believe that is because of lack of information or a lack of will to try something new or unusual.
If you are still reading, I hope that now you know more about Stolovaya. Would you like to visit and try this Russian style dining? Leave any questions, comments or suggestions in the comment section below. Check out our Vegan Trekker Russia guide to find answers to your various questions about travelling to Russia as a vegan.