Vegan Street Food in Bucharest, Romania
While back in Florida people were decorating Christmas tree in their homes, I was gearing up to celebrate two Christmas' in two countries. More about that in my next few articles. I was in Bucharest last year to celebrate Christmas in a very traditional Romanian style. It was my dream to visit this country for past 11 years. That time I had no idea that I would be eating vegan street food in Bucharest in front of Palace of the people!
Romania is a beautiful country. Its cities, its castles, its mountains and its varied culture has a lot of mentions in various travel journals. Unfortunately, this time I did not get a chance to explore Romania in a way that it deserves. Let's blame it on time constraints and bad weather. Nevertheless, I spent my time in a most valuable way with a Romanian family who introduced me to Romanian culture, Romanian village, music and of course Romanian vegan and vegetarian cuisine.
Bucharest Christmas Market
It was the beautiful and cold evening of 25th December. My friends and I decided to check out Christmas market near the Palace of the People. It was a huge market with tall decorated Christmas trees. There were about seven to eight rows of stalls selling souvenirs, mulled wine, snacks, meals and desserts. There was a live concert performed by famous artists such as Loredana and many other local bands.
Traditional Vegan Street Food in Bucharest
The warmth around the food stalls was very tempting. It was so cold that I wanted to eat something warm. Among various food stalls I saw at least two traditional Romanian vegan dishes that were common to all. It didn't take me any time to find something vegan. I was looking at mamaliga and varza calita. My friend and I confirmed with the seller if these are indeed vegan and he replied with a thumbs up. Back in my country I was fond of street food something that I do not find often in the US. I just could not believe myself that I was having vegan street food in Bucharest that too in front of Palace of the people!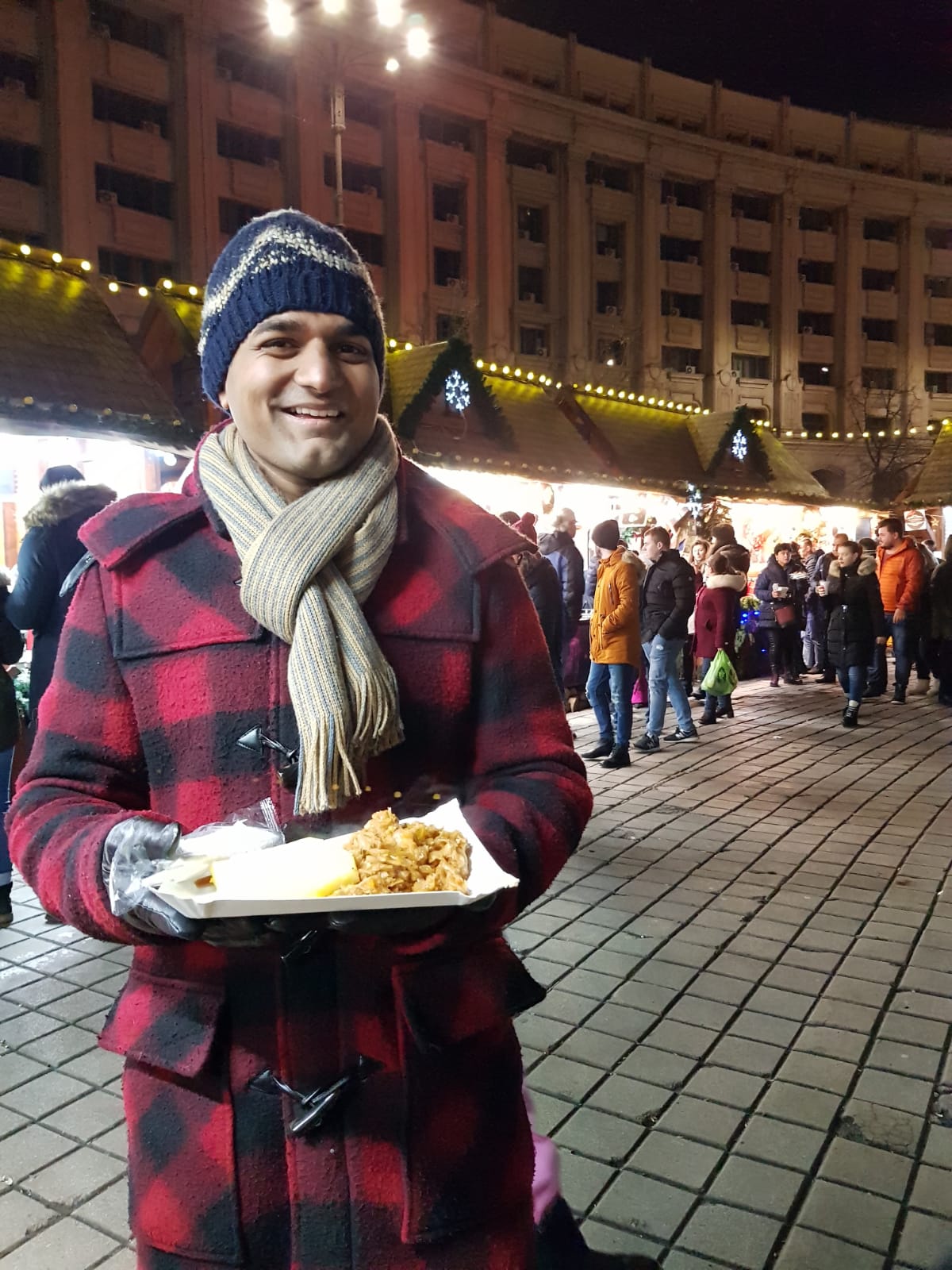 Mamaliga – You can translate it as Polenta, but it is a bit different! It is indeed boiled corn meal.
Varza Calita – You can cook it by steaming pickled cabbage with herbs and onion. It reminded me of a similar Indian dish "Bandh/Patta Gobhi ki Sabji". The only difference here is that the cabbage is pickled and it is sour. It is common to find pickled vegetables in East Europe during winter due to no availability of locally grown vegetables in harsh weather.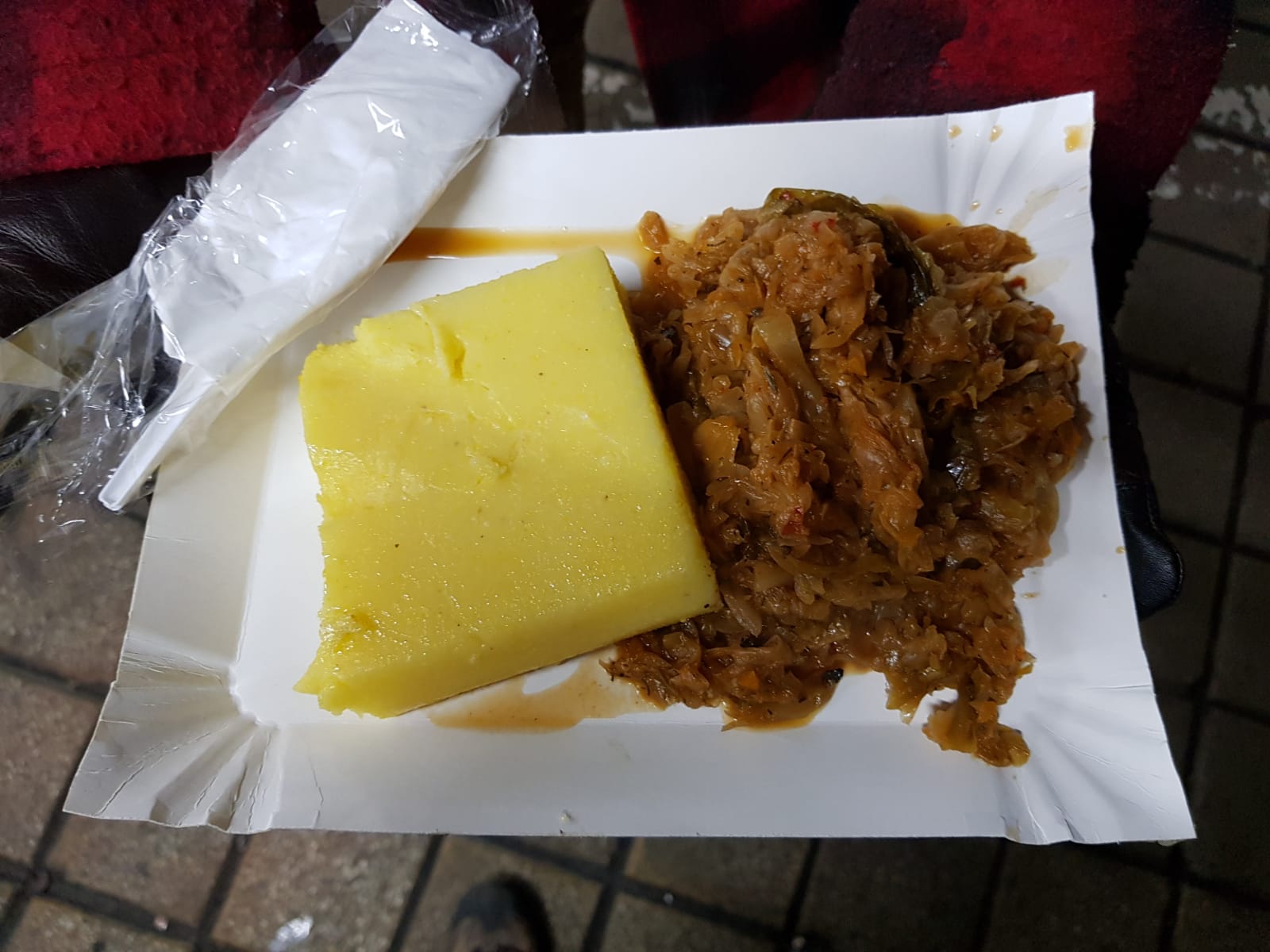 The street food scene is very different in Romania. Romanian cuisine is diverse but unique. I saw many dishes that I have not seen anywhere else. If you are someone who can consume meat, definitely come to Romania and try Romanian cuisine first hand.
What Next?
My experience in Romania was one of the best last year. Though I did not get a chance to explore many places, understanding culture, people and a country's lifestyle is equally important to me. Therefore, I prefer staying with local family to learn the most. I learnt a lot about various Romanian vegan and vegetarian dishes, and I will be sharing it all with you in my upcoming articles. So, stay tuned and let me know in the comment section how did you like this post. Did you expect there could be a popular traditional vegan street food in Bucharest? Brace your self for more such surprises!