Swiss Rosti: A Must for Breakfast in Switzerland
A lot of people wonder what some truly vegan or vegetarian dishes in Switzerland are. Switzerland is heaven for cheese lovers. However, since not all cheeses are vegetarian and they are not at all vegan, what does it bring you to? Rosti… It brings you to delicious vegan or vegetarian Swiss Rosti.
What is Swiss Rosti?
Swiss Rosti or Rösti is one of the most popular comfort foods for vegans and vegetarians in… Switzerland. The main ingredient here is potato which is grated and fried/sautéed in butter. North Americans might find it similar to hash browns. However, I won't be surprised if the concept of hash browns came from Swiss Rosti.
Many years ago, farmers in Bern felt that they need something easy, cheap, energetic, and filling breakfast that one can prepare with easily available ingredients. And that's how Rosti came into existence. Once popular in Bern, it is now loved all over Switzerland and the world. Still, you will find Rosti more commonly in the German–speaking part of Switzerland.
Does Swiss Rosti Contain Any Eggs?
In general, Swiss Rosti does not contain any egg. However, some restaurants can serve it with fried eggs on top of it. Check with the server or the host if they can avoid fried egg on your plate.
Is Swiss Rosti Vegetarian?
Definitely yes! But it is always good to let your server know if you are a vegan. In one of the restaurants in Zurich, I told the chef that I am a vegetarian. He took a little bit more time and came back to me with the delicious Swiss Rosti with a side of creamy mushrooms. My Swiss friend told me that in that restaurant, they usually serve Rosti with a side that is made with veal. I was pretty happy that the chef went the extra mile to make something especially for me that I didn't even ask for!
Is Swiss Rosti Vegan?
Swiss Rosti in its simplest form is vegan. It is just oil and potatoes. However, some restaurants may replace oil with butter. You should check with the host or the server in the restaurant. As I have noted in one of my previous articles, rising vegan culture in Switzerland, restaurants are very accommodative of your requests in Switzerland. They can prepare a vegan-only version of Rosti just for you, which is no different than the vegetarian version of Rosti.
Where can I have the best Rosti in Switzerland?
I believe that food is great all over Switzerland. However, Rosti is more popular in the German-speaking part of Switzerland. Bern is where the Swiss Rosti originated as breakfast. In addition, cities like Zurich, Lucerne and Basel are part of German-speaking Switzerland. However, you do not have to be in one of the cities to try the best Swiss Rosti. If you are checking out Swiss villages, there is a great chance you will find more authentic Swiss Rosti there.
Swiss Rosti Breakfast with a View in Zurich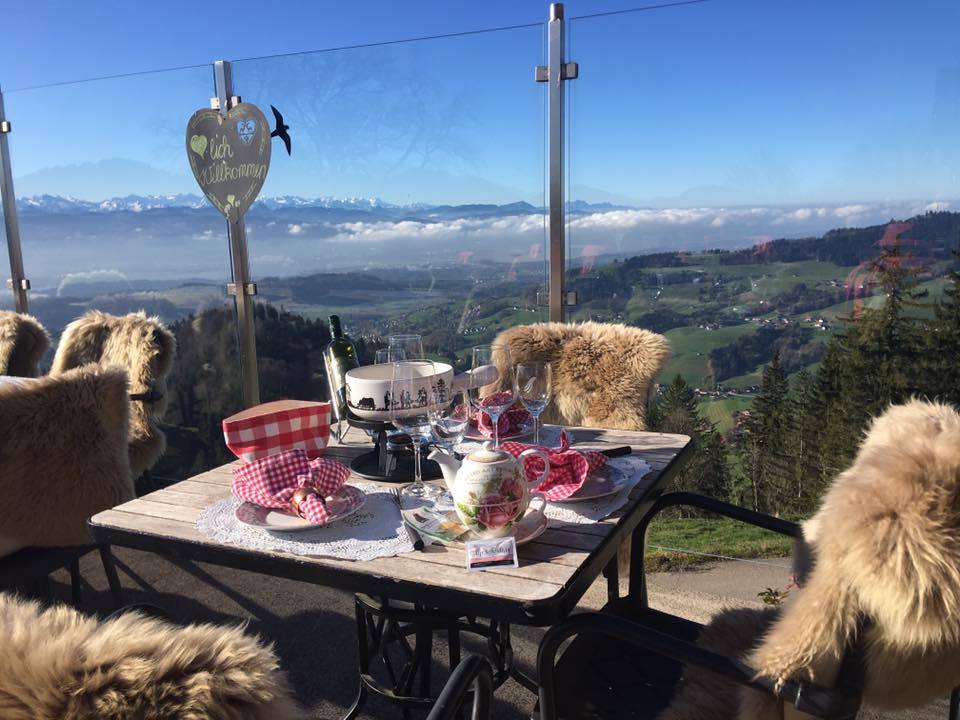 When it comes to trying Rosti you have unlimited options in Zurich. However, Alp Scheidegg restaurant in the outskirts of Zurich is the gem! It is the highest restaurant in the Zurich canton at 1,200 meters (3937 ft) above sea level. It is about a 45 minutes hike through the green hills where you can hear the cowbells at a distance and feed the goats and cats on the way. Once you have completed the hike, you need to reward yourself with the delicious Swiss Rosti!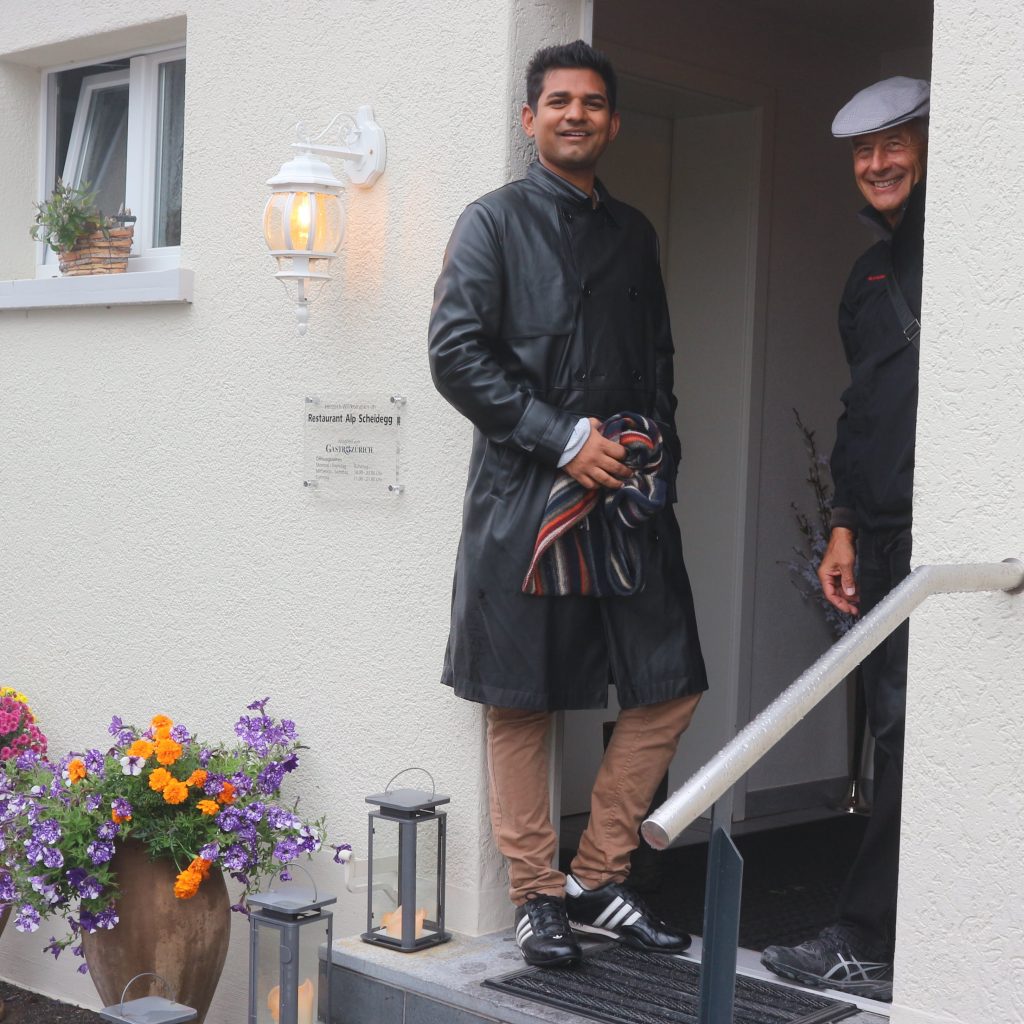 At the top, you will see a cottage that hosts the restaurant. The restaurant has both outdoor and indoor seating with a great view of the mountains and valley. The chef was very accommodative of my diet and went the extra mile to respect my diet restrictions! I can say that the Swiss Rosti here was by far the best Rosti I have ever tried.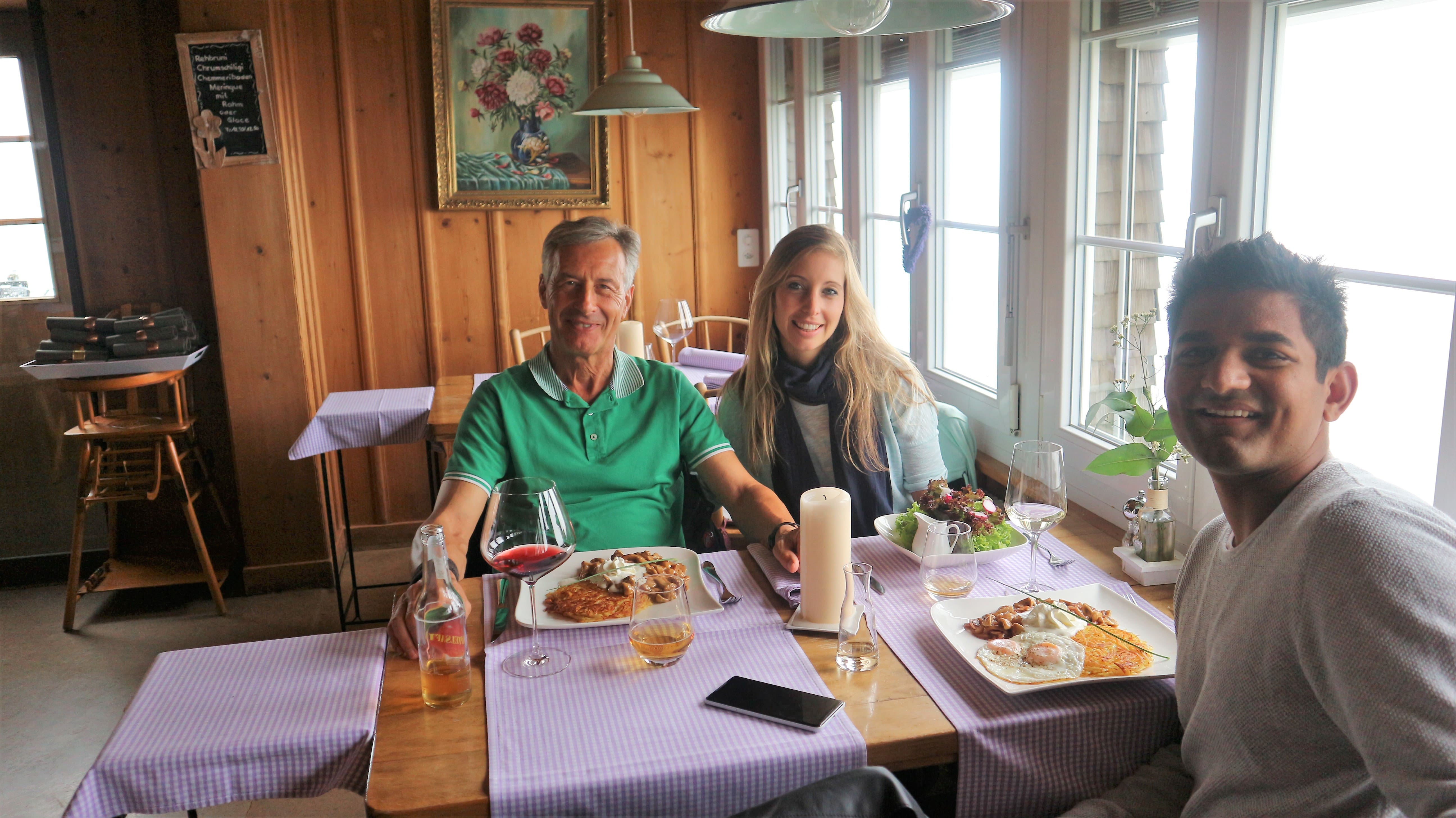 What to Drink with Rosti?
Every time I visit a Swiss restaurant my friend offers me to try something new. In one of my previous articles, I talked about Rivella, a soft drink made with milk! This time I tried two different kinds of apple drinks. Mohl Schweizer Apfelsaft and Mohl Shorley. One of them was slightly fizzy and other was just an apple juice – both made with Swiss apples!
What Next?
How did you like my article? Will you try Rosti for breakfast in Switzerland? Let me know in the comments if you are planning to visit Alp Scheidegg along with any questions you might have!