Traditional Vegetarian Swiss Raclette in Old Town Zurich
On a bright sunny day in Zurich, I decided to take a small walking tour of Old Town Zurich. One of my friend's friend realized this and offered to show me around. How could I reject such an offer? You learn the most in a foreign country when you are in a company of a local person. In addition, Swiss people are amazing when it comes to hospitality as I have mentioned in one of my previous articles. Once we were in Old Town Zurich, my friend suggested that we should try raclette.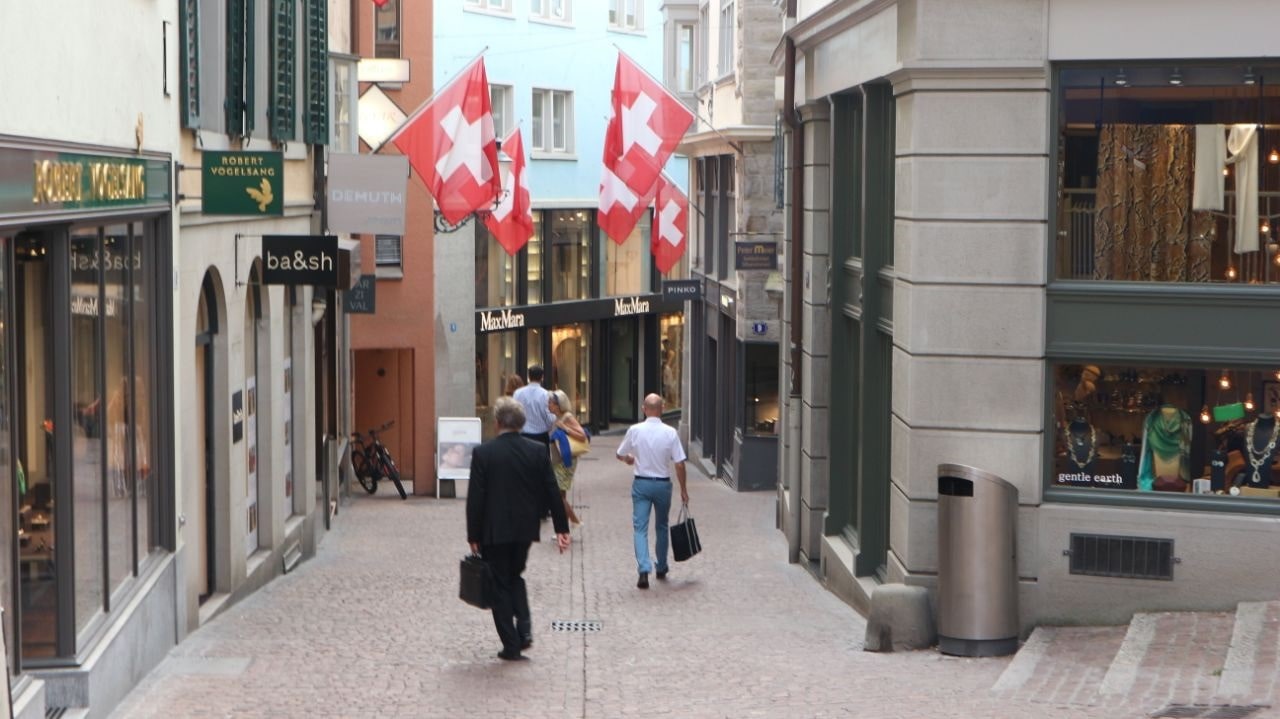 What is Raclette?
Traditional vegetarian Swiss raclette is one of the most popular dishes from Switzerland. In addition, raclette is also the name of the cheese that is mainly used in the raclette dish.
Raclette cheese is a semi-hard cheese that mainly comes from cow's milk. However, you can find variations of raclette cheese that comes from either sheep or goat's milk. Raclette once used to be peasant's food, today it is one of the most popular cheese in Switzerland. This cheese is used for melting and grilling and is rarely eaten raw. You can identify this cheese with its characteristic strong smell and taste easily!
Traditional Vegetarian Swiss Raclette Dish
Raclette in the form of a dish is simply melted cheese over baked or boiled or roasted potatoes. You may find some other veggies on the side, such as pickled cucumbers, corn, and pickled onions. It may come with meat as well, but the place where we went had classic options too, which is of course vegetarian.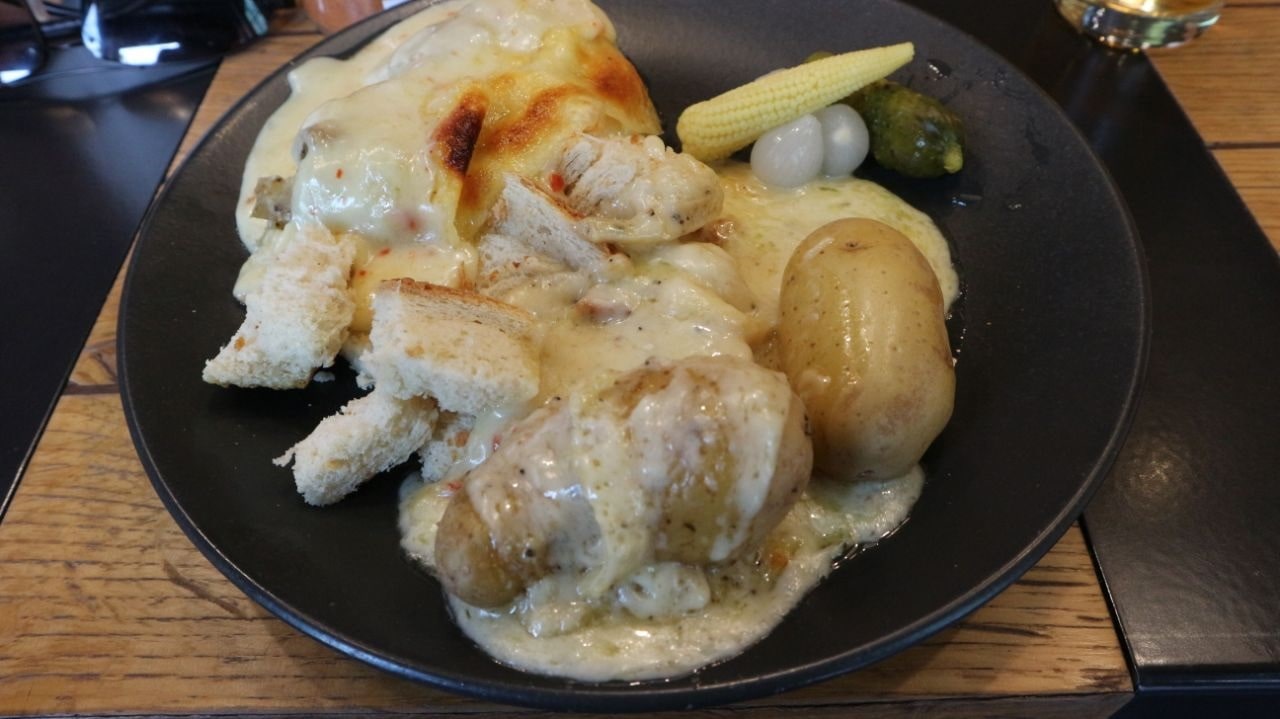 Is Raclette Really Vegetarian?
Now, the cheese is not vegan for sure. However, you must keep in mind that not all cheeses are vegetarian. This simply means that often non-dairy animal products are used in the cheese formation process in Switzerland and other parts of Europe. This makes it hard for vegetarians to eat just any cheese. Nevertheless, you can find traditional vegetarian swiss raclette in certain restaurants that allow you to choose vegetarian cheese specifically.
If you come to Switzerland and do not try cheese, it is blasphemy! Therefore, I recommend you to read my guide –  not all cheese are vegetarian in Switzerland. You will understand which cheese is safe to eat as a vegetarian and which ones you should avoid.
Where to find the best Raclette in Old Town Zurich?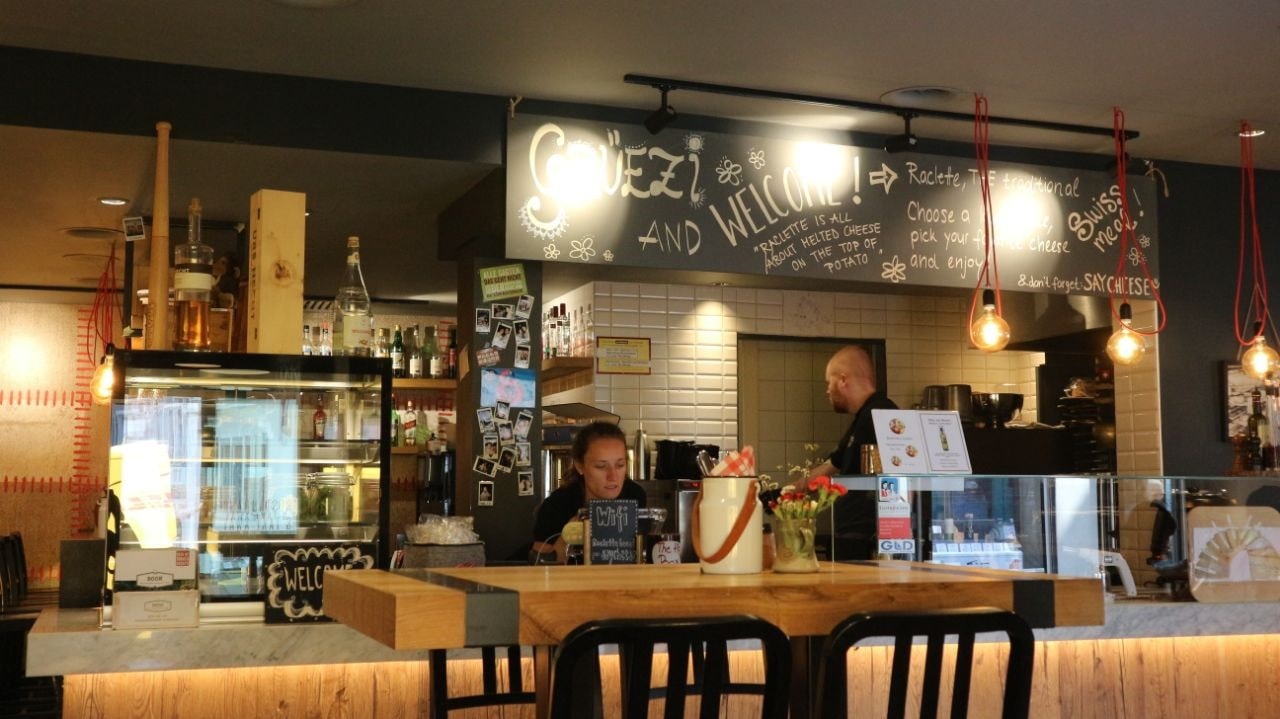 We chose a place where my friend's friend's friend's friend worked. Yes, it was that long connection! I love how connections and friendships work in Switzerland. Haven't I already mentioned warm Swiss hospitality? This place was called Raclette Factory. It was a beautiful and chill place right in the middle of Old Town Zurich; close to all the points of interests. If you are planning to go to Oldtown Zurich, you should check this place out – Raclette Factory.
Raclette Factory in Old Town Zurich offered choices in cheese. You have options to select vegetarian cheeses only.
What to drink with Raclette?
A dry white wine usually goes well with raclette. However, I ordered Hürlimann swiss beer, which was a really good and crisp lager. If you do not drink alcohol, you should try Rivella. My friend suggested this to me, and I am glad that she did!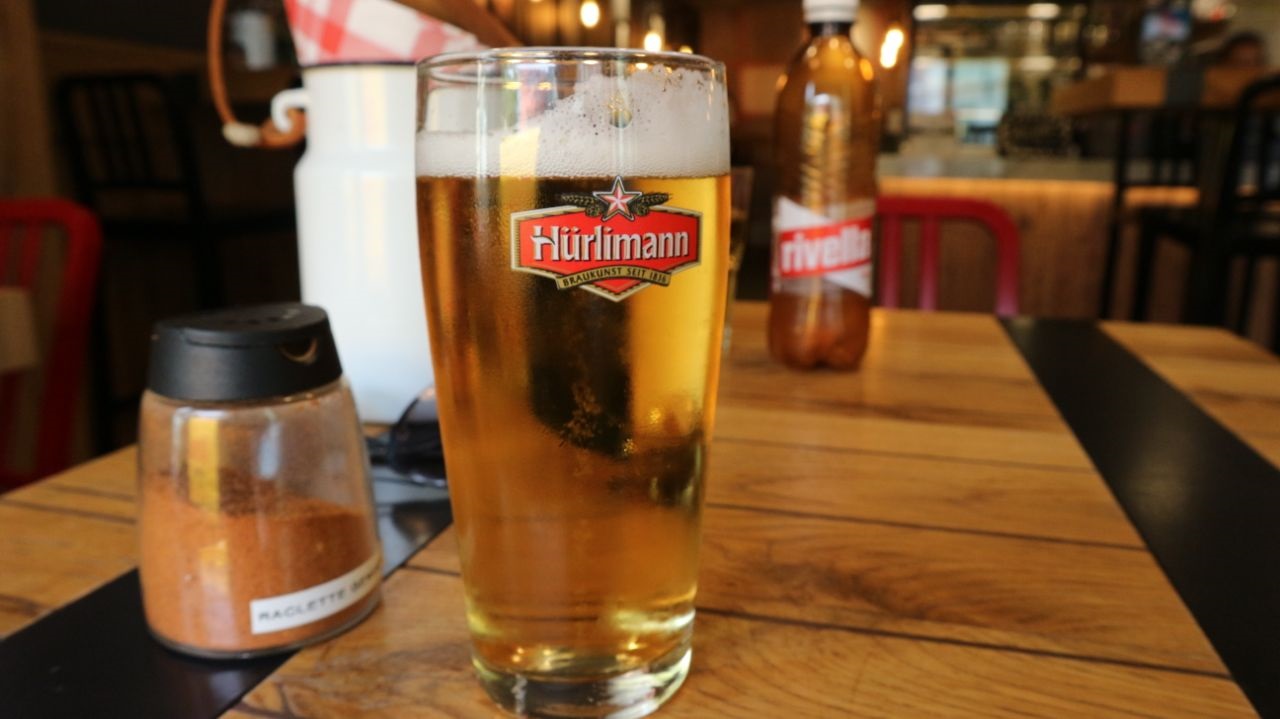 Rivella is indeed a unique drink native of Switzerland. It is a soft drink that is made from milk! I had tasted something similar before, but I cannot remember where. However, one thing I know for sure, I had never tried a soft drink from milk before! It was truly unique experience for me. And I would not have known this if I was not with a local. Therefore, I am bringing this to you in case you are on a solo trip to Switzerland.
Final Thoughts
Switzerland is mind-blowing when it comes to hospitality and food. If you know me, then you would know that I do not use the "mind-blowing" word very often! Most of the traditional Swiss dishes that I touched in previous articles or will touch in future, seem very simple to me! It is usually melted cheese on some veggies. Yet, it is so delicious! I want to make a point here – When I was in Switzerland, I had lots of wine, kirsch, bread, cheese, and potato (Swiss Rosti). However, I did not gain weight even a little bit! If I was eating all this for a week in Miami, I for sure had to go shop for bigger clothes! I guess the secret here is lots of walking and mountain hike along with eating natural food!
What Next?
Please write in the comments section your experience, your questions or feedback. I will love to read them and get back to you as soon as possible!