Why Kerala Loves Coconut – Kaalan Coconut Recipe
Someone rightly said, "All good things start with 'C' – Coffee, Chocolate and Coconut!
And I completely agree! Coconut is the life-giving source of food and income to many in my home state of Kerala. In this part of the world, we have literally hundreds of coconut-based foods for the vegan and vegetarian palette. Let me show you how a bit of coconut in everything can be the best thing that ever happened to you!
Why we're coconut about coconuts
South Indians generally are a bit over jealous when it comes to the use of coconut in cooking. It's not just because of its abundance, but also due to its nutritional value being high in minerals, vitamins and saturated fat. I've grown accustomed to my kitchen smelling fragrant with coconut oil during day time, a common phenomenon in Kerala households.
Though I was skeptical about using this thick oil for my hair, I tried and found that it's very effective in giving softer strands with greater volume. A trick my grandma used to do for healthy hair growth was heating 4 teaspoons of coconut oil with 3-4 whole black peppercorns and 3-4 curry leaves and applying it to the hair before bath for 30 minutes.
Kerala-style coconut recipes for vegetarians!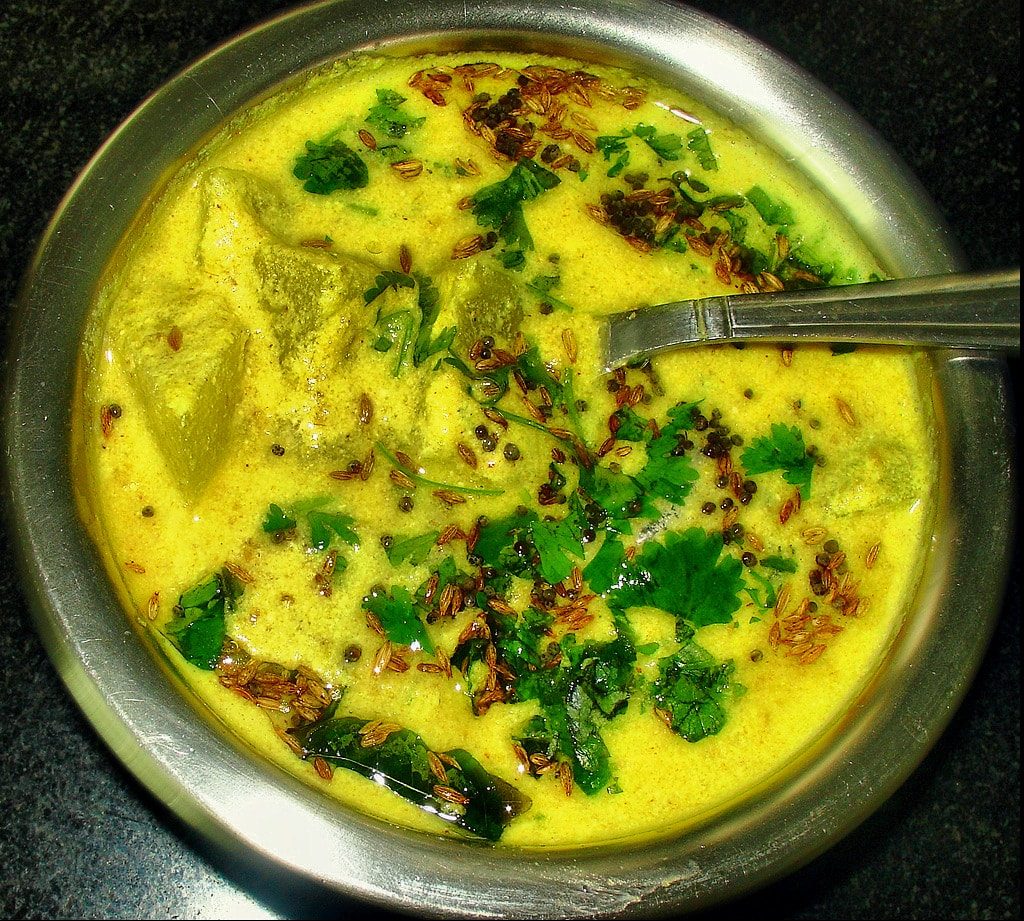 Here's one of my quick and easy curry recipes for vegetarians:
Name of the dish: Kaalan
Kaalan is a traditional Kerala recipe that is made with coconut. It is a delicious creamy broth of yellow coconut paste and yoghurt spread over cooked plantain.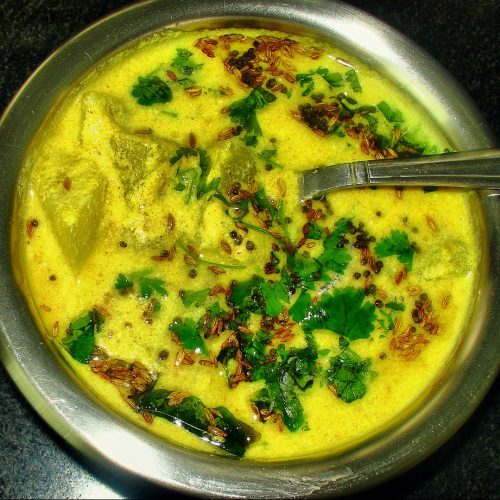 Kaalan
This is a delicious creamy broth of yellow coconut paste and yoghurt spread over cooked plantain.
Ingredients
1

unit

Raw Plantain

Medium Size

3/4

cup

Yoghurt

1

cup

Grated Coconut

1/2

tsp

Turmeric

2

units

Green Chillies

1

tsp

Mustard Seeds

2

units

dry red chillies

crushed

1

spring

Curry Leaves

2

tsp

Coconut Oil

2

tsp

Salt

or to taste
Instructions
Remove the thick green corners of the plantain and wash it well. Cut it into medium-sized cubes and soak in water immediately to avoid blackening.

Grind the grated coconut, green chillies and cumin in a grinder to a nearly fine paste.

Add the sour yoghurt to this coconut mixture and grind into a smooth paste.

In a pan, add the cubed plantain and 1.5 cups of water. Mix in the turmeric powder and 1 tsp of salt. Close the pan with a lid and let cook on medium flame until the plantain becomes soft enough. The plantain consistency should not become too mushy.

Once the plantain is cooked, pour in the coconut and yoghurt mixture. Stir the curry well so the flavours are incorporated. Check if more salt is needed at this stage. Let boil once and turn off flame.

In another small pan, heat 2 tsp of coconut oil.

When the oil is hot, splutter the mustard, then follow up by adding the dry chillies and curry leaves. Stir slightly until just browned (10-15 seconds) on low flame and add into the plantain broth.

Mix everything well and close the dish with the lid for 10 minutes so that the aroma of the curry leaves and coconut oil spreads evenly throughout the dish.
This dish is enjoyed the most with plain boiled matta rice, pappadom, pickle and stir fry curries. It's a predominant item in the Kerala sadhya, a 20+ curry meal served for lunch in Kerala hotels and homes. You can read about this special meal in our article on Kerala sadhya here.
Other coconut foods available in Kerala
One of the most rejuvenating drinks I've had on the streets of Kerala is coconut water. Fresh, straight from the tree, these coconuts are super juicy, and vendors selling them can be found right about on any street. Just like how you can find vendors selling juicy and delicious Jack Fruit on Kerala streets! They usually serve the entire coconut as it is, with the top cut off for a straw insert. There's nothing that can take away the blistering Kerala heat like coconut water!
Kozhukatta is another sweet snack similar to the Chinese dumpling. It's a mixture of jaggery and coconut filled into a ball of rice flour and steamed all the way through.
Conclusion
These dishes and Kerala recipe with Coconut have got me practically drooling! In fact, I welcome you to my home state to try these delicacies. Please take care of a few things to stay healthy while travelling in India. let me know your honest feedback in the comments below about the explosion of tastes you find there!