Top 5 Vegan Bulgarian Dishes You Must Try
Bulgarians are popular for their hospitality. They are welcoming and they love to talk to foreigners. A big part of their culture is sitting down and having a big meal with family and friends. Bulgarians are very proud of their traditional cuisine and local wine and rakija. If you have friends in Bulgaria, you most likely have tried homemade rakija or wine. Traditional Bulgarian food is very similar to other Balkan cuisine such as Macedonian or Serbian traditional food. All Balkan countries incorporate a lot of salads and soups in their diet. However, you will still find difference in the way each region prepares the food and uses spice. Here, we will discuss meals that are popular among vegans. You can find all these traditional vegan Bulgarian dishes in traditional restaurants called Mehanas.
1. Lozovi Sarmi
Lozovi sarmi is one of the most authentic vegan Bulgarian dishes. You can eat it as a starter or main course. This is one of those dishes that usually contain minced meat, but you can definitely find a vegan version of it. If you do not know what it is, it is basically grape leaves that are stuffed with rice, onions, carrots and more veggies. These grape leaves are then rolled up and baked in the oven. Lozovi sarmi are very tasty and filling. You should definitely try them.
2. Grilled veggie plate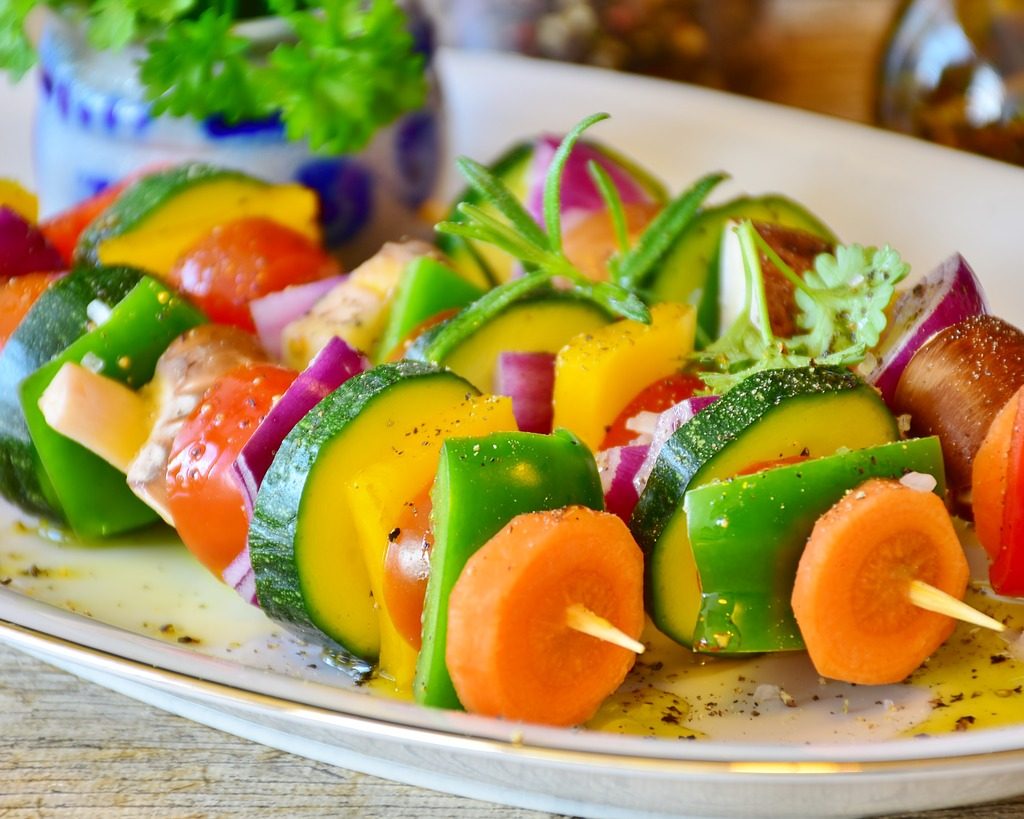 Bulgarians are big on grilled food! Most of their grilled food is different types of meat, which at first is very disappointing for vegans or vegetarians. Although most restaurants prepare grilled meat, there are some restaurants that offer grilled veggie plates on their menu. The veggie plate usually consists of mixed vegetables, grilled to perfection and sprinkled with olive oil. On your plate you will find grilled peppers, eggplant, onions, tomatoes and zucchini. This is definitely a starter dish because it won't fill you up. If you're a fan of strong alcohol and you want to try Bulgarian rakija, then it's a good idea to have it with a plate of grilled veggies. Rakija is a strong alcohol popular across the Balkans. It is typically between 40% ABv to up to 60% ABV
3. Green beans stew
If you've traveled through the Balkans before, chances are you've already heard about this dish. The stew is made with fresh green beans, carrots, onions, fresh tomatoes, oil and seasoning. Do not let the name fool you into thinking that this stew won't be filling enough. Green beans stew usually comes with bread on the side. II recommend you eat it as a main dish.
4. Bean soup – Popular vegan Bulgarian Dish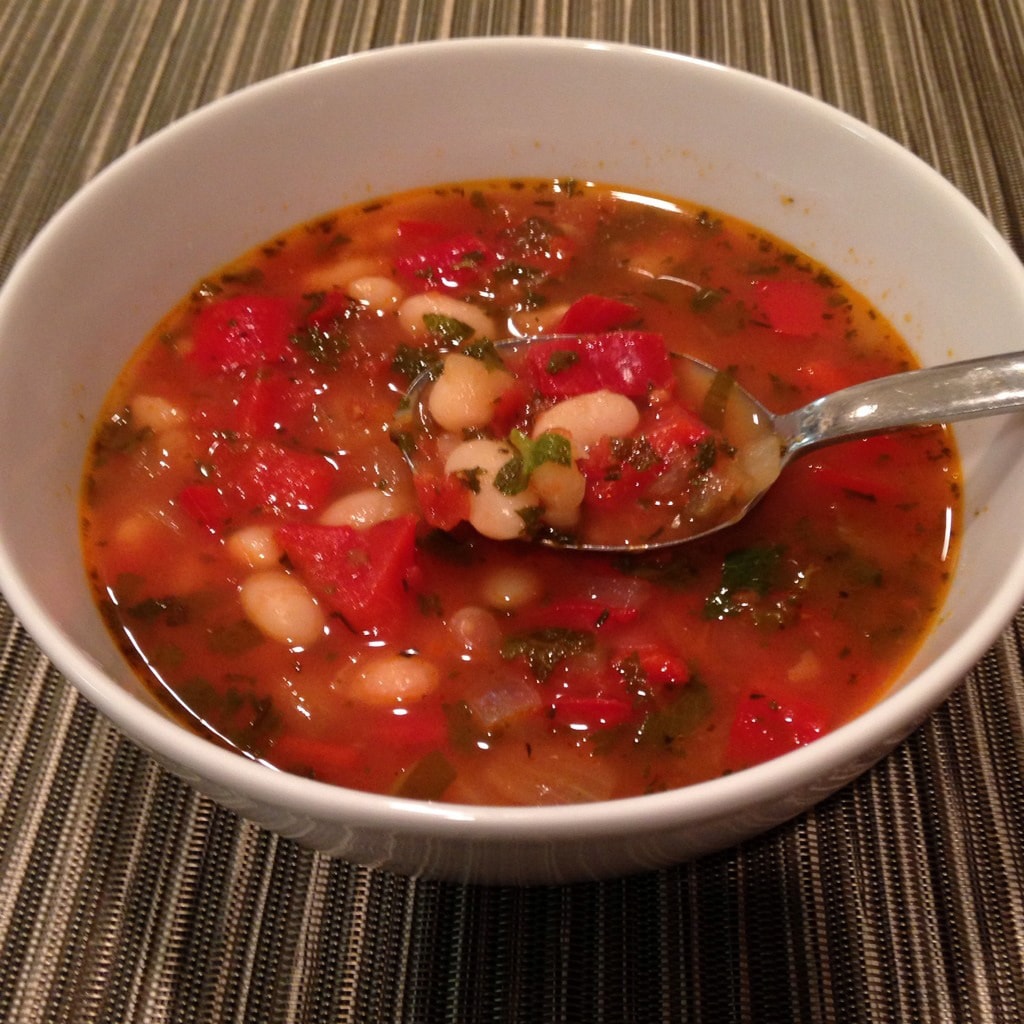 This is another soup that can be found on every menu in Bulgarian restaurants. It is one of the most popular Bulgarian vegan dishes. It's a light meal for one of those days when you don't feel like eating too much. Locals will tell you that the bean soup is an important dish of their cuisine and they eat it for lunch or dinner. Sometimes it will have meat in it, so be sure to check that with your server. One of the key ingredients in this bean soup is the spices which give it a very nice flavor.
If you're a fan of mint or thyme spice then this is for you! There is definitely a strong mint smell and most people love it. The soup is typically prepared with white beans, onions, carrots, tomatoes, red peppers, garlic and spices. This comes on the table hot and with a bread on the side. The best place to have it is in a mehana.
5. Tarator soup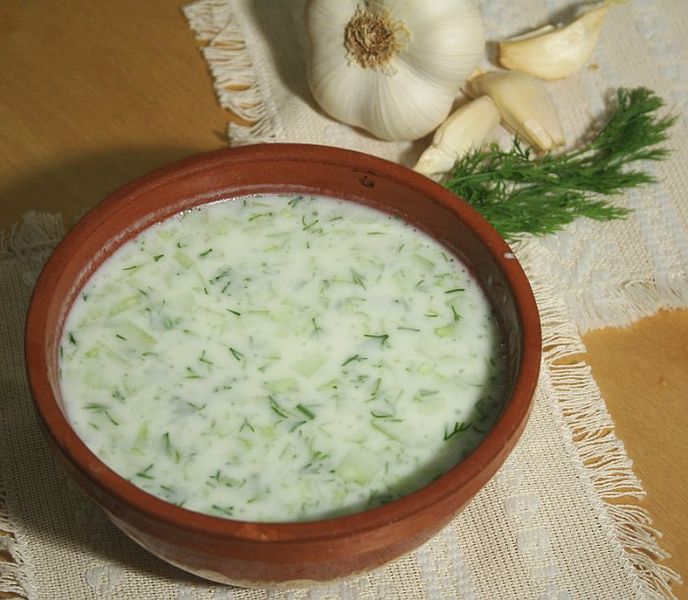 Bulgarians are very proud of this soup! A bowl of tarator soup will taste amazing on a hot summer day when you don't want to eat anything too heavy. It will cool you down and it will satisfy your appetite. This soup is easily available in every Bulgarian restaurant. It's made with diced cucumbers, dill, garlic, yoghurt and walnuts. Some local variation replace yoghurt with water and vinegar or tahini. Please check with your server. You might think that all soups come hot, but not this one! You will find this one on your table cold and raw, but it's very good!
Conclusion
There is no denying that Bulgarian food is tasty, fresh and healthy. The country is famous for quality produce and dairy products, so whatever you decide to eat while in Bulgaria won't be disappointing. The fact that all Balkan countries have similar cuisine shouldn't discourage you from trying traditional food. It will definitely taste different and it'll have a variety of spices in different Balkan countries. Bulgarian cuisine is diverse in every region of the country, so if you travel to different parts of Bulgaria ask for local recommendations. Which of the above dish would you like to try?