The Tomato Place, Mississippi
It's not easy finding vegetarian/vegan-friendly places in the southern United States. And in Mississippi, it's basically impossible. Nevertheless, on my recent weekend road trip, I was on a mission to find a great vegetarian meal as I travelled through the Deep South. It's recommended that vegetarians do some research ahead of an excursion when you know you'll be travelling during meal times in the South. As such the case, I did my research and found a great spot just off the interstate in Jackson, Mississippi on my way to Louisiana. Unfortunately, this vegetarian specific cafe was closed unexpectedly and I had to continue travelling with my belly growling. But what's cool when one thing doesn't work out is that it's usually leading you to something even better. And just down the road, I stumbled upon The Tomato Place; A funky farm stands just off Interstate 20 near Vicksburg, Mississippi.
The Tomato Place felt like some sort of secret garden. Be careful you don't drive by too fast or you will miss it. Even though its size looks small from the highway, the colourful and eclectic ambience should catch your attention and spark your appetite. It is only three miles off the main freeway and worth a small drive for a great dining experience. Parking is limited, but luckily I was at a day and time where the crowds were small. Their generous hours (8 am to 8:00 pm seven days a week) make this a really ideal spot to keep in mind for any future voyages.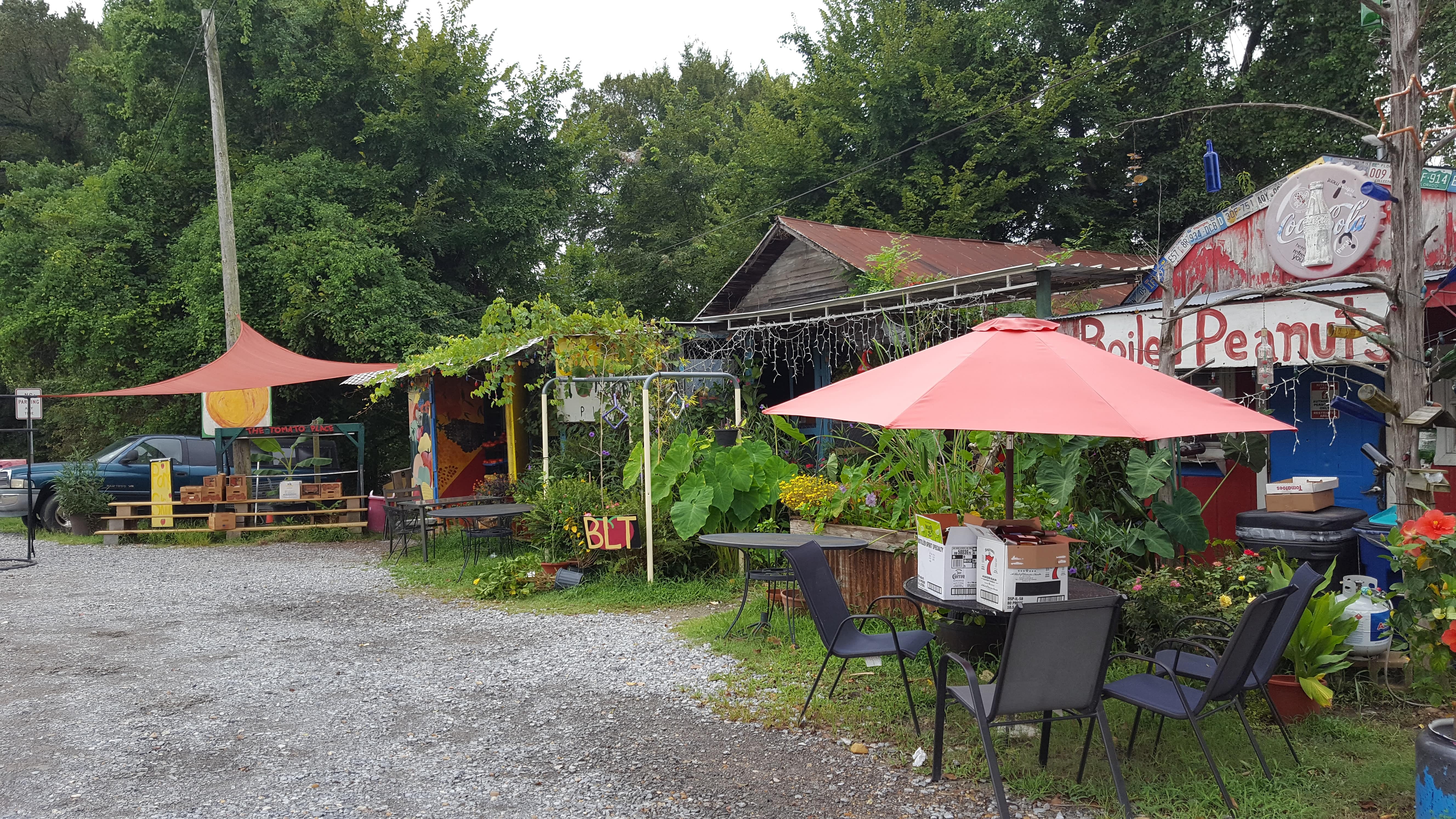 While I was a bit cautious about being able to find a meal at this quaint roadside spot, I was greeted warmly by one of the staff, giving me the courage to continue exploring. The Tomato Place was named after their best seller when they were just a vegetable and fruit stand on the side of the highway. That is evident by the produce they still sell right in the front entrance. I immediately picked up some beautiful sweet potatoes and of course tomatoes since they pride themselves on shipping fresh tomatoes to this location year round. They also had large, fresh onions for sale and in upright freezers, you can grab bags of fresh peas, greens and lettuces ready to take home as well. One of the most interesting freezer cases is a wall of different cups with humorous names written in bold black letters describing what's inside. These cups are full of freshly frozen fruit that you take to the counter where they will prepare a smoothie for you. Not only was this fun to try and decide which to select- it's also a genius way to use up their fresh fruit! I grabbed a "Heavenly Peach" cup and moved further into the establishment.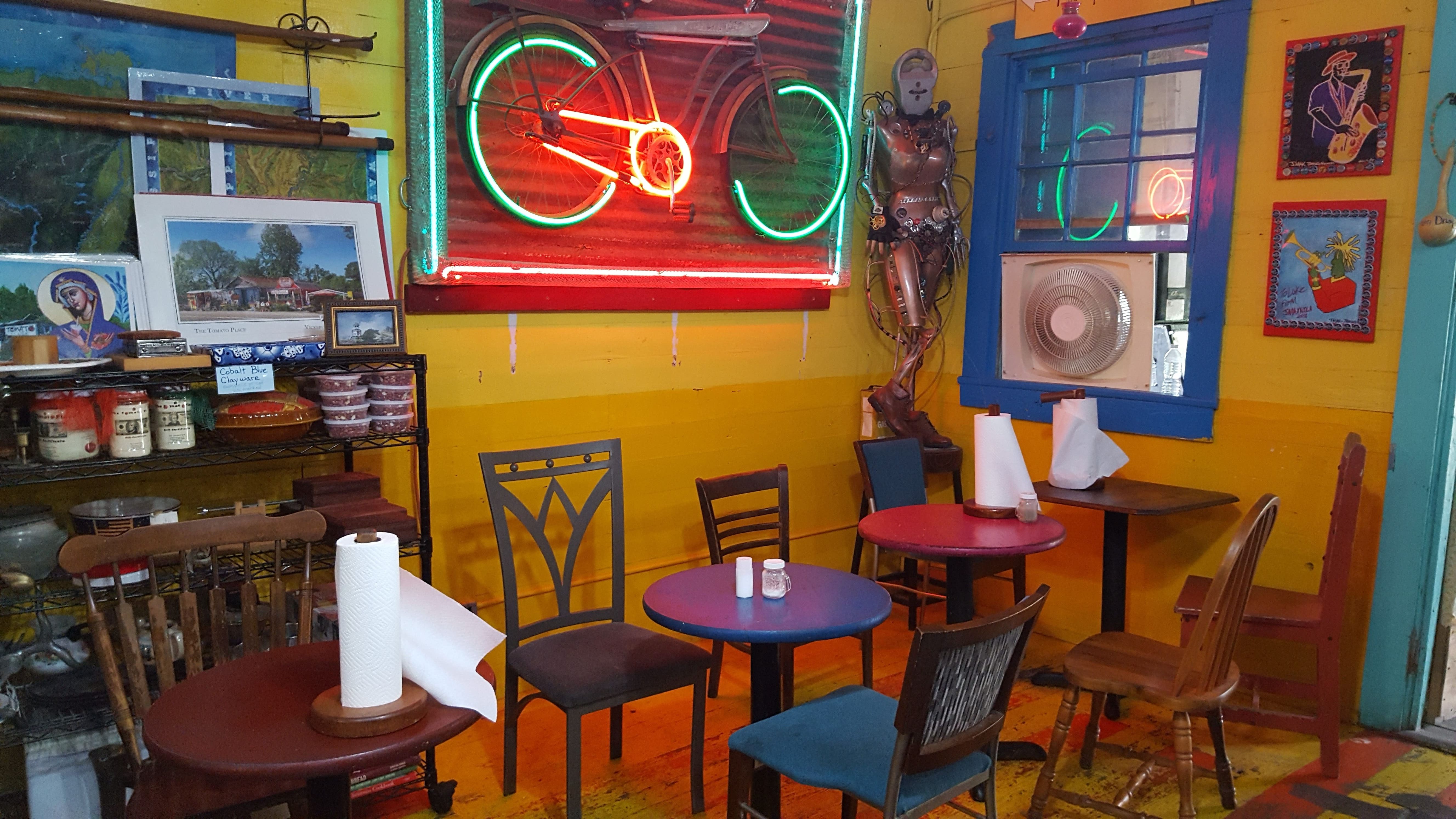 The more I walked through the mismatched furniture and took in the softly playing reggae music, the more I liked the place. To my right, I saw a sign that perfectly described what The Tomato Place is all about: "We are a Slow Food, Smell the Roses, Hear the Music, Feel the Atmosphere Kind of Place". It was then that I knew I'd stumbled upon a gem!  While the nice lady behind the counter started preparing my peach smoothie, I looked over their menu. I had already spotted several veggie-friendly frozen soup selections in their refrigerated area (tomato – of course!, vegetable and bean) so I felt I had a good shot at finding something delicious. I decided while in Rome, do as the Romans do and I ordered their Signature Tomato Sandwich. I opted for the Fried Green Tomato BLT with avocado and minus the bacon! They were happy to accommodate and I selected rye for my bread which they sell loaves freshly baked as well. In fact, they have everything from Mississippi honey, house-made barbecue sauces, and several southern desserts like peach cobbler and pastries to straw hats, t-shirts and even homemade basil hand soap that smelled great! While this was a stop just for me, I think it would be an excellent place for children and/or travelling with meat-eaters as well. It's got a lot going for it to hold your interest and take a break from the road.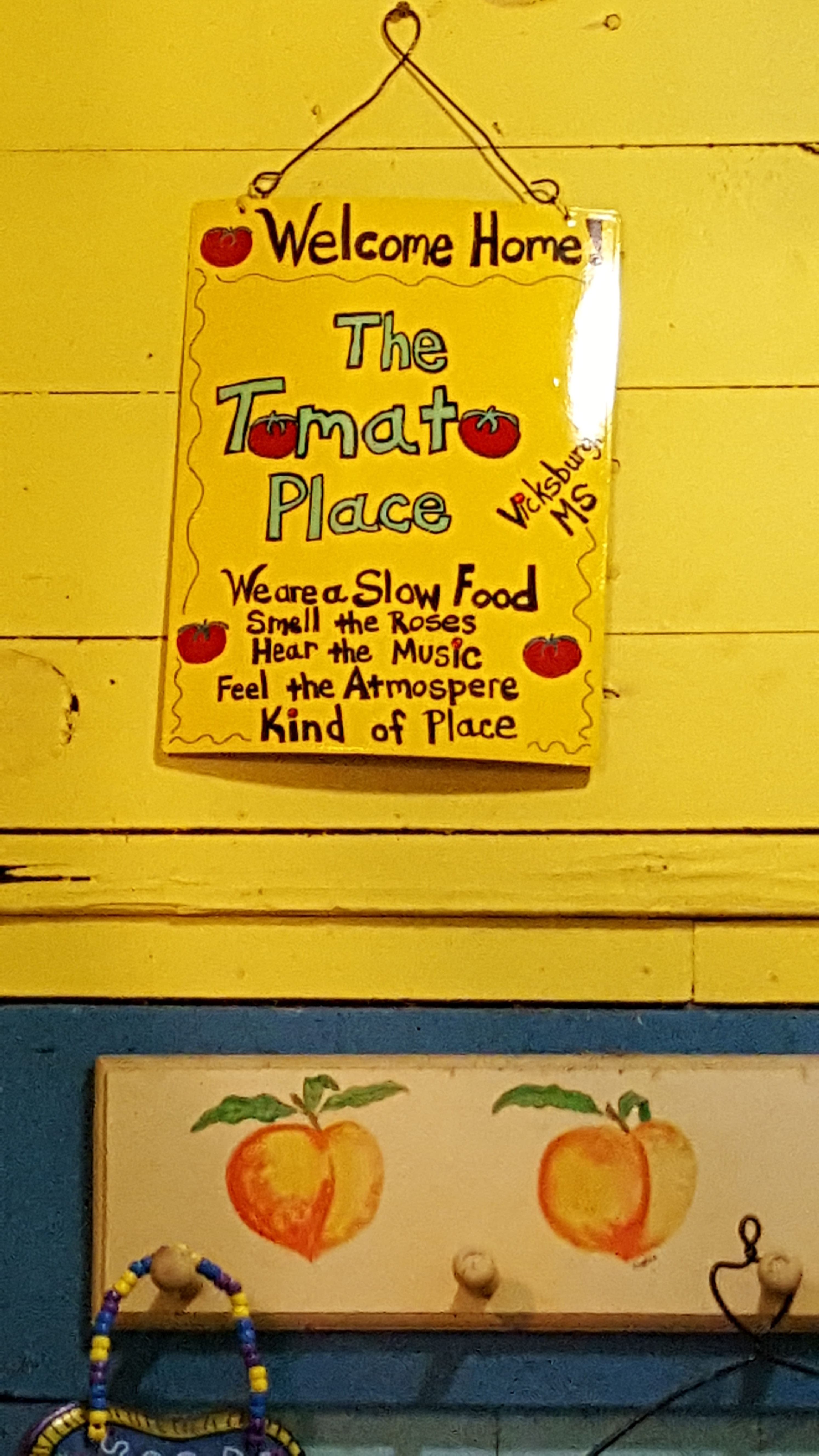 There's such a great atmosphere for eating that if I hadn't been on a travelling time crunch, I would have stayed to do as the sign suggested and smell the roses and hear the music. Unfortunately, I took the sandwich and smoothie to go. A few miles down the road and the smell of the sandwich couldn't be ignored. The fried green tomatoes are a southern staple in the heat of the summer and these were fried crispy with a flavorful cornmeal batter. I especially liked the texture of the batter against the buttery avocado slices. Of course, the tomato was also quite good as well as the bread. I even thought the presentation was better than most – particularly for a roadside farm stand. A sweet and tangy muscadine garnished the sandwich with a toothpick, holding everything together.  The peach smoothie was very creamy and sweet and made my drive all the more enjoyable. I think they would also be willing to accommodate by making smoothies with fruit juice instead of cream if you are vegan. Additionally, they had salad options and a vegetable plate with several great vegan choices such as steamed corn, fried yams and baked beans. I imagine the Tomato Place Pie with a side of fried okra also being a great veggie option and one I plan to have on future trips to the area!
I got the impression not only does this hole-in-the-wall embrace being small and just a few miles out of the way, but are even proud of it, rightfully so! Based on my conversation with the staff, they have regulars who have to stop by even when they aren't that near. While I was determined to find a great vegetarian meal on this road trip-even if it was discovered on the side of the road- this exceeded my expectations! Not only did I find a great spot, but as I was leaving the kind lady behind the counter told me she'd see me next time. And she's right. I'll be back and I recommend you give them a try too. The Tomato Place is a route-changer.
More information can be found at http://thetomatoplace.com/