Richmond, Virginia: Mixing Old with the New
I recently found myself in Richmond, Virginia for a friend's wedding and I used the opportunity to spend a few days ahead of the big event exploring, eating and visiting a new city! Richmond, Virginia is the Capital of the state and one of America's oldest cities. Having also been a Capital for the Confederates during the Civil War, it still remains rooted in strong Southern American heritage but now with a more progressive and collaborative artistic scene.
I stayed in the downtown area at Delta Hotels by Marriott (https://www.marriott.com/hotels/travel/ricde-delta-hotels-richmond-downtown/) off of Canal St. Canal St. is near a lot of food establishments and points of interest. I liked the special touch of having coffee, tea and cucumber water in the front lobby at all times. The water was especially refreshing since it was in the 90 degree range while I was visiting! The hotel itself was nicely decorated and featured a better than expected hotel restaurant and bar.  The restaurant was decorated in ocean colors that were modern and clean. They offered a breakfast buffet in the mornings  with plenty of various omelet options with potatoes, grits, toast and fruit as sides. For lunch and dinner, there were salads to select that were fresh and interesting. Having the restaurant in the hotel made it convenient because while most restaurants were close they were not necessarily within walking distance. Additionally, there was a great deal of construction around the hotel with what looked like skyscrapers being built nearby. Even with all the construction, it didn't impact my stay in the hotel other than taking out some of the sidewalks near by. Luckily the hotel offered a free shuttle within a 2 mile radius and I used this to get to several nearby spots. I also found the easiest way to get around the city was by Uber. I don't think I ever waited more than 5 minutes for a ride – Uber was waiting nearby no matter what part of the city I was in. This made it very convenient to maneuver and I felt safe.
On my first night in the city, I went to newly opened bowling alley called River City Roll (https://www.rivercityroll.com/). River City Roll is a definite step up compared to other bowling alleys. Catering to foodies, this alley has great music blasting over pins being knocked down and a gourmet dining experience. Come hungry because there are many high-end options for dining here! We ordered Truffle Fries and Grilled Asparagus for starters. The menu changes often, but they always have brick oven pizzas (including a "Gutterball" pie made with fig jam, caramelized onions, kale, goat cheese and lemon zest). It was a fun time and the party seems to get started the later you arrive with the alley being opened until 2am on weekends. For a party of 6 you can rent a lane for $35.00 Friday through Sunday and $25.00 the other days of the week.
The next day I had a leisurely lunch at a modern Southern cafe called Pasture off of Grace Street. While only a few blocks from the hotel, it's a bit awkward to make the trek around the construction so I opted to use the hotel's shuttle and was glad I did with the soaring temperatures. I had a salad with mixed greens and vegetables tossed in a citrus vinaigrette. It was refreshing and I noticed there were many other veggie options – particularly a southern favorite; the pimento cheese sandwich and house made pickles. They also offer a couscous and lentil veggie burger with avocado mayo. For cooler months they have vegetarian chili. I highly recommend checking them out and sitting on the patio to people watch and admire the large tree lined street. It resides in cool neighborhood with an interesting mix of funky artistic college town vibes among very traditional southern architecture. More information can be found at: http://www.pasturerichmond.com/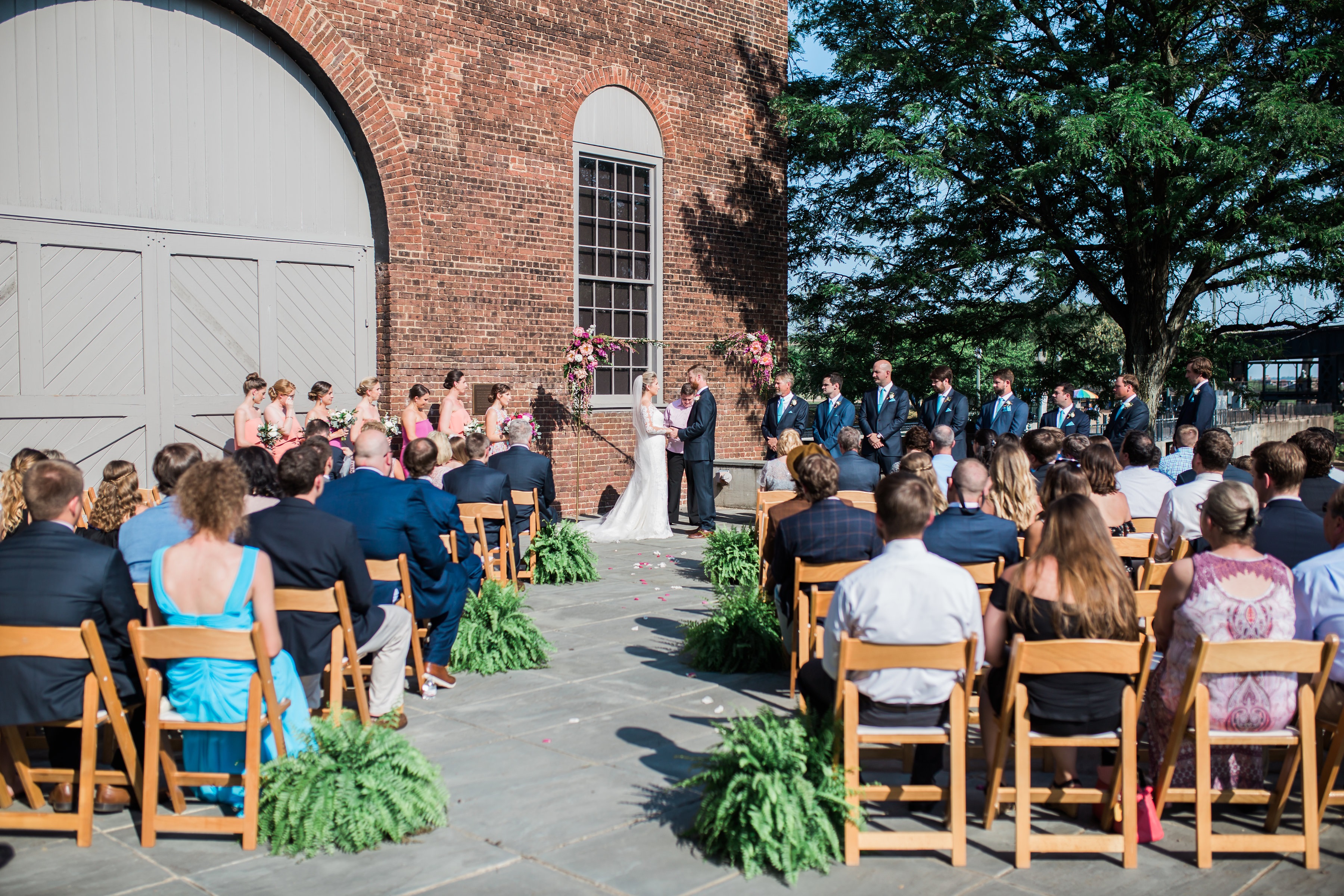 The wedding was held at Tredegar Iron Works and fortunate for me, I had some time to check out this National Historic Landmark before the ceremony. Opened in 1837, Tredegar stands across from the James river. This makes it a particularly picturesque spot with walking trails along the river that were very popular for dog walkers, couples and families. Benches line the river so you can stop to watch kayakers enjoy the water as well. The river served as an important element in bringing iron from West Virginia mountains via the James River to Tredegar foundry. Tredegar features both a park and Civil War museum. Tredegar helped make Richmond one of the most prominent cities in the south and this foundry supplied much of the Confederate cannon making and warship building needs during the Civil War. Several of the Antebellum homes on the premises continue to be restored. Touring the Civil War Museum you'll notice it tells the story through Union, Confederate and African American experiences and viewpoints. While I opted to use the free hotel shuttle again, there is free parking for those visiting the site.
More information can be found at: https://acwm.org/visit-us
I rounded out my trip to Richmond with a visit to Isley Brewing Company (https://www.isleybrewingcompany.com/ )  and Peter Chang's restaurant. Both spots were very popular with the locals and brought diverse and interesting crowds. The night I stopped by the local brewery they had a very lively Bluegrass band playing live music and the bar was featuring their house-made Blueberry Pale Ale which was particularly satisfying for a summer evening. Peter Chang's was also highly recommended by the locals and I can see why. With several locations, I stopped at the Scott's Addition (http://peterchangrestaurant.com/ ) restaurant and had a glorious meal of really interesting table-sharing style of Chinese cuisine. Most notable was their two house specialties – Scallion Bubble Pancake and Dry Fried Eggplant. With interesting textures and contemporary vegetarian flavors, it made a lasting impression.
While a historically traditional southern city, Richmond is re-inventing it's persona and pushing the boundaries of its past. I recommend you enjoy exploring everything Richmond has to offer – both the old and the new!