Crowne Plaza Ligovsky St Petersburg Hotel Review
If you are coming to St Petersburg from Moscow via Sapsan and prefer staying near Nevsky Avenue (Nevsky Prospekt), which is the most happening street in St. Petersburg, then continue reading, because this hotel could be your best bet. If you are coming to St. Petersburg by Aeroflot, then also read my article "Should you fly with Aeroflot?"
Image Source: Official Website of the hotel.
Check the rates and availability of the hotel here.
Location of Crowne Plaza Ligovsky
Crowne Plaza Ligovsky is located strategically near the junction of Nevsky Avenue (Prospekt) and Ligovsky Avenue (Proskpekt). If you are coming by Sapsan from Moscow, then you will arrive at Moskovskiy Vokzal (Railway Station). This railway station is also located at this junction of two avenues. From the station, the hotel is just four-minute walking distance (according to Google Maps).
Important Note: Be careful while walking on Nevsky Avenue or walking near other touristic areas. There are many active pick pocket gangs in the city and tourist scammers who would sell you fake tickets or take your picture for a large amount of money. Read my article on how to be safe in Russia. I almost had one bad experience on Nevsky Avenue, but I was lucky.
This hotel is a good starting point if you came to explore St. Petersburg. Almost all the major attractions can be reached by walking. It may not be a short walk, but it is a beautiful walk! In case you prefer exploring by Metro, Red and Green line of Metro serves this hotel with Ploshad Vosstania and Mayakovskaya Metro station respectively. I suggest downloading Yandex Metro app on your phone for easier navigation.
I preferred walking every day to the places such as Catherine Palace, Hermitage, Saint Isaac's Cathedral, Church of the Savior on Blood. However, by the end of my trip when I was tired, and the weather was cold I felt no guilt in taking metro.
Check-In Experience at Crowne Plaza Ligovsky
Before I mention anything, one cool thing about this hotel was that the door opens away from automatically. It is a big help when you are rolling a huge bag. Other hotels have sliding doors or rotating doors, but it was cool to see a traditional door controlled by sensors.
Check in at the hotel was fast and smooth. If you are an IHG Rewards Club member and booked the hotel directly on their website, then you will be assigned points at the time of check in. You will also get complimentary Wi-Fi as an IHG Rewards Club member benefit. I booked the hotel through an agency, so I did not accumulate any points, but I still got complimentary high-speed Wi-Fi because I am a member of IHG Rewards Club.
The front desk officer will ask you for your passport. They will be able to find your reservation from your information in passport. They will make a copy of your passport in order to facilitate your registration. This is a regular practice in Russia where hosts, such as hotel, Airbnb or your friend (if you are staying with them) must register you as an international guest with the authorities. They also asked my preference of which kind of view I would like to have in my room. There is a quitter side, and a noisier side in the hotel. I chose the quieter side and I am glad that I did that. Finally, they handed me an IHG Rewards club cookie with my room key.
Room Interior and Room Service in Crowne Plaza Ligovsky
The ambience of this hotel is very contemporary directly in contrast to Golden Ring Hotel in Moscow which was my base in Moscow. It felt like I am in a hotel in USA or Canada. The room was spacious with modern ambience and a quiet view with mostly old buildings.
The room service was great, the hotel also served us with Chocolate everyday along with tea and coffee. However, I asked for additional drinking water and realized that it was not free. I paid 1500 RUB for 2 liters of water, which came in a very premium glass bottle. This was not my standard experience in Russia. I received bottled drinking water for free during my stay in Moscow and Volgograd (Review Coming Soon).
One thing I noticed in Russia is that rooms have charging points right next to bed. This is not something you always find in USA, unless you are staying in a modern hotel.
Restaurants in and around Crowne Plaza Ligovsky
As I mentioned that the hotel is located close to Nevsky Avenue, you are just a few minutes' walk away from some of the best restaurants in St. Petersburg. I tried few restaurants around. However, my trip was long, and I did not want to eat rich and heavy food in restaurants three time a day, every day! That is why I chose to eat most of the times in traditional Russian/Soviet Stolovaya which serve variety of traditional vegan and vegetarian Russian dishes. There are many Stolovaya near the hotel. There are many grocery stores (Products shop, as they are known in Russia) around the hotel. I often went there to buy breakfast or water.
In addition to restaurants in the city, the hotel also has two restaurants that serve vegan and vegetarian dishes.
Olivetto – Serves Mediterranean and traditional Russian dish in warm and cozy ambience. The restaurant had many vegan and vegetarian option but few traditional Russian options. In their vast menu, I could find only syrniki that was traditional Russian and vegetarian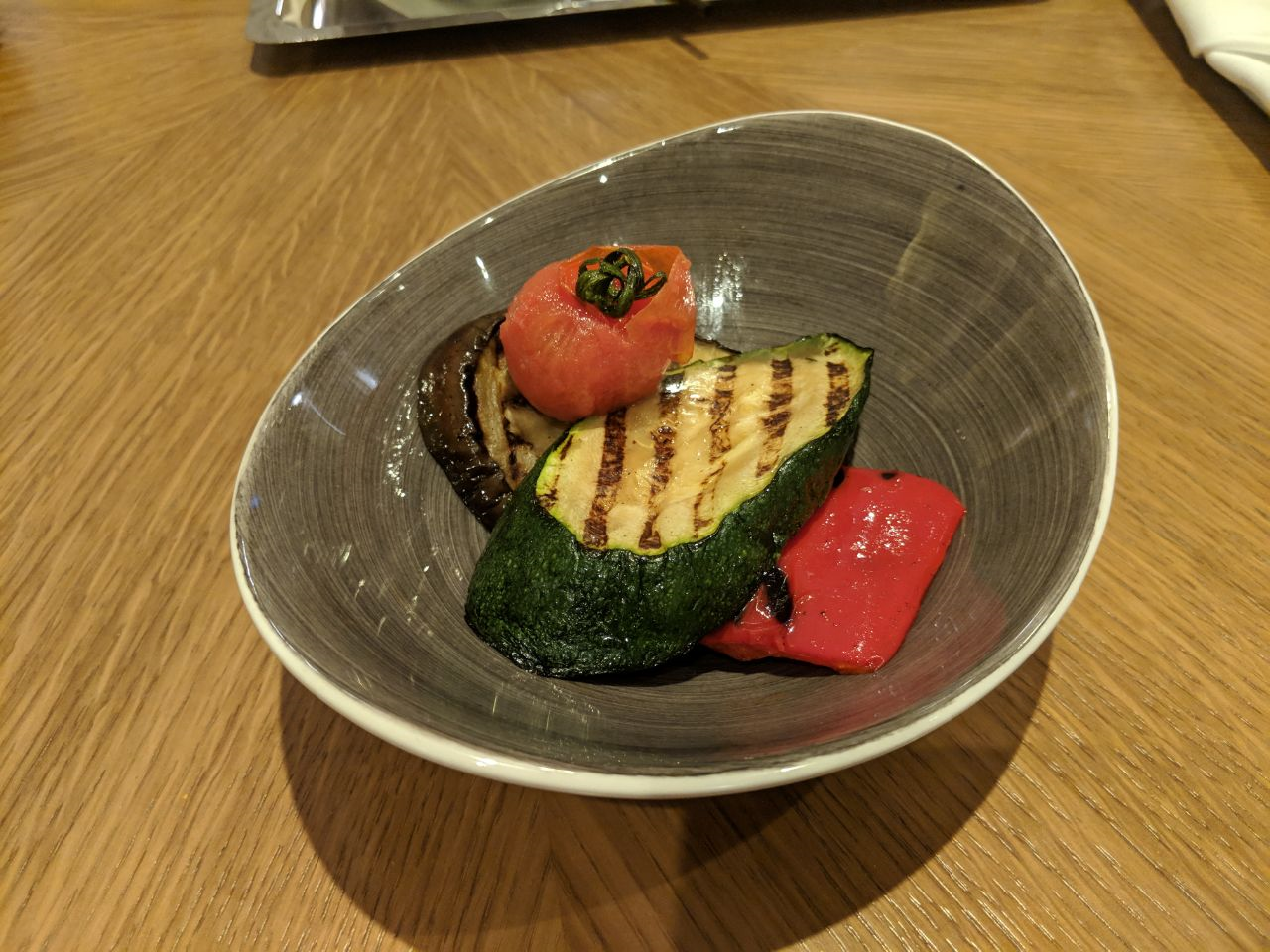 Lobby Bar – As the name suggests, this bar is in the lobby next to the reception and exactly in front of the main entrance. At this place I also I did not find traditional Russian vegan and vegetarian menu, but there were some options for us.
Will I Book Crowne Plaza Ligovsky in St. Petersburg Again?
I had a very comfortable and cozy experience in Crowne Plaza Ligovsky. Staff was very friendly and hospitable. They knew English very well and were very concerned about their service. The location was very convenient. I saved a lot of money by not using taxis and Uber/Yandex.Taxi. It was a true 4-star experience.
Let me know have you been to this Hotel? Will you be willing to stay at this place and check out St. Petersburg? Let me know in your comments below. Do not forget to subscribe to my mailing list below. More articles are coming on Moscow, St. Petersburg and Volgograd!