Odessa Mama – Vegan taste of Odessa in the centre of Moscow
In the center of Moscow, not very far from Chistye Prudy lies a restaurant serving wholesome delicacies in an ambiance that takes you to the Black Sea. Moscow never disappoints me with its modern, hip and happening dining options and Odessa Mama Moscow is right up the alley.  Odessa Mama in Moscow brings culinary masterpieces of Odessa right in the center of Moscow along with other traditional Slavic and Jewish dishes.
On a fine Tuesday evening, I was walking with my local friend who was showing me around Chistye Prudy and Kuznetsky Most. Odessa Mama was on the way from Kuznetsky Most to Chistye Prudy. It is also just four minutes walk from Chistye Prudy metro station. My friend had frequented to this place and we thought that it would be a great idea to have dinner here.
Odessa Mama Moscow had a great black sea themed ambiance with both outdoor and indoor seating. We chose to sit outdoors. It had colorful patio-style chairs as well as booths of cushioned benches. The food menu was packed with a variety of dishes. Servers were polite, but they talked mostly to my friend in Russian and almost ignored my Russian, I guess I confused them.
Food Order
Dachniy Ovoshchnoy Soup – Soup of Summerhouse vegetables (vegan if without sour crème): Soup of homegrown vegetables. These vegetables are grown in summer houses also known as Dacha. Dacha is a very popular concept in Russia and former USSR. It is a seasonal or year-round second home where people usually spend their time on leisure, summer retreat or growing fruits and vegetables or fishing.  The soup was very light and delicious, it comes with sour crème which is not vegan, but you can avoid the crème. It did not come with any bread, therefore, I ordered traditional Russian black bread.
Chyorniy Hleb – Black bread: One of the most popular bread in Russia. It is made from rye and it is deeply associated with Russian traditions and culture as the saying goes: "Buckwheat porridge is our mother and rye bread is our father." This was the first time I was trying this bread. It had an unusual taste, but still very delicious.
Veganskiye bitochki iz nuta s limonom – Vegan cutlet of chickpeas with lemon: I love cutlets, I always had the vegetarian ones. It is a popular breakfast in Indian Railways. We used to get cutlets made of potatoes, peas and dry fruits in the shape of a heart with bread included in the price of the ticket. There might be many opinions about train food in India, but I just loved it. As soon as I saw Vegan cutlet in the food menu of Odessa Mama, I had to order it. It comes as an appetizer with just two pieces of cutlets. It is made of chickpeas, a pure vegan delicacy.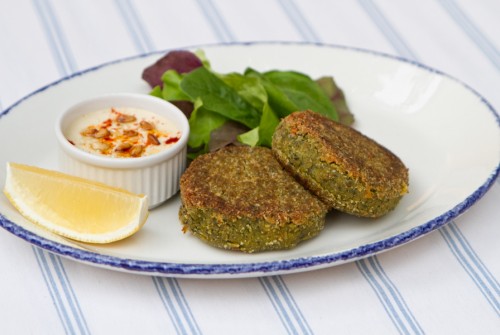 Interesting fact
Maybe I did not pay attention very well, but there was something unusual about the toilets in this restaurant. It had a unisex toilet which can be used by many at the same time. As I entered I saw women inside and I thought maybe I mistakenly entered the wrong toilet, but they assured me that it's all the same. I think it is very progressive and in the right direction. When in USA certain states are bringing bills to dictate who can use men's or women's room, Moscow is setting a great progressive example.
If you are thinking of visiting Moscow, definitely add Odessa Mama Moscow to your bucket list. If you have been to this place before, please share your thoughts and comments! Tired of eating in restaurants every day? Try vegan and vegetarian food in Russian stolovaya!
Featured Image: Chistye Prudy by Flickr/5nap