A Day in Suzdal – Vegan Trekker Travel Guide
If you are visiting Moscow on a holiday you have to plan a day in Suzdal as well. Before you consider buying a $500 trip to spend a day in Suzdal, read my article on make a return trip to Suzdal from Moscow in just $30.
Suzdal is a beautiful historic town on the famous Golden Ring that surrounds Moscow. It is situated on the calm and beautiful Kamenka River. Suzdal was once the capital of the Russian principality back in the 12th century. Interestingly, at that time Moscow was just a small settlement. Today Suzdal is one of the smallest, but most interesting towns in the Golden Ring. It is so small that only around 10,000 people call it their home. Suzdal lies 25 km north of Vladimir, an industrial hub and a part of the Golden Ring.
In 1864 Trans Siberian Railway was being laid down across Russia. The planners back then decided to pass it through the town of Vladimir instead of Suzdal. This resulted in Vladimir becoming a much bigger city and Suzdal skipping any 20th-century development. Today Suzdal has almost no industry other than tourism. It is like an open-air museum hosting kremlin, churches and monasteries dating back to 10th t0 12th centuries. This makes Suzdal one of the most significant stops on the Golden Ring in my opinion.
Reasons to spend a day in Suzdal
Spending an entire vacation in Moscow or St. Petersburg is not a true Russian experience
Experiencing Russian culture and history
Travelling on a section of legendary Trans-Siberian Railway
Make sure you do thorough research if you have not decided how to reach Suzdal. You can either book a tour from Moscow or plan it yourself. When I was looking for tours they were really out of my budget. Most of them were costlier than $500. Before you make a decision I would really recommend you to read my article on how to plan a trip to Suzdal from Moscow in less than $30.
The entire town of Suzdal is walkable. A car may save a lot of time, but you might miss many hidden walkways, footbridges over the river and local life. I came by the bus from Vladimir that dropped me right at the Kremlin. Thus Suzdal Kremlin became my first stop.
Suzdal Kremlin
Suzdal Kremlin is the oldest part of the city. Some archaeological evidence suggests that it was first built in the 10th century. For just 350RUB you can buy an all-access ticket at the entrance. There are two exhibits as soon as you start the tour inside. One of the exhibits is the children's classroom before the revolution and the other is the marketplace. The latter has my favourite wall painting with a bear standing on its legs and holding a wooden bowl.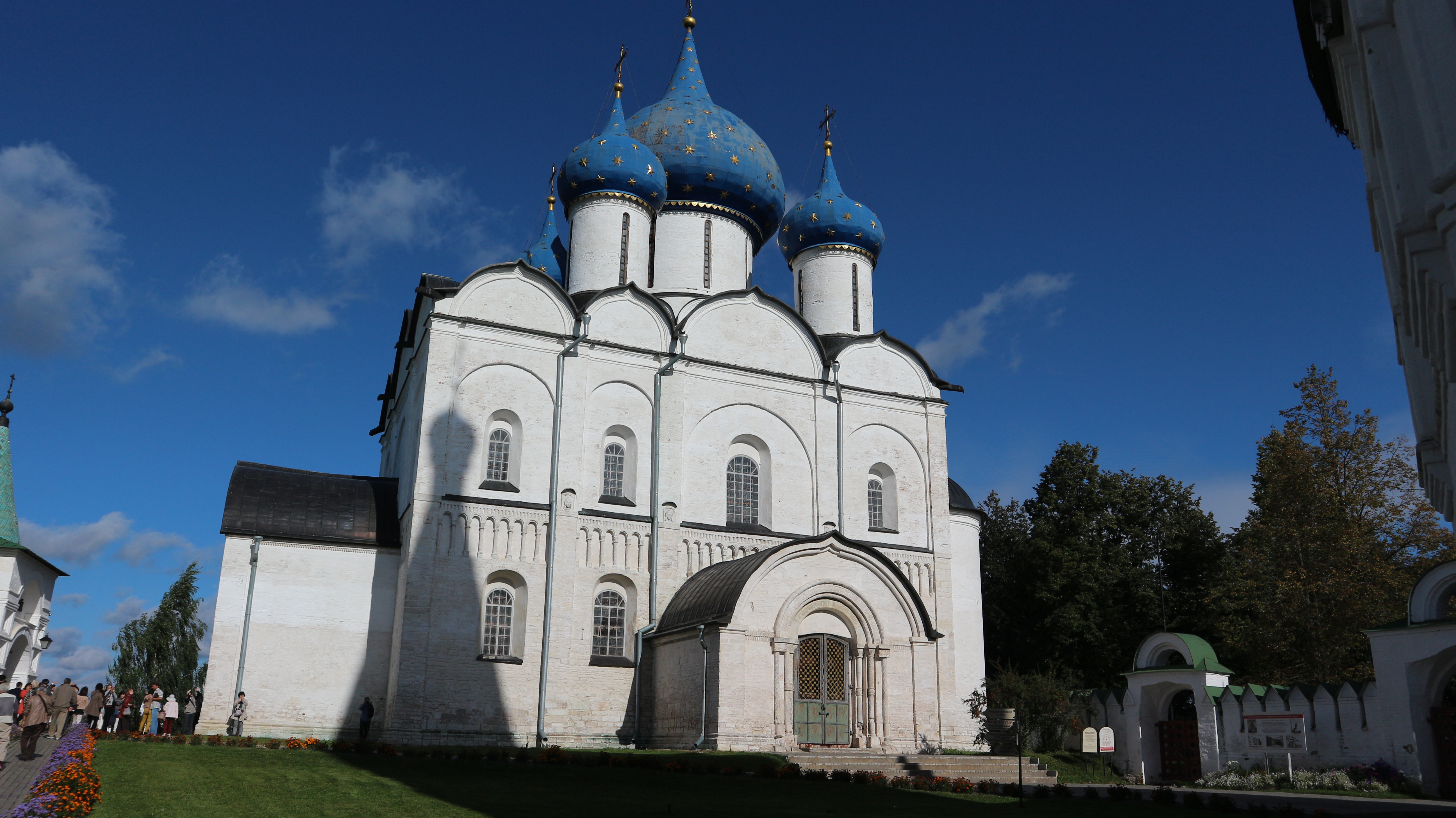 One of the highlights of the Suzdal Kremlin is Cathedral of the Nativity of the Theotokos. It is a World Heritage Site and one of the eight White Monuments of Vladimir and Suzdal. The door at the church stands out from a distance. It is a 13th-century double metal door that is also known as the golden door.
Museum Of Wooden Architecture & Peasant Life
A bit further from Suzdal Kremlin across the river lies the Museum of Wooden Architecture and Peasant Life. It is a large open complex consisting of many wooden architectures, windmill and cafeterias. There is a walkway starting from the entrance which is actually a loop. No matter in which direction you go you will come back to the entrance/exit. All the wooden structures are in a flow. Some of them are houses of peasants, illustrating their living and some of them are houses of elites. You also have beautiful windmills and in the end, there are small shops and café.
Talking about cafes, you should visit Restaurant Uley, not so far away from this museum. It is a traditional Russian fine dining restaurant. If you are on a budget, then I would suggest you find a Stolovaya nearby which is a traditional Soviet-style canteen/cafeteria.

Saviour Monastery of Saint Euthymius
You can get an all-access pass to explore this beautiful monastery for the only 400RUB. The monastery of St. Euthymius in Suzdal was founded in the 14th century and was wooden built. In the 16th century, Polish invaders burnt the monastery and it had to be rebuilt with fort-like protection. Today it is the largest monastery in Suzdal. The complex also contains a prison that was earlier used to keep only religious prisoners.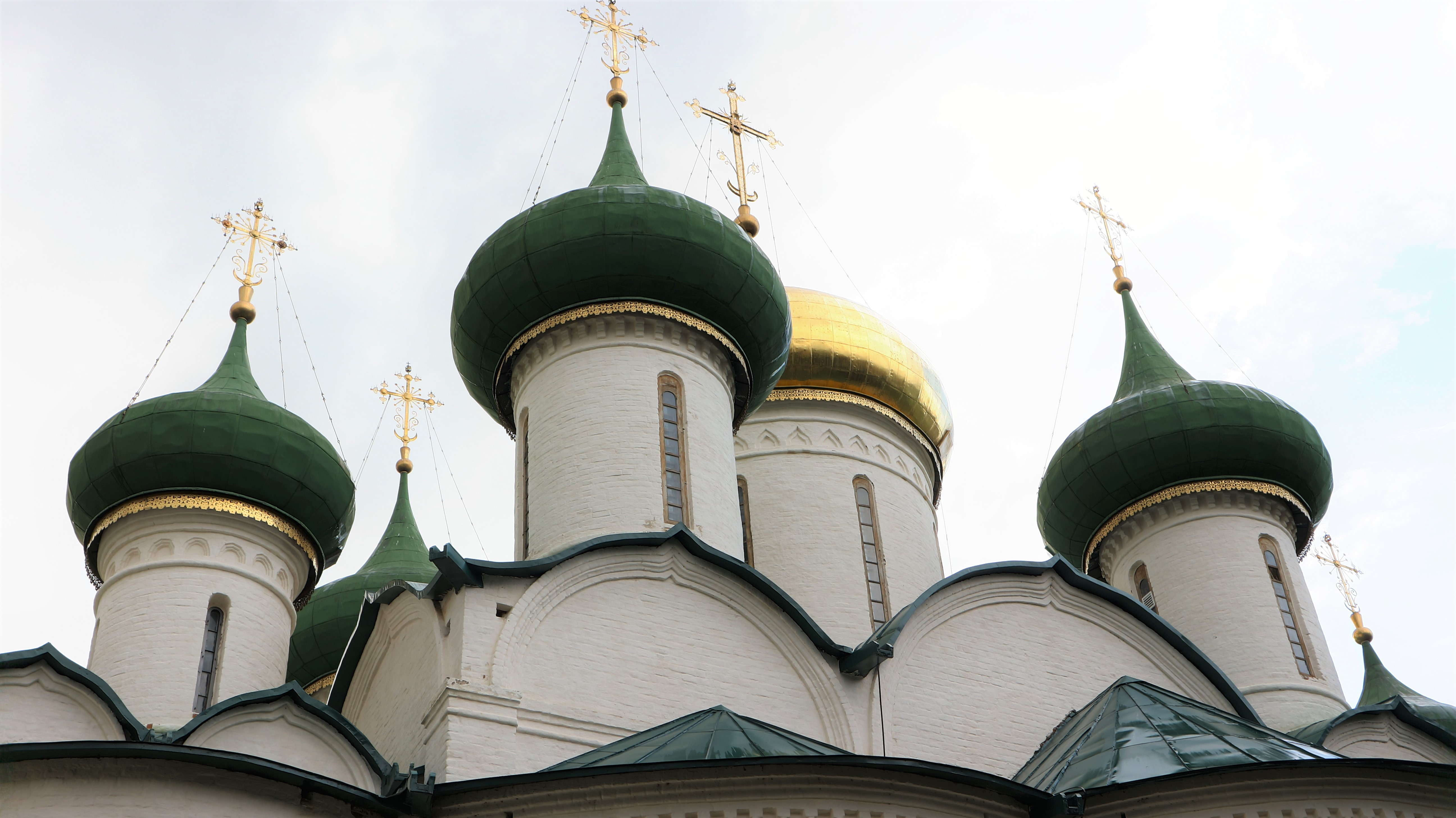 There is also a gift and souvenir shop in the complex where you can find various handcrafted souvenirs made by the local people. I bought an apron for my mother, a box of Ivan chai and wall plates. There is also a café and restaurant in the complex where I had second lunch of the day! You can find more about Chainaya restaurant in Suzdal and Ivan chai here.
I got to this monastery not from the main entrance, but from the riverside climbing a small hill. There was no road or paved path but a small trail through the grass and footbridge over the river that led to the monastery wall. When you are up at the hill you get an amazing view of the city. Try not to miss it! The main entrance of the monastery is very close to a bus stop where you can find the bus to go back to Suzdal bus station.
Tips
Suzdal is an open museum. Keep your camera handy and explore, use the walkways, footbridges, beaten and off the beaten paths. If you are really into culture and history then I would suggest you keep at least two days. Come here and spend a day in Suzdal and another in Vladimir. I kind of regret not spending a lot of time in Vladimir.
You will meet a lot of local people on the streets and churches. They are very nice and may appear shy at first. However, a lot of people working in the monastery and museums guided me and also took their time to explain things. Unfortunately, they only spoke in Russian and I understood only a little.  Even though it is a touristic town there were not a lot of tourists. In the morning I saw bus tours of Chinese tourists coming in, but by the afternoon the buses had gone. So you can have a day in Suzdal almost all by yourself as a tourist among the local population.
If you have been in Suzdal please write in comments about your experience and tips. You can also share your pictures and videos in the comment section. If you have any questions or concerns do not hesitate to ask in the comment section and I will try to reply as soon as possible.
What Next?
Find a hotel in Suzdal.