Suzdal – Fine Dine with Russian Vegan Food
Not many people associate Russia with a country having a wide variety of vegan food. When you think of Russia the first few things that should probably come to the mind are soups and dumplings made with pork or beef, rice and fish and caviar. To your surprise, Russia does have a lot to offer when it comes to Vegetarian or Vegan food.
In my experience, every country has its own vegan or vegetarian dishes. However, in Russia people are traditionally used to eating vegan food. Every year before Russian Orthodox Christmas and Easter people observe lent for at least six weeks. Strict observers of lent forbid themselves from eating any kind of meat or animal product. While observance of lent is worldwide among Christians, it is more popular among Russian Orthodox Christians.
Like many European and American cities, vegan culture is spreading in Russia as well. New restaurants serving vegan food are opening up in cities like Moscow and St. Petersburg. If you are not in these cities, you can still find authentic Russian vegetarian food. Vegans, on the other hand, should be careful of:
Smetana (Sour Cream): Almost every Russian dish can be paired with Smetana. Usually, in a restaurant, you will be served with Smetana with your order. As it is served separately, you can very well ignore that.
I reached Suzdal on a beautiful sunny Thursday morning by bus from Vladimir. It was around 10 AM and restaurants were just opening up. Without wasting any time, I started exploring the city holding google maps in my hand. It was when I was leaving the open Museum of Wooden Architecture & Peasant Life I found a small cafeteria. I had not had any breakfast so I gave it a shot. For a total of 50 Roubles (< $1) I ordered:
Pirozhok (Vegan): Pirozhok is baked or fried bun with a variety of fillings such as mashed potatoes, mushrooms, onions, egg, cabbage or more commonly meat. They may also include sweet fillings such as apples, cherries, apricots, jam and tvorog (cottage cheese). Note: Sometimes Pirozhok are glazed with egg to produce a golden colour, please confirm with the server if your Pirozhok has any eggs.
Medovukha (Vegetarian): Medovukha is a honey-based alcoholic drink consisting of yeast and honey. With only 5% of alcohol and sweet in flavour, medovukha is extremely refreshing and delicious. This is one of the ancient Russian drinks before Vodka was invented. As it took up to fifty years to produce this drink, it was really costly and was available only to the elites for a special occasion. However, with enhanced technology and with the invention of distillation tank it became easily affordable to the general population.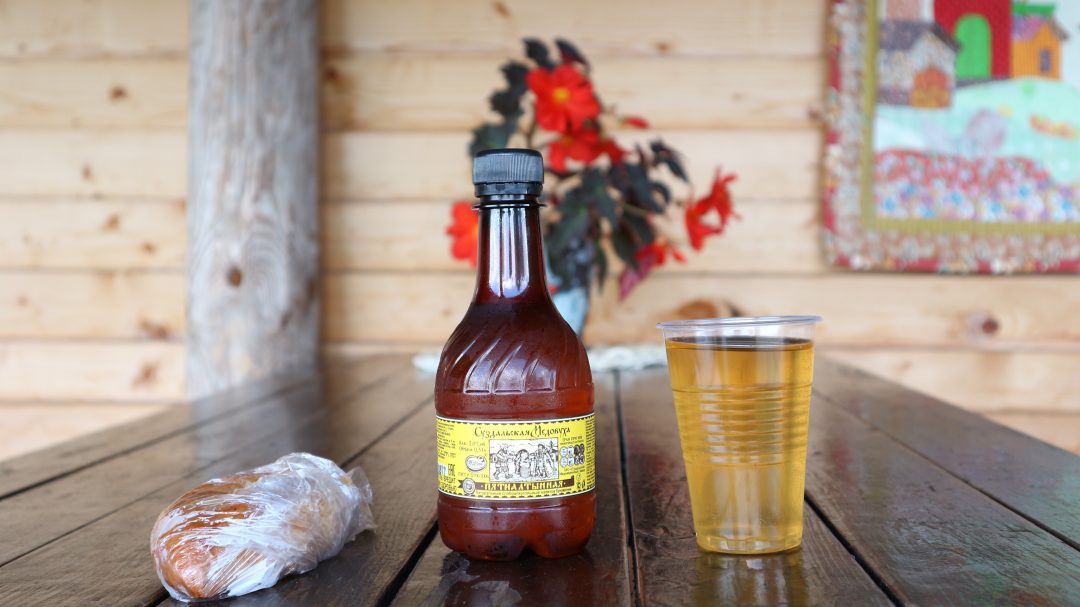 I think it would be safe to say that this was my first time having alcohol in breakfast.
When I was planning to accommodate Suzdal in my Russia trip one of my friend from Russia suggested me to visit Uley, a restaurant, for lunch. I usually like her preferences in restaurants and decided to give it a shot, after all, it is also a TripAdvisor ranked #1 restaurant in Suzdal.
The restaurant, in an upscale neighbourhood, had very classy ambience. Somewhat similar to the interiors of ancient wooden houses I saw in the Museum of Wooden Architecture. Servers were very polite and friendly and very happy to see me. They tried to speak English, but when they got to know I can understand Russian they almost gave up with the English. The menu had a variety of items and I could not resist, but order as much as possible.
Kvass: Kvass is a traditional Slavic drink made from fermented rye bread, also known as Chyorniy Hleb (Black bread). It is considered non-alcoholic, but it does have alcohol typically less than 1%. It has a very significant taste, different from anything I have tasted before. Very crisp, refreshing, fizzy and a bit sweet.
Ivan Chai: When I was walking on the streets of Suzdal, I overheard two women talking how much they love Ivan Chai. When I saw this on the menu I got confused. Should I have Kvass or Ivan Chai? One is hot and the other is cold, but the excitement was too much so I ordered both. Ivan Chai is a traditional Russian tea from the 12th century made with fermented willowherb. During Soviet times the commercial production of Ivan Chai came to a stop and the tea was soon replaced by cheaper tea from India and China. Today this caffeine-free tea is again finding admirers like those two women and now me.
Mushrooms with Potatoes (Vegan): A bowl of boiled mushrooms and potatoes with olive oil, parsley and garlic
Blini with Red Caviar (Non-Vegetarian): Blini is a Russian pancake usually very thin and soft. It can be paired with a wide variety of items, but one of the most popular ways to eat it is with Caviar. As a vegetarian, I would not eat Caviar as a fish has to be killed or harmed before harvesting its eggs. However, I had heard a lot about it and wanted to try just once. I had red caviar and honestly, I was not very impressed. It tasted weird and was very salty. I heard black caviar is more delicious, but it was 10 times more expensive and I did not have many hopes left.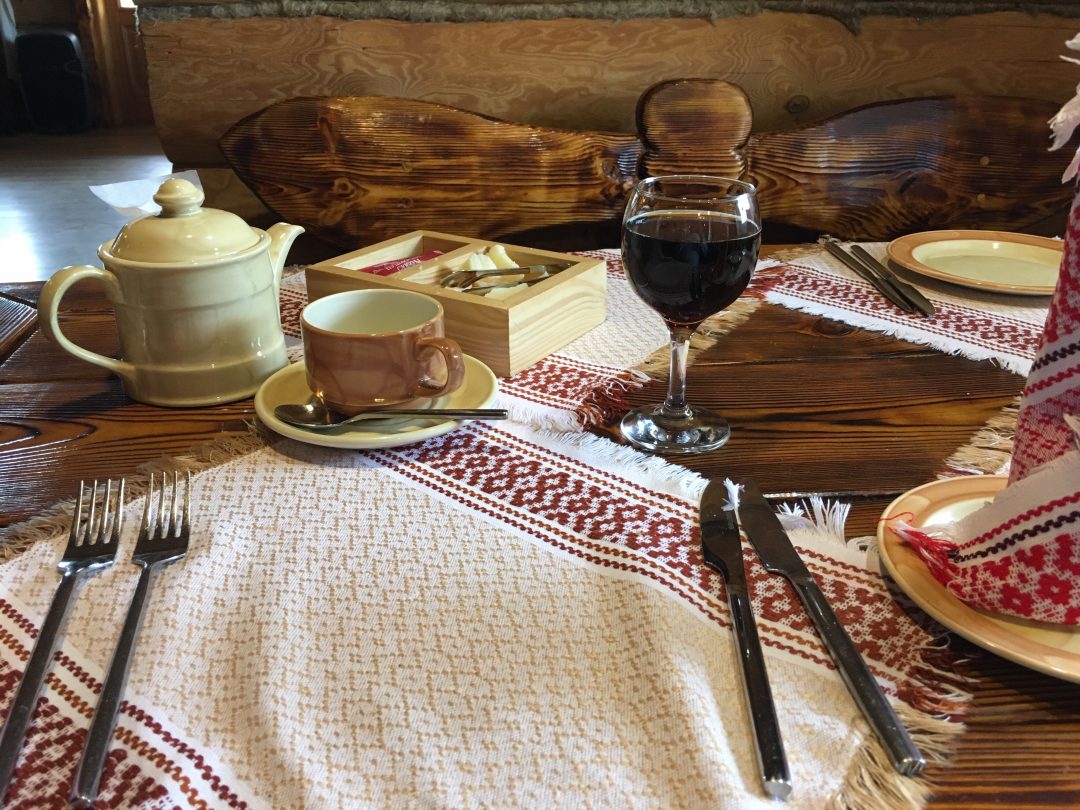 Leaving the restaurant with a happy tummy, I carried on my journey to explore the remaining of the town. I climbed a hill to the Monastery of Saint Euthymius where I was caught in a thunderstorm, which followed me from Miami. The only place I could see where I could take shelter was a nearby restaurant called Chainaya. It was a Trip Advisor Ranked #4 Restaurant in Suzdal. Second lunch for this guy! The only thing vegan I could find in this restaurant was Mushrooms and Potatoes, the same thing I had in Uley, but this time I was clever enough to take a picture. It is hard to tell which one liked more as both the kitchens made equally delicious food. However, I can add that I got more homely feeling in Chainaya, the cooks were very kind and the food served was very homestyle.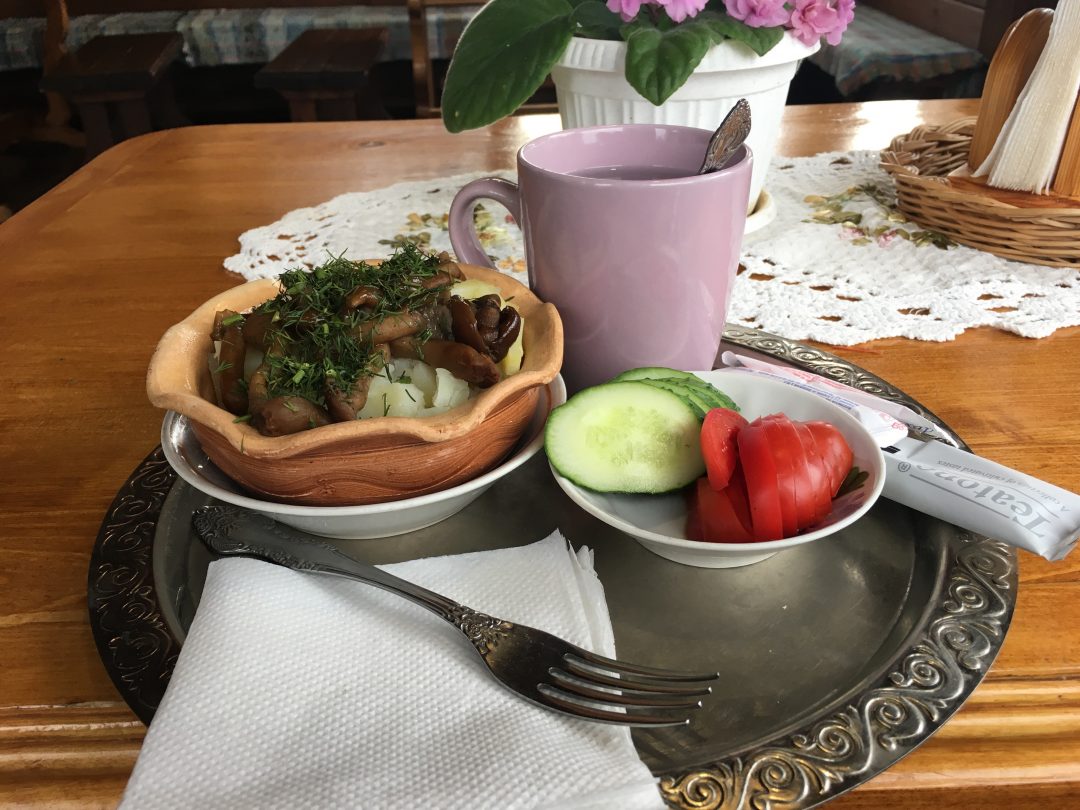 This ends my Food adventures in Suzdal. I hope you found it informative. Leave your suggestions and questions in the comments below. If you are planning to buy $500 worth day trip to Suzdal from Moscow then read my article on how to visit Suzdal and come back to Moscow in less than $30. Stay tuned for my next article on what to do and see in Suzdal.