Golden Ring Hotel in Moscow – A Review
When I was in Moscow for the first time, I booked one of the cheaper options in the center of the city. It did not have any kind of room service or amenities. Even though it was in the center of the city, it was somewhere in the interior. My trip was long and soon I realized that booking a cheaper hotel was not worth it.
Featured Image Source: https://hotel-goldenring.ru/en/
Last time I visited Moscow to celebrate 2019 New year. Due to lower tourist activity in winter, I found that the hotels were cheaper in Moscow. I took this opportunity and booked Golden Ring Hotel (Check rates and availability here). It is a Soviet style 5-star hotel in the center of Moscow near Smolenskaya Metro station. If you are wondering, you have heard of this name before. You may be confused with Golden ring of religious and touristic places around Moscow, which by the way are worth visiting.
How to Reach Golden Ring Hotel in Moscow
If you are arriving from the Airport check out the Aeroexpress train that connects to the center of the city from Sheremetyovo, Domodevo and Vnukovo airports. A single trip to the center of Moscow will cost you 500 RUB. If you book the ticket online in advance you can get the ticket for 420 RUB. From the railway station in the city center you can take an Uber or Yandex.Taxi to go to the hotel. I suggest you download both Uber (Claim one free Uber ride when you register with my link) and Yandex.Taxi (Get 30% off on your first three rides on Yandex.Taxi when you register from my link) apps. Register for an account if you do not have one and load your credit card to avoid last minute frustrations. I arrived at Belorusskiy Vokzal (Railway Station) from Sheremetyovo via Aeroexpress (420 RUB) and then ordered a Yandex.Taxi to the hotel that costed me 350RUB. In total, I paid about 770 RUB. On another occasion I took Yandex.Taxi straight from Sheremetyovo to the hotel and I paid 1170 RUB. If these extra 400 RUB (about 6 USD) does not matter to you much, then I suggest taking Uber or Yandex.Taxi straight to the hotel.
Tip: If you are an international tourist, I suggest you to book Comfort option (it is the middle option, not too expensive and not the cheapest). If it is possible then I suggest not to book the Economy option. Your experience could be much better. All the app based taxi costs I have mentioned in this article are Comfort costs.
Check-in Experience at Golden Ring Hotel in Moscow
As soon as I arrived in the hotel, I was greeted by hotel porter who took my luggage before even I checked-in. At the time of check-in all I had to provide was my passport. With the help of my passport they could find out my room reservation. They arranged my key and scanned my passport. This is a usual practice in Russia. Your host whether a friend, Airbnb or your hotel must register you with the authorities. To facilitate this they scan a copy of your passport.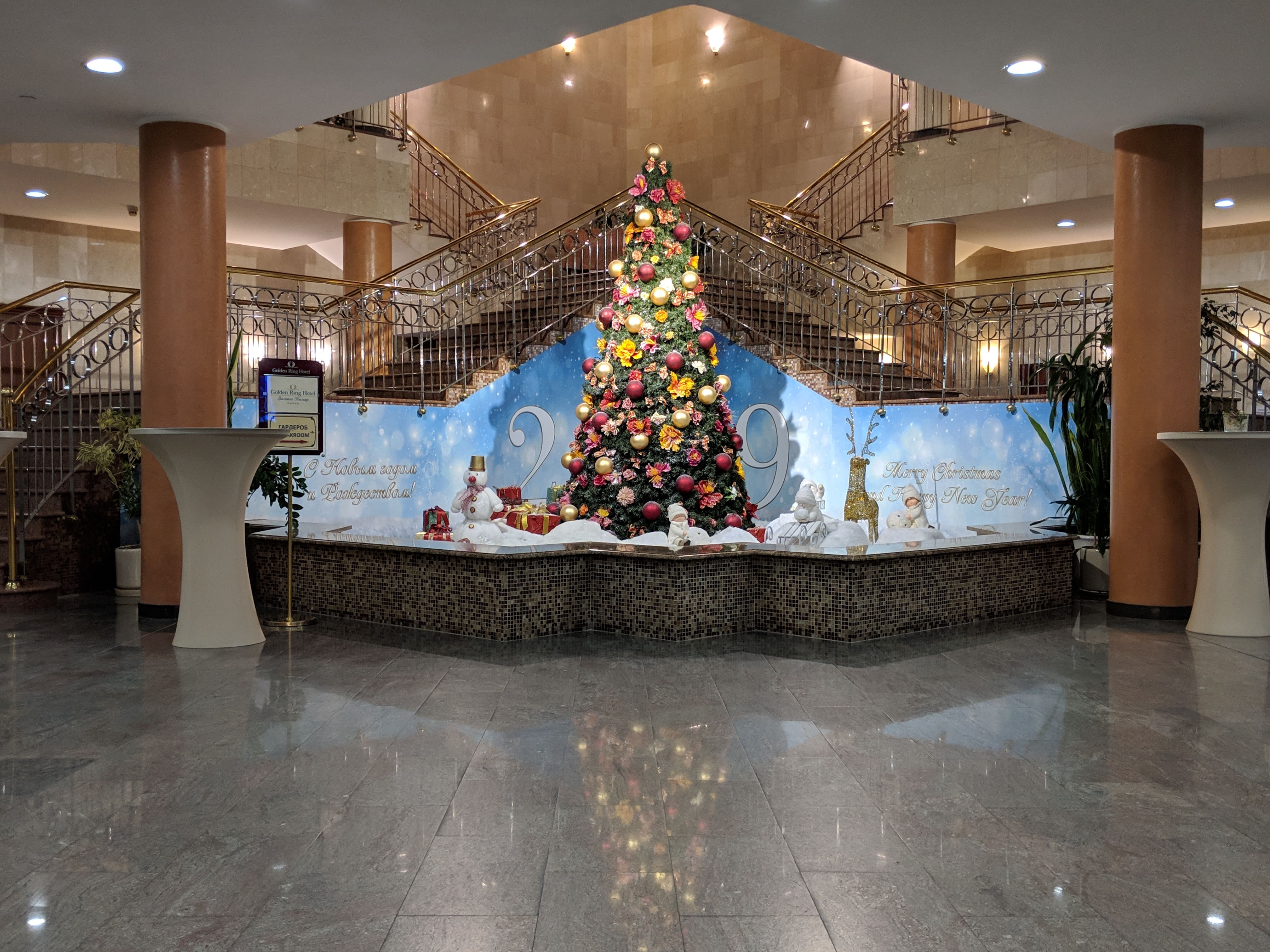 After getting my key, I went back to the hotel porter who looked at my room number and guided me to my room. On the way he explained me how to operate this key, how can I use the gym and spa and where can I find restaurants and breakfast. My key had a chip. This key is used to operate the elevator (lift), unlock the room and activate the electric power in the room. The key had a SIM card like chip that needs to be inserted in the slot at all the times. The hotel porter placed my luggage on a table in my room and wished me good night. I was really amazed with this service.
Golden Ring Hotel Room Interiors and View
The room was spacious and decorated in soviet style red and gold colors. Bathroom was huge with various amenities such as hair dryer, toiletries, a small handy mirror along with regular wall mirror and a small stool. I have not seen stools in hotel bathrooms ever. The bathtub wall had a lever to call a doctor in case of emergency. The room itself had six to seven telephones. Along with Wi-Fi, hotel also provided ethernet cable for internet access. TV was not as big as you find in North American hotels and it was also a bit older. However, I rarely watch TV.
From my window I had clear view of Ministry of Foreign Affairs of Russia. This building is one of the 7 skyscrapers built by Stalin to display the progressive urbanization of Soviet Union to the west. I also got a chance to stay in another room in the same hotel and from there I had a beautiful view of Moscow city.
Location
The hotel is conveniently situated near Smolenskaya metro station that lies on blue line. There are two metro stations in Moscow by the name – Smolenskaya. Both are near each other. However, one of them is on sky blue line and other one is on blue line. Please remember that this hotel is closer to the Smolenskaya station on blue line and not the sky-blue line. It takes only 5-minute walk to reach the metro from Golden Ring Hotel. Once you are in metro station you can reach almost any point in Moscow. Moscow metro is one of the best metros in the world. I can say without any doubt that public transport in USA and Canada and other western countries is no match to that in Moscow.
The hotel is also a walking distance from famous Arbat street and Moskva River.
Is the location Safe?
I have been to Moscow many times and I had no issues with my safety. Honestly, I never felt threatened or insecure. I walked alone after midnight and used public transport without any issues. However, in my another article I shared few tips and advices on how to remain safer in Russia.
More hotels in this location and Golden Ring Hotel
Restaurants in Golden Ring Hotel
There are four restaurants in the hotel. All the restaurants are properly marked inside elevators (lifts) to help you press the right floor number.
Suzdal Hall – This hall on 2nd floor is named after one of the most famous cities in the Golden ring around Moscow. This is where you can have breakfast from 7 AM to 11 AM. It is a buffet style restaurant accompanied by live harp.
Diamond Lobby Bar – This bar is in the lobby of the hotel as the name suggests. It is open 24/7 and provides international cuisine options.
Winter Garden Rooftop Restaurant – Open from 12PM to 12 AM. It is a roof top restaurant under a glass dome. This makes it suitable for a visit at any time of the year. If you are looking for a great view of Moscow city, this is the place to go. This restaurant serves traditional Russian food. That includes some of the vegan and vegetarian delicacies:

Vegetarian Delicacies

:

Ripe Tomatoes with Farm Cheese

Russian Salad

Baked mushroom with cheese

Vegan Delicacies:

Collection of Traditional Russian Pickles (worth trying!)

Soup of Sauerkraut and Forest Mushroom

 

Panorama Restaurant – As the name suggests this restaurant provided 360-degree view of Moscow. It is one of the most outstanding panoramic restaurants of a city center. It is another fine dine restaurant that serves many European and modern Russian cuisine. Please download the menu here.
Concierge
I loved the concierge service at the hotel. Whenever I had to go outbound from Moscow, I relied on their concierge service. I used the concierge service many times whether it was my trip to Sheremetyovo airport for my flight to Volgograd and Miami or my trip to Leningradskiy Vokzal for my trip to St. Petersburg by Sapsan.
Often my flight or train was early morning when either the metro did not operate, or it would have been too difficult carrying all my luggage in metro. Uber and Yandex.Taxi are reliable, but they can get lost. I do not want to play with that probability when I have a flight or train to catch. Therefore, I asked for taxi service from the hotel. They will book the taxi for you and it will be waiting for you outside the hotel at the time you ask them to arrive. The hotel can also book one of their cars for you which is much costlier.
They have fixed prize for the trip and you pay the price directly to the taxi driver. You can pay by card as well as by cash. I will suggest you always carry cash with you specially when using taxi. Sometimes their card processing machine does not work. I have even had an experience where Yandex.Taxi driver refused to accept my card and stopped for me at an ATM so I could withdraw some cash. The hotel has an ATM and currency exchange as well.
Cost of using concierge
A one-way cost from hotel to Sheremetyovo is 1700 RUB (Uber or Yandex.Taxi will cost you lesser  – about 1170 RUB). Hotel can also offer to book one of their cars which is about 3300 RUB.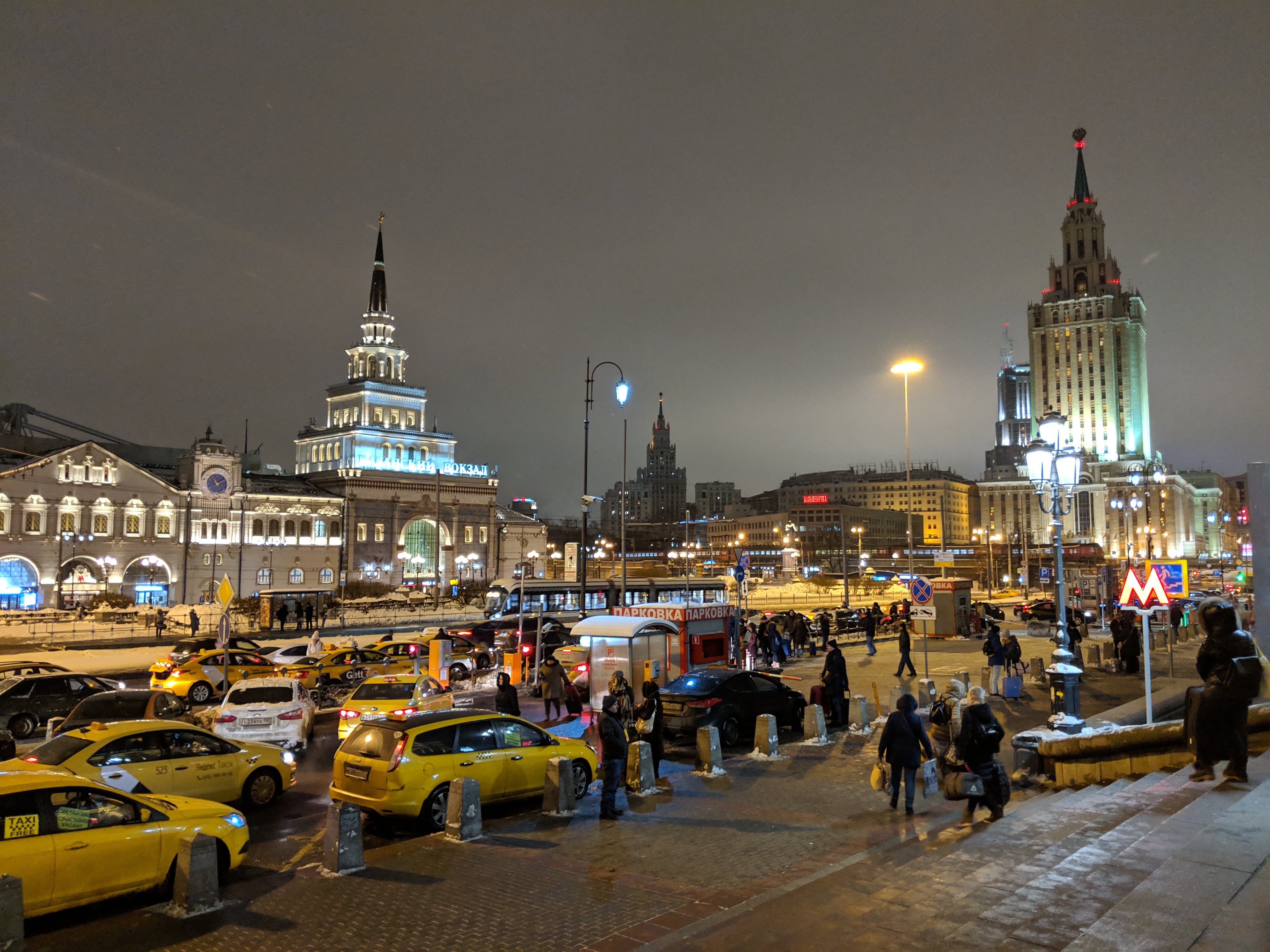 A one-way cost from hotel to Leningradskiy Vokzal (Railway Station) is 700 RUB.
Will I book Golden Ring Hotel in Moscow again?
In conclusion, I had a true 5-star experience at Golden Ring Hotel in Moscow. It is a beautiful hotel. Though not very old, it carries the glory of Soviet Union in its interior. Moreover, the service was amazing. In addition, it is a cheaper 5 star hotel option for you in the city center. I called them often to bring me more water and I got bottled water free of charge. Everyone understood English and greeted with smile. My friends visited me in my room, and we had everything provided by the hotel to prepare tea and have a nice relaxed time. Whenever I am coming to Moscow, I am booking this hotel.