Use Sapsan High Speed Train between Moscow and St. Petersburg
If you are travelling to Russia, there are minor chances that you are not visiting both Moscow and St. Petersburg. If you are travelling between these two cities, then you probably must have wondered how you are going to do that.
As international tourists, specially if you are from USA or Canada, we often forget about the existence of trains and instead end up booking flights if we can't drive.
However, Russia is a bit different due to the existence of high speed, cheap and convenient trains.
Travelling Between Moscow and St. Petersburg by Flight
Flying between Moscow and St. Petersburg is a popular option. I have seen return tickets ranging from 60 USD to 100 USD. A one-way flight between these two cities take about 90 minutes. If you are staying at the center of Moscow, then your trip to any airport by car or taxi can take anywhere around 30 minutes to 60 minutes. Let's take an average of 45 minutes. Similarly, your trip from Pulkovo Airport to city center can take about 45 minutes in average. Therefore, total time from Moscow city center to St. Petersburg city center comes out to be 90+45+45 minutes. That is 3 hours. I forgot to mention that you need to go to airport 2 hours before departure for security screening. So, the total travel time comes around to 5 hours.
Travelling Between Moscow and St. Petersburg by Sapsan High Speed Train
Since the introduction of Sapsan high speed train in 2009 between Moscow and St. Petersburg, train has become the most popular choice all over again. It is more convenient and faster. A train ride between the two cities takes about 4 hours. It starts from Leningradskiy Vokzal in Moscow and arrives at Moskovskiy Vokzal in St. Petersburg. Both stations are right in the center. However, you may still be staying a bit far from the station so let's add 15 minutes each for your commute. I was staying at Golden Ring Hotel in Moscow which was about 15 minutes from the railway station. In Addition, I suggest to arrive at the station at least 15 minutes before departure. So, your total commute could be of 4 hours and 45 minutes. A return ticket in the economy class of Sapsan high speed train can cost you anywhere between $80 to $90.
The costs and travel time of flight and the train looks similar, but trains are in general more convenient. You have more leg space, you are connected via internet all the time and we cannot ignore the cost of taxi to and from airport. It costed me 1170 RUB one way from Sheremetyovo to my hotel in Comfort class of Yandex.Taxi which comes out to 17 USD.
Vegetarian Food in Sapsan High Speed Train
At the time of meals, the train attendants will bring small refreshments to you. It works exactly like in a flight. You will get a refreshment bag containing a sandwich and a small piece of dry fruit cake with either black or green tea as per your choice. There is not much choice when it comes to food. First time when I was in the train, I got a sandwich with cheese and veggies, but second time I think I got it with either chicken or turkey. I did not want to eat that nor was I hungry. Nevertheless, the train also has a dining car, which has a bar. That is where you can find veggie snacks such as veggies and pickles with drinks.
How to Book Sapsan High Speed Train
There are many websites offering tickets online. However, I suggest booking the train from the official Russian Railways website. You will have to register an account. You should also download their app. Once you will book the train you can find your boarding pass on your mobile app.

While you are booking a ticket online, make sure you do not end up buying any other type of train. Sapsan train will tagged Sapsan (САПСАН) as I have highlighted in yellow. If you cannot read Russian alphabet then pay attention to the duration of the train. If it is something about 4 hours or less then it is indeed a Sapsan train, if it is anything more than that then you do not want that. In the screenshot that I posted above, the first train is not Sapsan. It takes 8 hours and 52 minutes. However if we look at the second option it takes only 3:30 minutes. Bingo! That's the one. This is just one example. You do not have to get up that early to catch that train. There are many more trains later in the day.
How to Board the Sapsan High Speed Train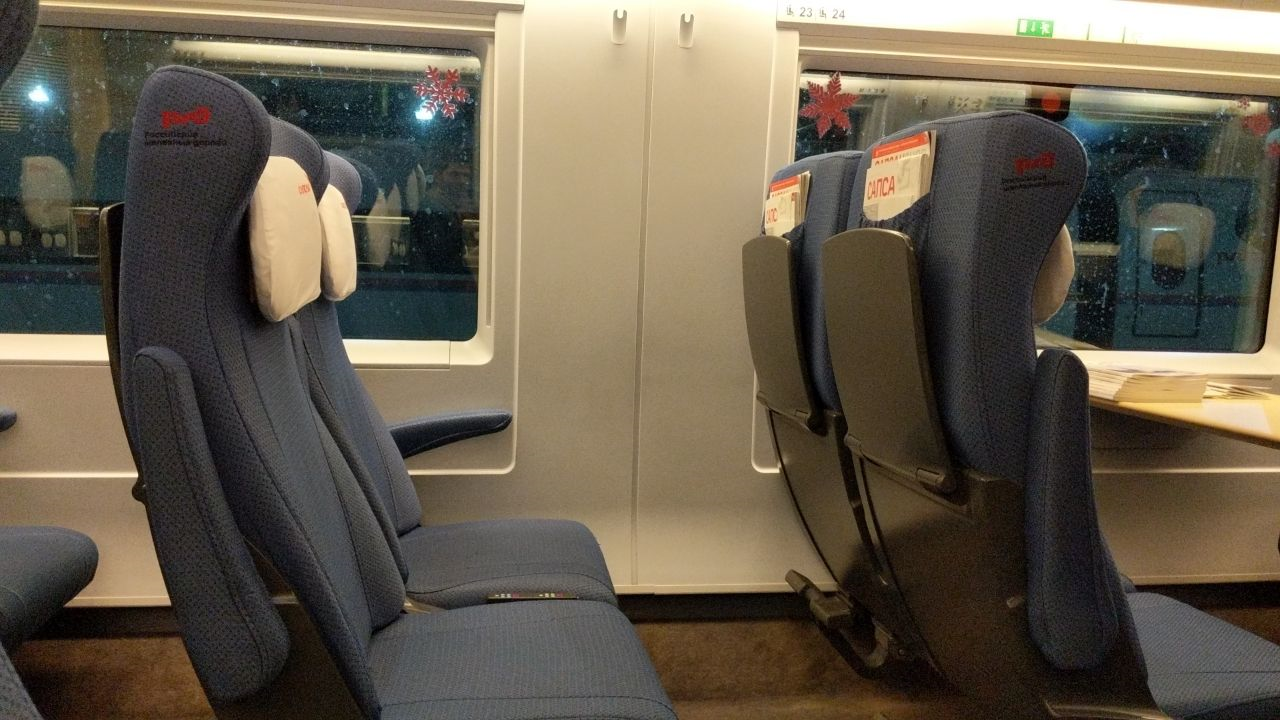 At the railway station you will have to scan your luggage and go through security two times. First time when you enter the railway station and second time when you enter the Sapsan platform area. This is way too faster than airport security screening. There are many Sapsan trains departing on the same day at the interval of few minutes. Make sure you are boarding the right train. Keep an eye on train status display screens. At the platform there will be a ticket checker. Officially they advice you to keep both the boarding pass on your mobile app and passport handy. However, they checked only my passport. They were able to find reservation under my name with the help of my passport. Once you board the train you will have an area to keep your luggage as well as hang your coat. Now just sit and relax!
What is next?
Let me know if you had similar experience in Sapsan in the comment section. Do you also think Sapsan high speed train is better option than flight? If you are concerned about your safety in Russia then read my article on is it safe to visit Russia? Are you wondering what are the vegan and vegetarian options in Russian flights? Read my article on Should you fly with Aeroflot?