Holiday in India: Best tips and worst travel experiences
A lot of people want to spend their holidays in India. However, very few people actually attempt it due to various concerns about health and safety. This article tries to break down most common traveler's questions
This is one of the first interviews in the series where I will interview influencers who are travel or vegan lifestyle enthusiast. The idea is to share their experiences with the readers globally who are preparing to travel and have series of questions.
Today's personality is my long-time friend, Aidana Umrali, who is from Kazakhstan. She has spent her holidays in India multiple times, lived for a while and knows its lengths and breadths.
How many times have you travelled to India? Tell us in brief what brought you to India each time?
It is difficult to count, but I think I have travelled to India roughly 6 times. My first trip to India was in 2012 when I came to celebrate the New Year holidays. I stayed in a hotel near Railway station in New Delhi and the next day I went to Goa by train that took 48 hours!
In 2013, I decided to take a course in Systems Security, so I flew to Pune once again and spent couple of months living there.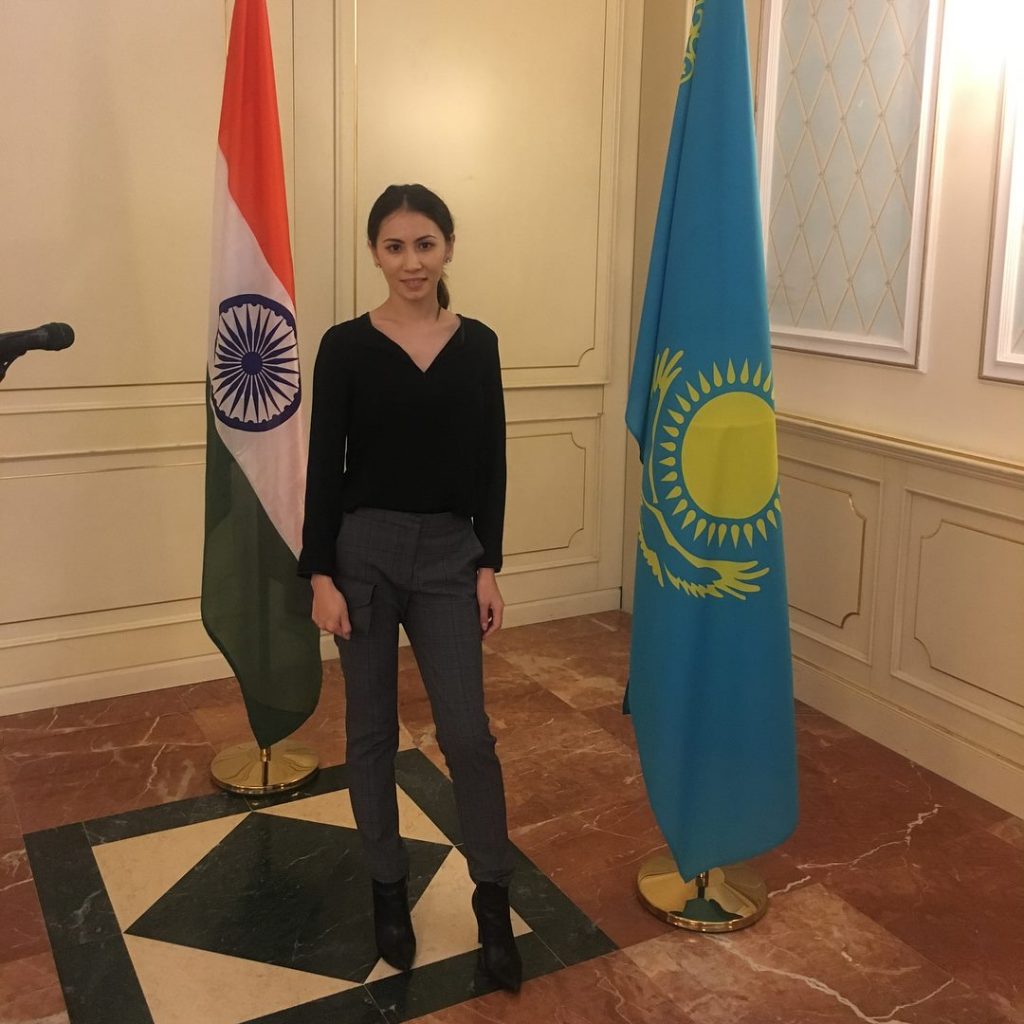 In January 2014, I came to India third time to spend my holidays in India, particularly in Pune and Delhi. The same year I came to India fifth time to take a course in Advanced Computing at C-DAC and spent some months living in Pune. This was the time when I really felt like a local in India. I found out all the good places to eat and hangout. I made a lot of local friends who showed me cool places and were always ready to help me.
In 2016, I came to India once on a business trip and my last trip to India was in 2018 when I went to explore the southern state of Kerala!
I am surprised that you chose to travel within India by train, tell us some of your experiences of travelling by train in India.
I travelled few times by trains in India. I must honestly say that my first time in train was one of my worst India travel experiences, a wild one! I did not know that you must buy a chain lock for your luggage and lock it under your seat. When I went to sleep, I realized that someone was trying to steal my luggage. I screamed for help, and luckily the people around helped me. Later, I bought a chain lock and only then I went to sleep.
When I first came to spend my holidays in India, I did not know English properly. I had a good company of fellow passengers in the train, but I was hardly able to maintain a conversation in English.
Indian trains can be noisy. Trains make noise, people can be loud and often some sellers pass by trying to sell snacks and drinks which can be annoying sometimes. However, I must admit that I was always looking forward to eating samosa and drinking chai in the train!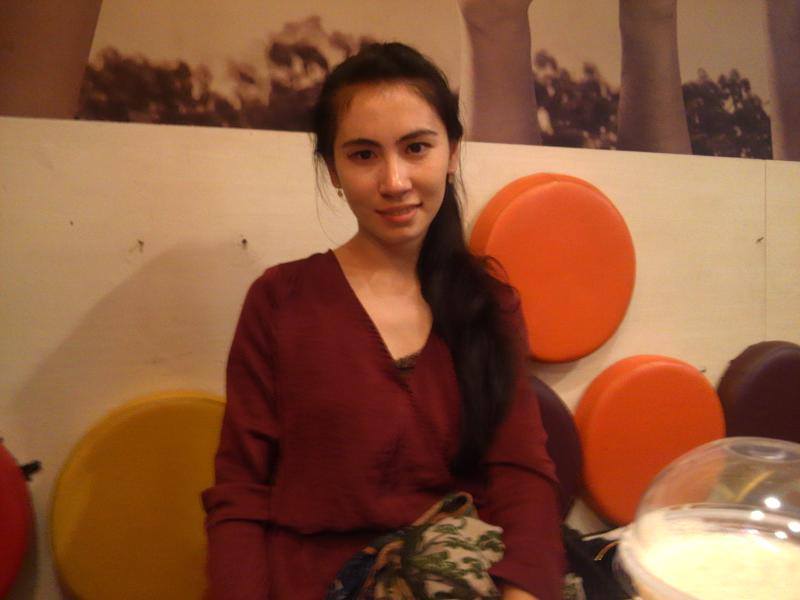 Nevertheless, when I reached Goa, I forgot all my wild experiences in Indian train! Goa was warm and not much crowded. A tip: If you are craving for beach holidays, add Goa in your bucket list!
Second time when I travelled by train, I already knew English quite well! I was with my study group that consisted of my friends from India as well as other countries. We spent days in the train travelling from Mumbai to Delhi playing cards and other games. It is fun when you are with friends travelling through the lengths of India! I was the youngest in the study group, so everyone sent me to the seat that's on the top. Unlike most of the trains where there are only two bunk beds, in this Indian train there were three!
How do you book hotels in India?
I did not use any website or hotel booking service. First time, my uncle called a local hotel in Delhi to book a room for me. My hotel was in main bazaar area of New Delhi, which is right next to the main New Delhi Railway Station. It was an awful hotel though. My room had no windows and it did not smell pleasantly. All the other times, I had my hotels booked by my institute where I was studying. For my personal trips when I was on holiday in India, I searched for guest houses on google and called the hotels individually to confirm the booking.
What is your favourite Indian Dish?
I think every Indian dish is good. There are certain times when I am craving for a good Indian curry in Kazakhstan. But if you ask me my favourite dish, I would say Vegetarian Sizzler. I like the way how they serve it to you hot and sizzling right on your table in Indian restaurants. Interestingly, the best vegetarian sizzler you can find is in Main Bazaar in New Delhi.
My favourite breakfast is dosa. It is a South Indian delicacy. This crisp rice crepe comes with spicy potatoes inside on banana leaf! I miss it a lot and it is not so easy to find dosa in Kazakhstan.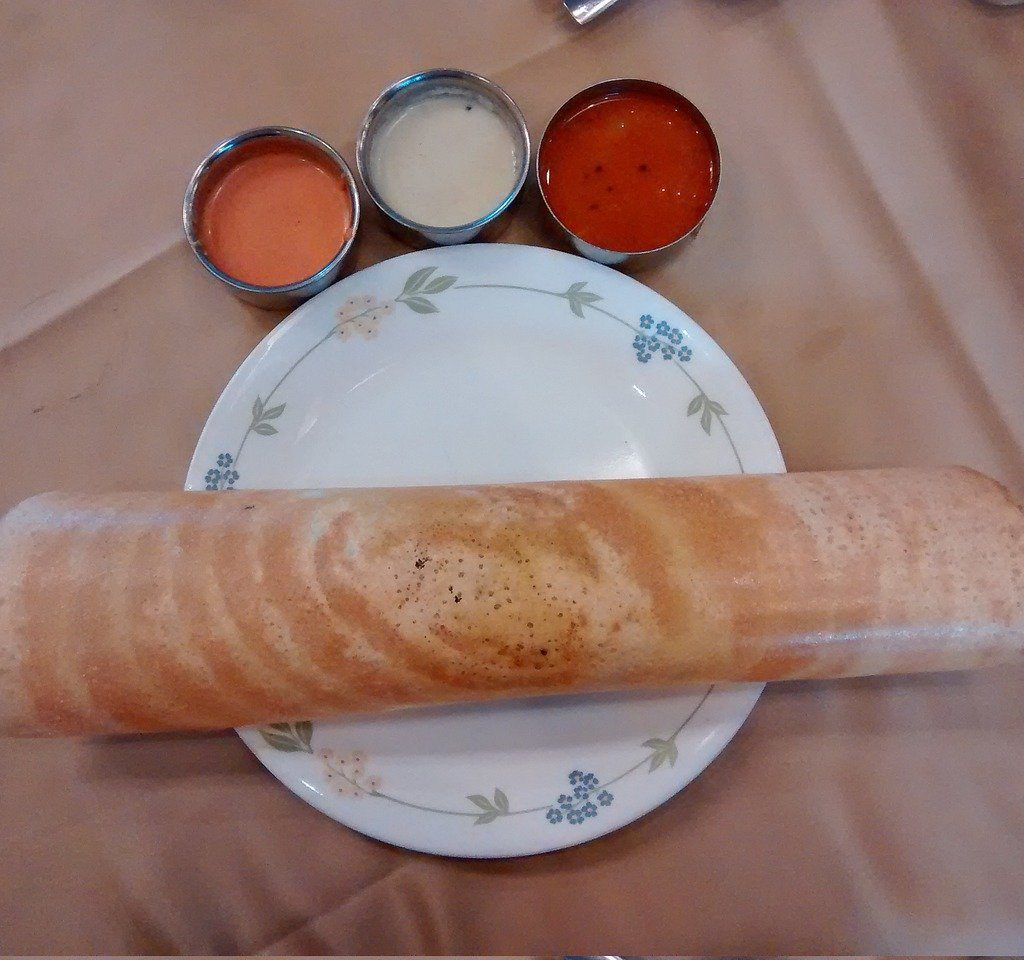 I also like Aloo Paratha – it is a vegan Indian bread stuffed with Potatoes (Aloo). Some restaurants might add ghee or butter while preparing it, but you can ask them to prepare it with oil to keep its vegan goodness.
In general, I liked the food in Delhi the most. The combination of spices and herbs in Delhi are much more according to my style.
Tip for vegetarians – If you see any dish in India that contains meat or chicken, you can usually ask the server to replace the meat with Indian cottage cheese (Paneer). Some restaurants can also offer Tofu for vegans, but it is less common. But do not worry, there are many traditional and authentic vegan dishes in India.
They say you should not eat street foods in India. Tell us a little bit from your experience
Yes, eating street food can be a bit tricky. For the first time tourists who are going to spend their holidays in India I would suggest avoiding street food. I recommend you to read the article: How to Avoid Getting Sick When Travelling in India. However, over the time I got habitual to Indian climate and I was completely fine eating street food. Often, I would go to the streets during the lunch time with friends and eat Indian street food.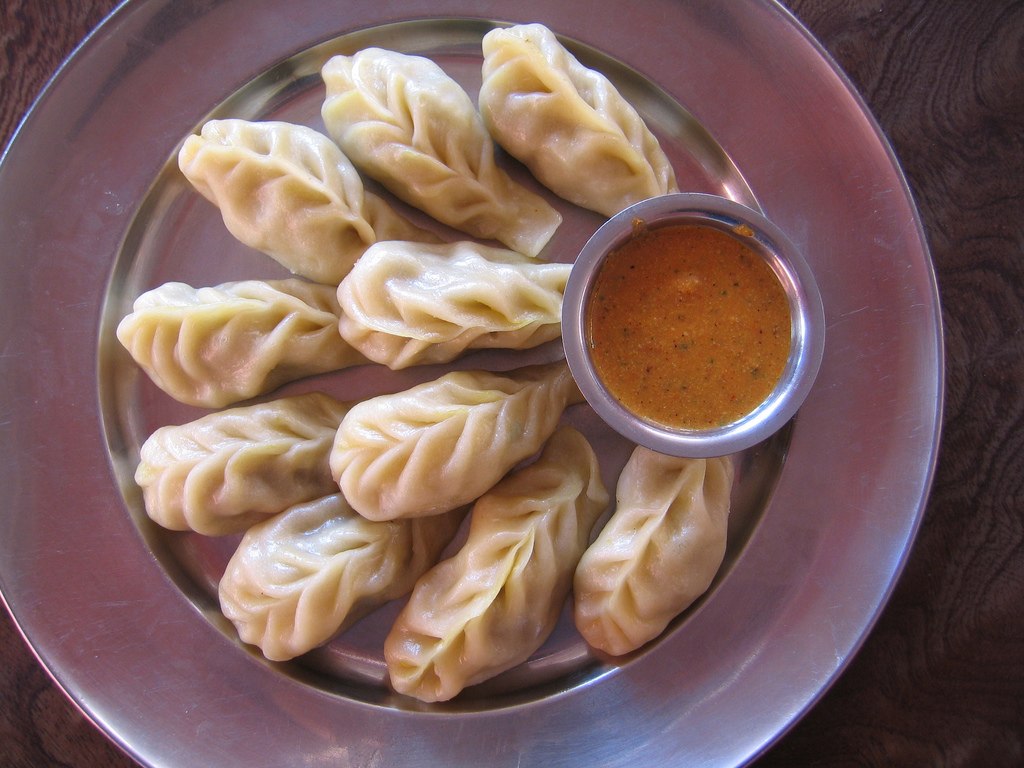 My favourite Indian street food is Momos. It is a dumpling of Himalayan origin and comes with a special spicy dip. I also like Paani Puri (Gol Gappa) and Vada pao (kind of an Indian burger, a must if you are holidaying in Maharashtra).
What difficulties do you face when travelling to India?
It is a difficult question! There are some difficulties while travelling to India, but now I am used to it. For people who are travelling to India for the first time, I suggest them to search for India travel experience blogs, or India travel experiences on Quora. There are lots of experiences shared by people which is worth noting.
My second worst India travel experience was also train related. I booked a train from Goa to Delhi via a travel agency, but only at the railway station I realized that it was a scam agency and they gave me a fake ticket.
Similarly, when my sister visited India, she faced a similar situation where a scam travel agency took $200 from her and went unreachable.
My suggestion is to always book train tickets through official Indian Railway website. You can book a flight or hotel using known travel agencies online.
In addition, be careful when walking on a crowded street or in a crowded train. There are some pick pocketers who may try to snatch your phones or wallet.
What are some of your best experiences of holidaying in India?
For me India has been always interesting. It is a bit chaotic, but at the same time it is very spontaneous. I am a changed person now when I compare myself to the time when I travelled to India for the first time. I learnt English, I learnt professionalism in Indian institutes and most importantly I learnt to have a light attitude. Indians are not very aggressive, and they are always ready to help. Until today, I have my Indian friends who invite me to their marriages or come to visit me in Kazakhstan. I like the bond we made in the short span of time.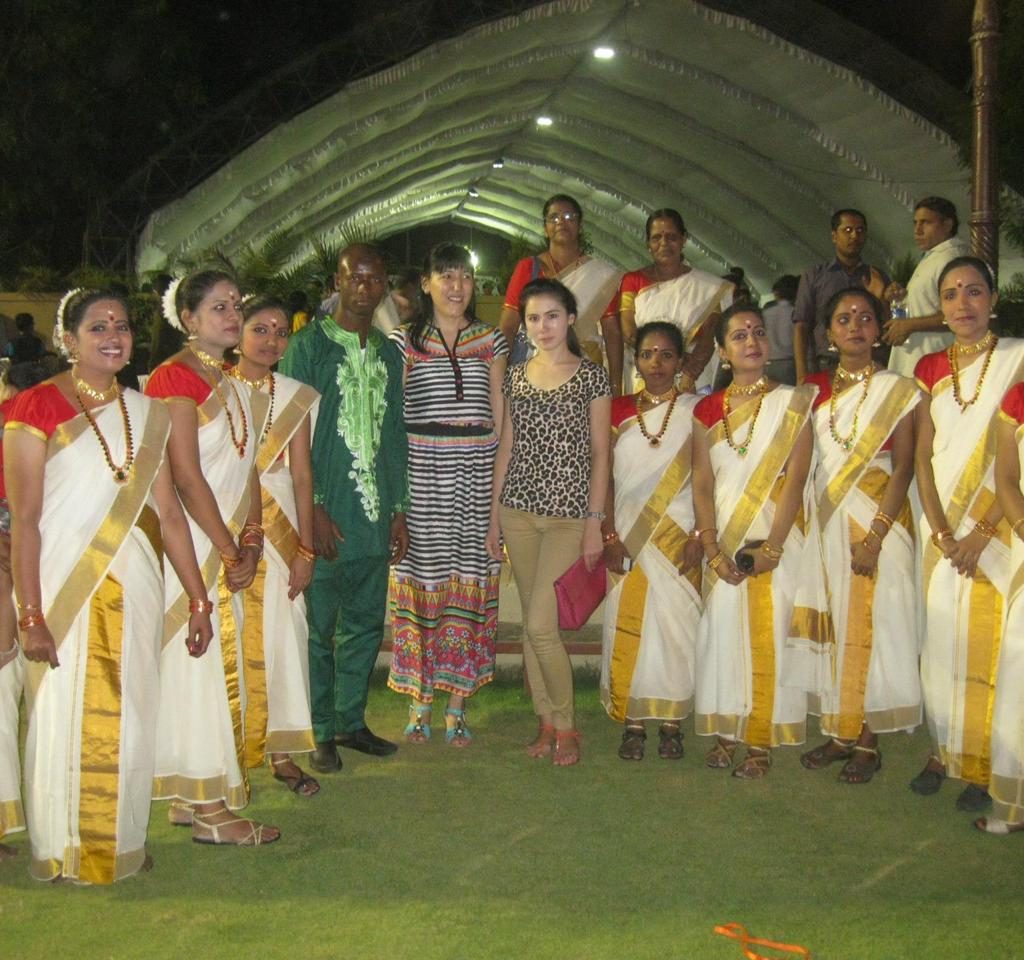 Indians have a special kind of attitude towards life – if it happens, so it happens! I like that they do not take unnecessary stress and that is a great life lesson for me! People are dancing, singing and laughing on the streets, there are so many holidays and festivals and I love every bit about it. You see all that in Bollywood movies and you might think that such Indians exist only in the movies, but it is not true! You might think that it is because of large population, but I have been to China and the attitude of people in China is completely different and cold compared to warm Indians.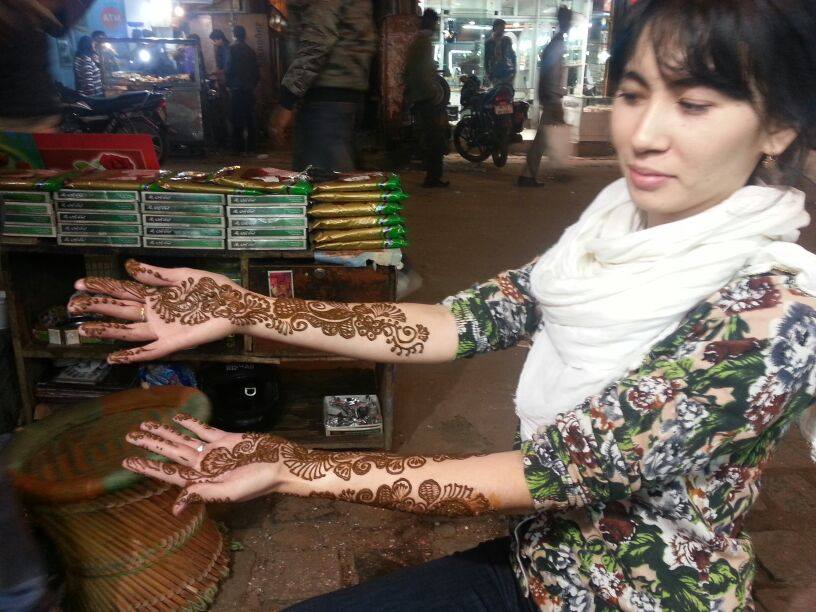 In India I learnt to appreciate cultural differences and opened myself to accept different lifestyle, different food, different weather and different languages. There were some friends of mine who did not like these changes in India and went back to their respective countries. I can understand that sometimes India can be uncomfortable in the beginning, but if you can manage few days, you will become a part of it and will love every bit of your time in India.
What will you suggest travellers who are planning their holidays in India?
Have an Indian friend! Knowing a local in India can help you a lot, they can help you bargain when you are buying something, they can take you to the coolest place and off the beaten path. Indians are very friendly, and they always make time for you!
Book train tickets in advance – In India, trains may run out of seats quickly. Therefore, I advise you to reserve your seat well in advance.
One time is not enough – You cannot see all of India in one visit. Therefore, plan your trip to see one or two regions of India thoroughly and then come back again to see other regions of India. Each region of India has different culture, different languages, different dresses and different food! India is more like European Union than a country. So, do not go just once!
Accept elements of Indian culture – Wear Indian dresses, try Indian food, learn few words in Indian language. This will make your India trip a learning experience!
Which places in India would you like to visit next?
Chennai, Kashmir and somewhere in the forests!
Where will you like to live if you get a chance to move to India?
Everywhere in India is nice, but I think I will choose to live in Pune. The weather is nice! The city is comparatively cleaner. I know all good night clubs and the crowd is young! There are lots of job opportunities as it is one of the biggest software hubs in India. And finally, I have so many friends in Pune!
So, this was Aidana, my friend from Kazakhstan who I believe knows India as good as me! She has been holidaying in India more often than me recently. If you like this interview subscribe to this blog for more such interviews in the future. If you have any questions for Aidana, feel free to write in the comment section and I will try my best to get a response from her or respond myself if I feel I know the answer.