Vegan Smoothie Bowls in Bali – Everything You Should Know
I am sure that at least some of you have heard about the tasty food in Bali. You can see many warungs (a name for small restaurants in Indonesia) or cafés with traditional Indonesian food on every corner. Delicious taste, nice service and very low prices! What's more? When visiting Bali, it is pity to book an all-inclusive hotel and not to try different street food or having breakfast in small cafés surrounded by palm trees.
In this post, I want to talk about famous smoothie bowls in Bali. Probably the most significant breakfast you can have in Bali. With their colourful look and beautiful styling, they become a part of the Instagram of many tourists. While staying in Bali I have tried this as well. Not only they were looking very appealing, but the taste was also even better. And what's more, you do not feel hungry for a long time, since it is not just a snack, but a quality meal.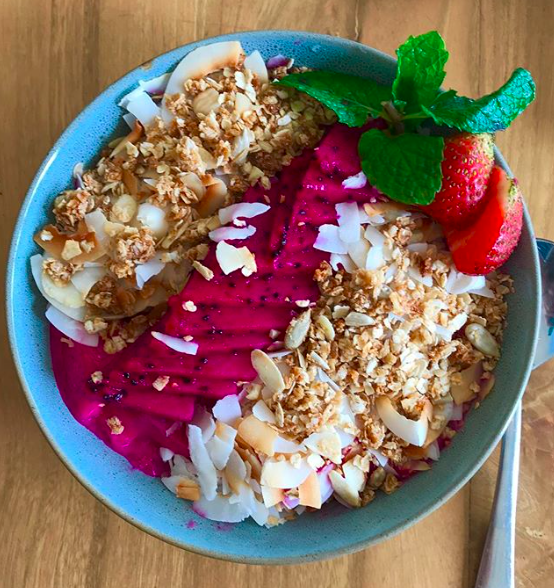 Where to Find Best Smoothie Bowls in Bali
You can find them in almost every café, with pricing around 50,000 Rp ($3), which is, in my opinion, pretty cheap for that large part. If you are staying in Canggu (the capital of awesome food), I highly recommend you to visit either the most popular Nalu Bowls or Kynd Community Café  with the most artistic smoothie bowls in Bali, Cloud 9 where you can enjoy your smoothie bowl with beautiful view on rice fields, try breakfast on popular Strawberry Fields or nicely designed restaurant called Nude with the best food I have tasted in Bali. In Ubud, you have to try bowls from Habitat restaurant, right next to the Monkey Forest. You can find different flavours, the most popular one was Dragon Fruit Bowl, as far as it concerns me.
How to make Smoothie Bowls
While I was living in Canggu, our neighbour was preparing herself a smoothie bowl every morning. Since we were sharing a kitchen I have learnt it as well. Here is a recipe, if you want to try at home:
Firstly, you have to mix all the frozen fruit you want with a blender. Then you add coconut water and blend it even more. For making your bowl healthier you can add chia seeds. The ingredients are mostly on your personal preference. When all items are perfectly blended, the real work just starts. The design is the most important part if you want to make the Bali-like smoothie bowl. Pour the substance into the bowl and prepare all you need for decorating. I like to use nuts, mint leaves, coconut flakes and forest fruit. Use your creativity or Pinterest, it is upon you. On the Internet, you can find many ways how to decorate your smoothie bowl and make it look really appealing.
If you have a chance to visit Bali, and Bali's wonderful beaches, you definitely have to try this amazing dish. Not only it is vegan, healthy and looking incredible, but its taste is also wonderful. In my opinion, there is no better way how to start your day before jumping on surf and experience the real Bali vibe. Did you love my article? For more information, just read my other posts, where you can find more tips and reviews and information on beaches, where to work and what to see in Bali off the beaten path.