Top 5 Beaches in Bali You Should Not Miss
In my opinion, many people go to Bali to relax after stressful months in work or school and the best place where you can shake off all the negativity and tiredness is a beach. You can go with a flow and try Kuta Beach, Seminyak Beach or Echo Beach in Canggu, if you want to be in centre of action, or you can rent a scooter and visit the hidden gems of Bali. Here are top 5 beaches in Bali, Indonesia that you should not miss!
1. Balangan Beach
Words cannot describe how beautiful this beach is! White sand, palm trees behind us and surfers riding extraordinarily azure waves in front of us. Not that many people go here, so you can enjoy the place almost on your own. Still, if you want to have even more privacy (or you did not manage to build your summer body) there are cliffs on both sides of the beach. Below them, you have small bays divided by large stones, where you can enjoy this quiet place even more. The whole area is surrounded by small bars where you can have cold drinks after laying on the beach whole day. I would recommend to rent a scooter to get here, because the Grab is not working well in this area, since it is quite difficult to get there.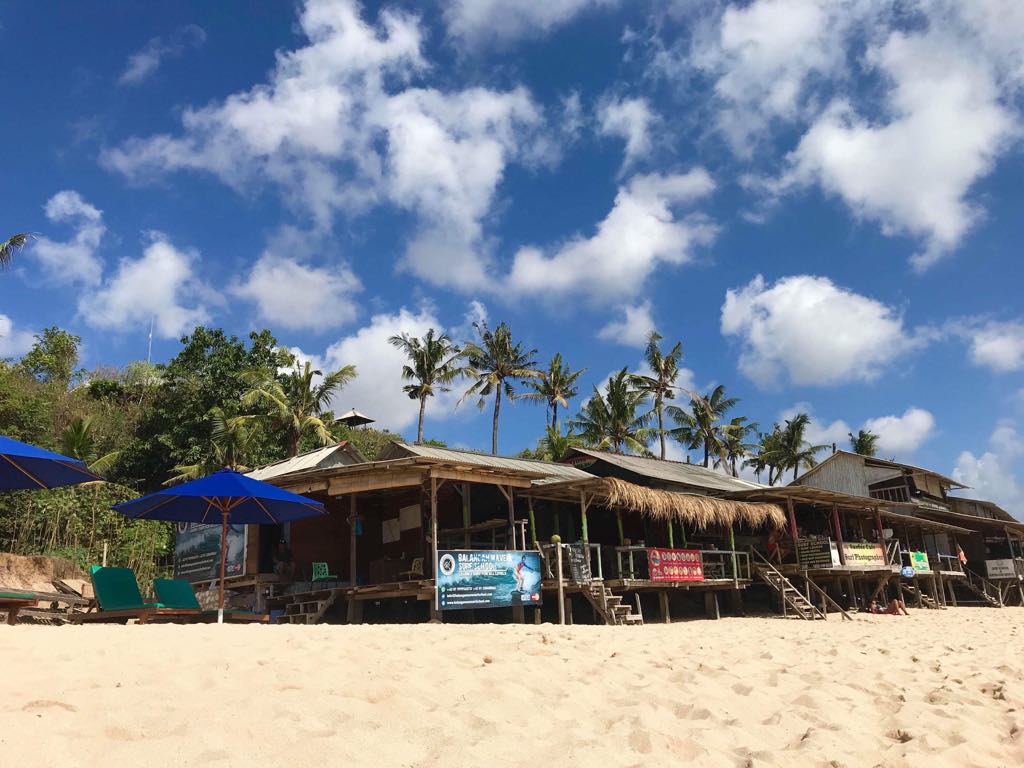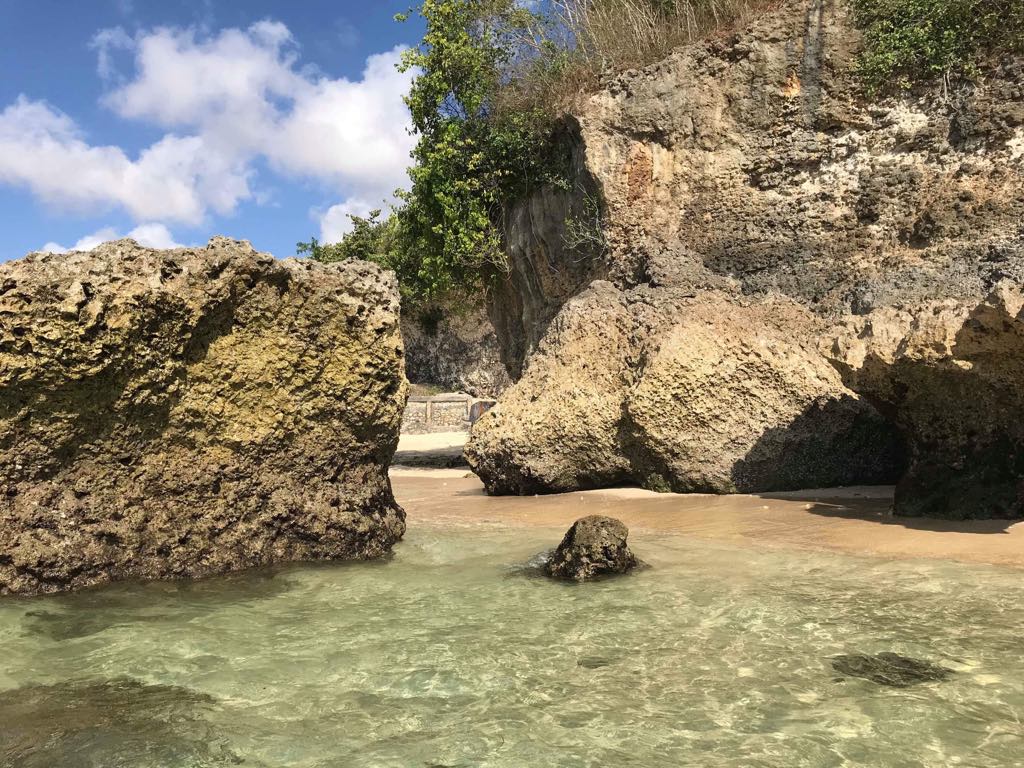 2. Dreamland Beach
Located in South Bali, this beach is quite crowded throughout the whole day, however, it looks stunning. The waves are pretty high, so if you are an advanced surfer, this is definitely something for you. On your way to the beach you can see many beautiful hotels and golf resorts.
3. Gunung Payung
Beach Hidden beaches simply has to be on your bucket list when visiting Bali. This is one of them and what's more, it is also quite easy to find it. Already while walking down the stairs you are rewarded with the beautiful view on crystal sea and when arriving to the beach there is a high chance that there are less than 5 people. We used Grab to get there and we had no problem.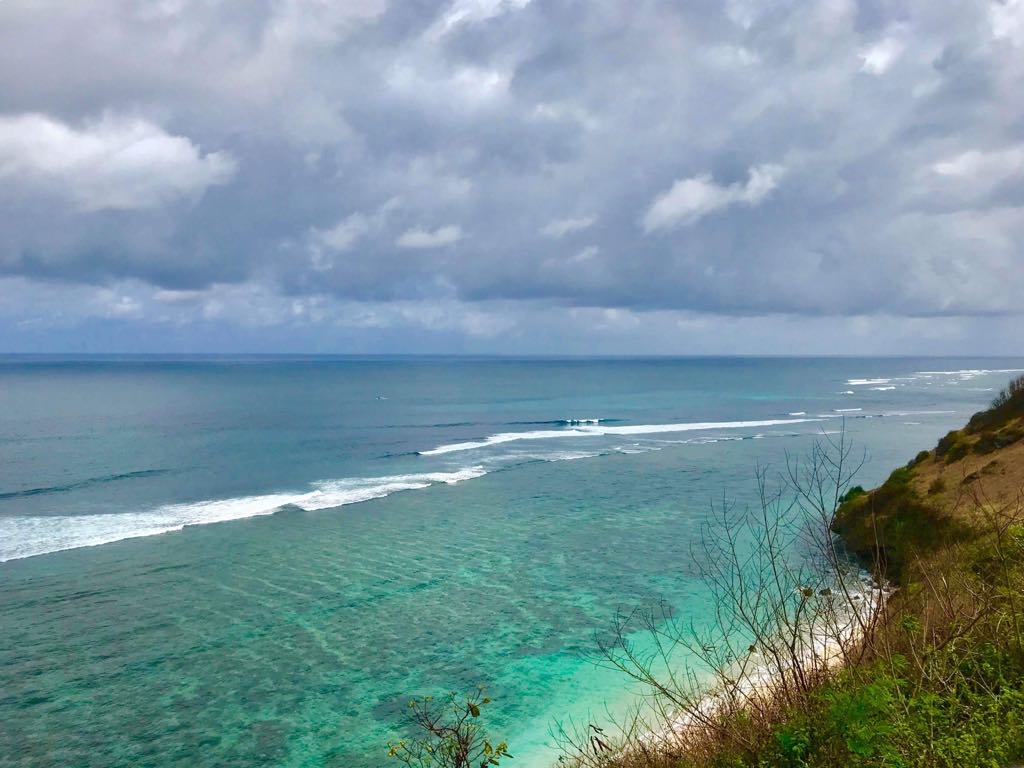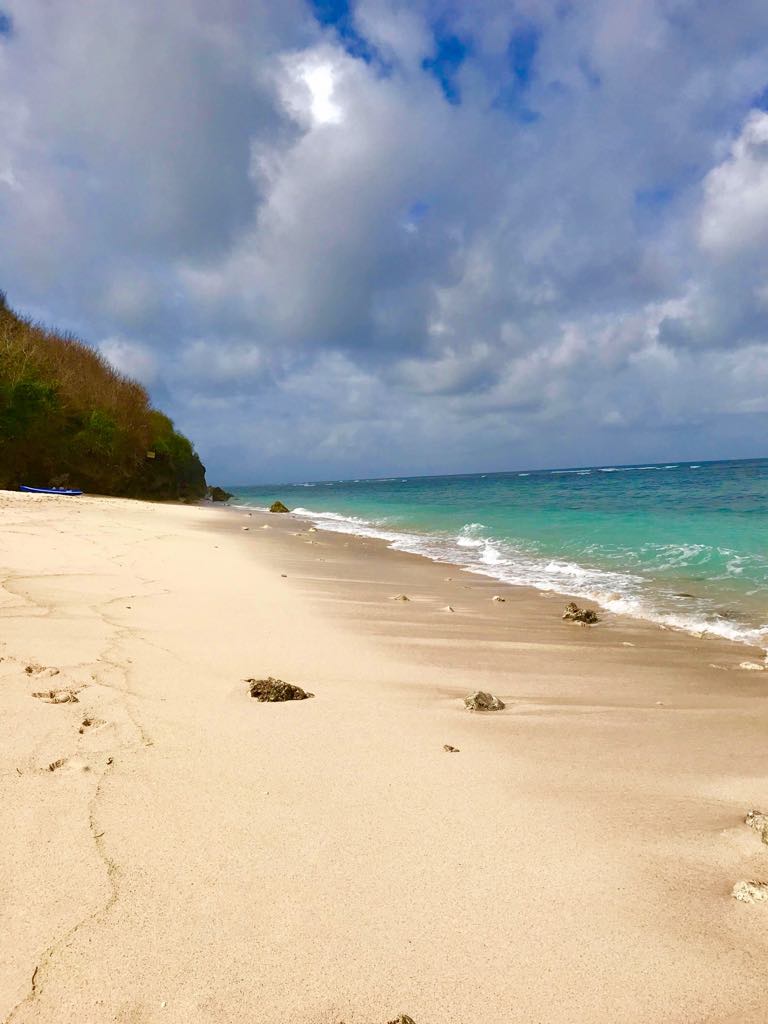 4. Sundays Beach
Club If you want to experience luxury, you must visit the Sundays Beach Club. This private bay is providing a crystal clean lagoon with coral reef, where you can see the most beautiful sea creatures. When you get tired of snorkelling, paddling or trying different water sports, you can take a rest at the beach bar or have a dinner at the restaurant with ocean view. Since the bay is located on the west, you are able to enjoy the sunset while having a bonfire. In comparison with other beaches, the entrance fee is pretty high – 500,000 Rp (around $35).
5. Kelingking Beach
After climbing the cliff shaped like Tyrannosaurus Rex in Nusa Penida, make time to visit the marvellous beach below called Kelingking Beach. Beautiful caves, cliff and white sand would really look good in your photos.
I hope that this guide help you a little, when planning your trip to Bali. Make sure you do not forget your hat and sun cream, since many hidden beaches do not have umbrellas to rent. Read my article on useful Bali travel tips if you are planning to visit Bali soon. I have compiled a big list of tips for you including how to approach beaches during high and low tides.