A Quick Travel Guide to a Weekend in Krakow – Part 2
The entire center of Krakow is listed in the UNESCO World Heritage List. All tourists turn out to be at the Market Square. Here you will find many examples of medieval architecture. It is worth exploring the Palace of the Bishops and taking the route of "Royal Road", which leads along the main attractions of the city.
Find the part 1 of my quick travel guide to Krakow, in case you haven't read it yet.
Another famous place is the Royal or Wawel Castle, this architectural ensemble includes several outbuildings, the Cathedral of Stanislav and Wenceslas, as well as the chapel. In the castle you will find the Sigismund bell, which, according to legend, fulfils one of the two desires: it brings either money or love. You only need to select one desirable thing!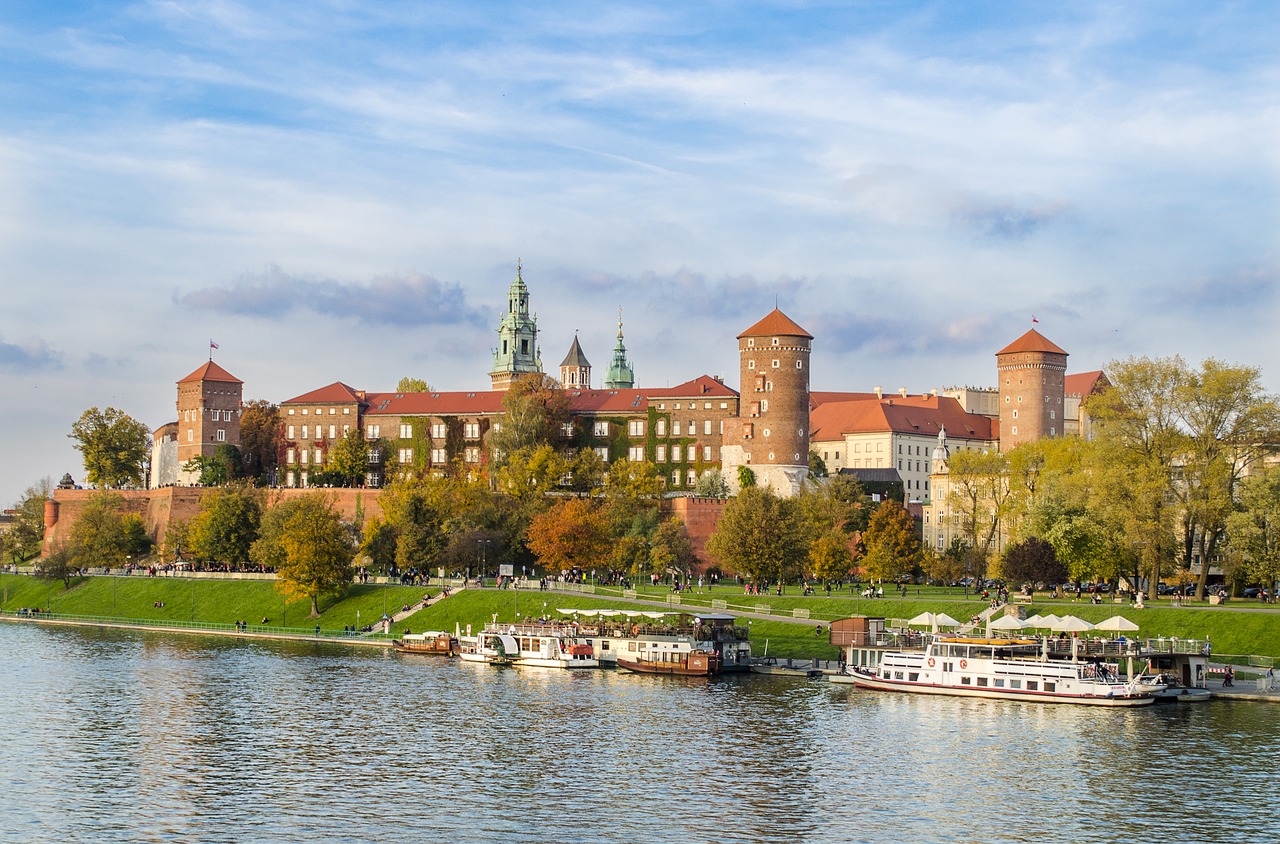 Fans of art strive to get into the Princes Czartoryski Museum. This museum is home to Leonardo da Vinci's "Lady with an Ermine".
Just like Warsaw, this city is also associated with tragic events of the Second World War. Earlier, the Jewish settlement of Kazimierz was located here. It later became part of Krakow. During the war, most of the inhabitants were driven into the Krakow's ghetto, many were sent to Auschwitz. At the same time, Oskar Schindler was operating in Krakow and managed to save almost 1,200 people. The factory, opened by an industrialist, has today become a museum. If you are a movie buff, then you probably already know that this museum was the shooting sight for the film  "Schindler's List". Those who want to take a break from historical monuments should visit Planty – It is a park ring that surrounds the Old Town. The created this park on the site of the demolished fortress walls.
Krakow's Kitchen and Restaurants
In Krakow there are many authentic restaurants. Wentzl is one of the oldest places in the city (near the Market Square), which dates back to 1792. You will find some vegetarian options on their menu. There were many gorgeous desserts available. I do no think it will be easy to choose what you want out of all the amazing options. The spirit of the café is fully consistent with the spirit of Krakow and the Market Square!
Singer Café is no less popular, with its charming interior filled with antique pieces. In the evenings, this place turns into a trendy club, with good music.
I also recommend Alchemia, a place, where you can have a great evening during your stay in Krakow. A very cozy and laid back atmosphere in the place to match the interesting décor and candlelight tables. They have a great choice of spirits and everything is very reasonably priced.
In general, you will find cafes and restaurants in every corner. In cafes and eateries, you can have cheap and heavy lunch, bars are more suitable for light snacks and drinks. However, almost all the places serve alcohol. The might ask you to show your identity card to confirm age. Dinner in a restaurant with moderate alcohol may cost about PLN 50.
The geographical location and history of Krakow influenced its cuisine: today it represents a very unusual mixture of Slavic and Western European traditions.
Vegan and Vegetarian Polish Snacks
Tasty snacks on the go are called zapiekanki (casseroles), they are more like pizza. Zapiekanki are sold from trays on the streets for 5-10 PLN. The best ones are on Plac Nowy in the Kazimierz district.
Another specialty is "obwarzanek", bagels with poppy seeds or salt, you must try these.
You should also try white borscht (or Zurek), which is not at all similar to Ukrainian borscht. It is often served in a loaf of black bread.
Polish pierogi are actually very similar to Ukrainian dumplings. With sauerkraut, mushrooms or potatoes – they are boiled or fried, but equally tasty in any form. You can also find their sweet variants: with cherries, apples and other fruits or even chocolate!
Polish placki ziemniaczane or potato pancakes (not to be confused with Ukrainian!) – are prepared from raw grated or boiled potatoes and mashed potatoes, fried in butter and served with sour cream or applesauce.