Popayán – UNESCO's First City of Gastronomy
In 2005 Popayán was recognized as UNESCO's first City of Gastronomy. I arrived excited for excellent food…and was promptly disappointed. Like most of Colombia, the standard meal formula is juice, soup, two carbs (if seasoned, only with oil and salt), meat, and, maybe a slaw or astonishingly white salad.
As I learned more about the local culture, history, and cuisine I came to understand that UNESCO's recognition is due to the culinary heritage of Popayán – maintaining and preserving centuries of traditional foods and preparation methods – not merely the quality of its food. As I explored I discovered that many of the traditional foods are vegetarian friendly. The most famous food, pipián, is also vegan friendly.
Traditional foods of Popayán are a fusion of Andean, African and Spanish culinary traditions and ingredients. Popayán actively encourages and protects traditional culinary practices that have been passed down orally for generations. Each September, Popayán hosts the National Gastronomy Congress. This week-long academic event hosts conferences, talks, demonstrations, educational workshops, and tastings highlighting the culinary traditions of Popayán as well as an invited Colombian and international region.
Pipián is a puree of potatoes, peanuts, and seasonings used as a filling for empanadas or tamales and served with a spicy peanut sauce. The ancestral recipe uses a local variety of potatoes called "coloradas" ( "coloured," or yellow criollas). The seasonings include some combination of tomato, garlic, onion, cloves, cinnamon, and achiote or annatto. Achiote (or annatto) is a spice, native to Central and South America. It is often used to colour food yellow and has a mild peppery flavour.  Different varieties of pipián sauce are prepared in other Latin American countries. While those can contain chicken, Payanés pipián is always vegan.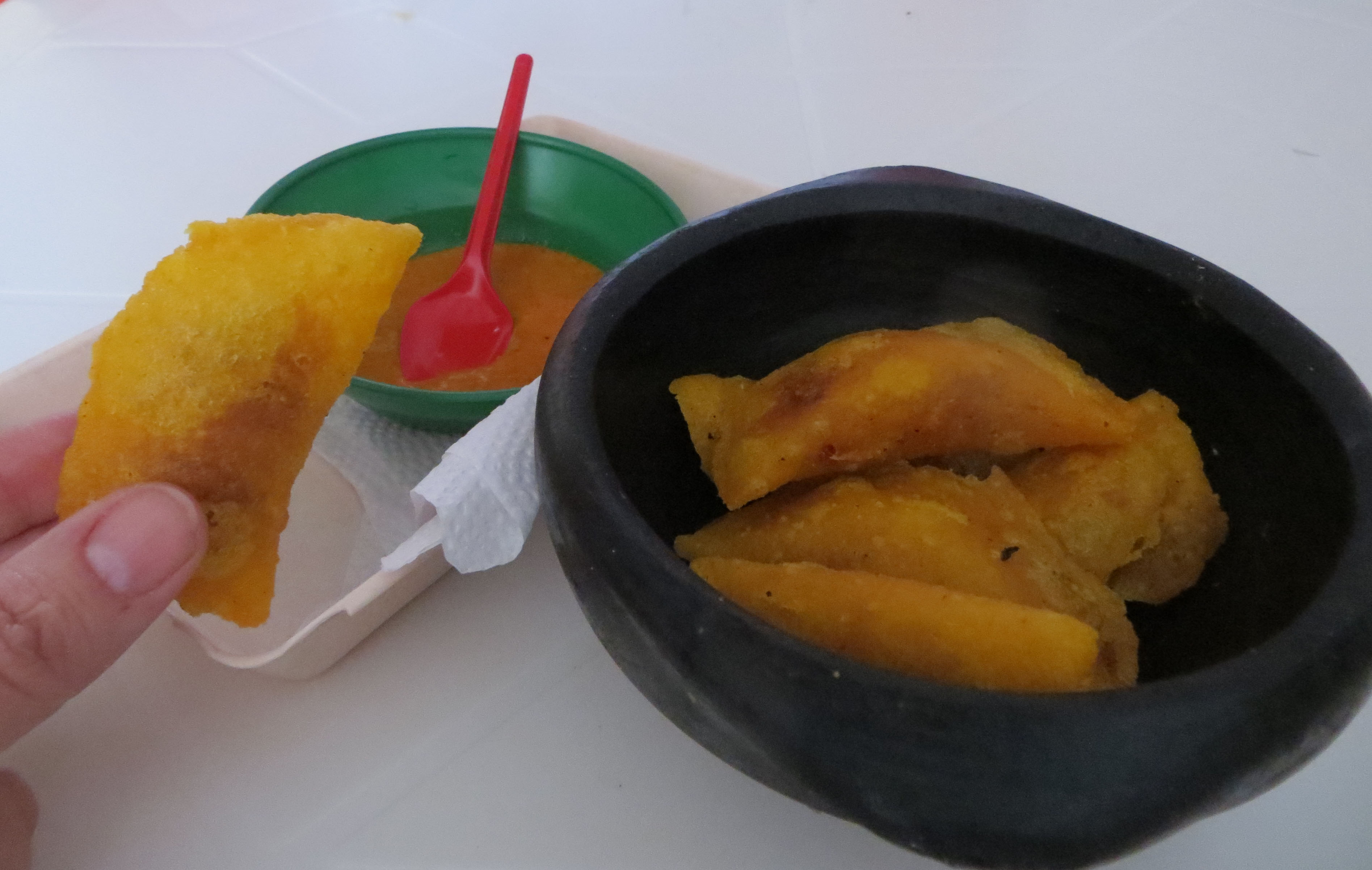 Popayan is also known for "Plato de Nochebuena," a large and varied plate of sweets traditionally consumed at Christmas. Many of the same sweets are available year round including rosquillas (fried ring of dough, similar to a doughnut), buñuelos (fried dough balls), stuffed candied figs, natilla (egg-free custard), desamargados (candied lime or orange peel), candied papaya and dulce de leche. Vegetarians will enjoy exploring all the bread and sweets on offer. Vegans should proceed with caution as many innocuous looking breads are made with cheese curds, eggs, and/or milk.
Not all Popayán restaurants serve the ancestral foods of Popayán. It may be necessary to specifically seek out these foods. Fresa is a small, simple eatery serving only empanadas de pipián (Calle 5 #8-89).  A few doors down from Fresa, Carmelita's serves tamales de pipián as well as traditional sweets and breads. If you are in town on a Sunday, most restaurants in the historic center will be closed. On Sunday's you can find a tent on Carrera 11 at Calle 2, just before the river. This tent serves empanadas de pipián with thick slabs of boiled potatoes (and blood sausages for meat eaters). I actually prefer the peanut sauce here to the one served at Fresa, though the empanadas from Fresa's are the best in Popayán. You can also find small kiosks serving a limited selection of traditional sweets outside the Exito supermarket next to the bus terminal or at the Campinario Mall at the entrance closest to the cinema. These are open seven days a week.
For a heavier meal, consider Castilla Mora (Calle 2 #4-44, second floor). There, in addition to empanadas de Pipián and tamales de Pipián, you can enjoy traditional Payanés drinks like lulada (a chunky lulo and ice drink) or champús (corn based beverage drink with lulo, mora, and guanabana) with other traditional Payanés foods like patacones (twice fried coarsely crushed green plantains) or carantanta con hogao (white corn cooked and fried with a tomato and onion sauce).
Too often vegans and vegetarians are isolated from the culinary cultures of meat-centric places they visit. While Colombia is a difficult country for vegetarians – the UNESCO-recognized culinary traditions in Popayán are accessible to vegans and vegetarians. Take advantage of the opportunity while also exploring the amazing variety of tropical fruits, juices and Popayan Coffee available in Colombia as well as non-traditional vegan and vegetarian options in Popayán.