What is a Vegetarian Hindu Meal – Inflight Special Meal
Have you ever ordered a special meal on a flight? Did it ever happen to you that you ordered one kind of special meal such as Hindu meal in flight thinking it is something else? The situation gets even worse if you are in a long duration flight. There are times when you are lucky and flight attendants might correct your special or vegetarian meal order in flight. If not, then you might be in serious trouble!
It has happened to me two times when I ordered Hindu meal in Aeroflot and realized I had chicken on my plate. I even questioned myself, did I hit the right button while selecting my meals at the time of booking with Aeroflot? I am originally from India where religious Hindu people mostly eat vegetarian or vegan food. So, shouldn't Hindu meal be vegetarian by default? It turns out that it is not the case.
Why do I order Vegetarian Hindu Meal?
It's not that I had never ordered a Hindu meal before. When I was flying from Miami to London, I ordered a special meal in Virgin Atlantic. I got delicious Rajma Chawal (Rice with Kidney beans) with few other veggies and curd on the side. It was so good that one of the persons sitting next to me asked me what I did that I got such an interesting meal?
So, what is a Hindu Meal?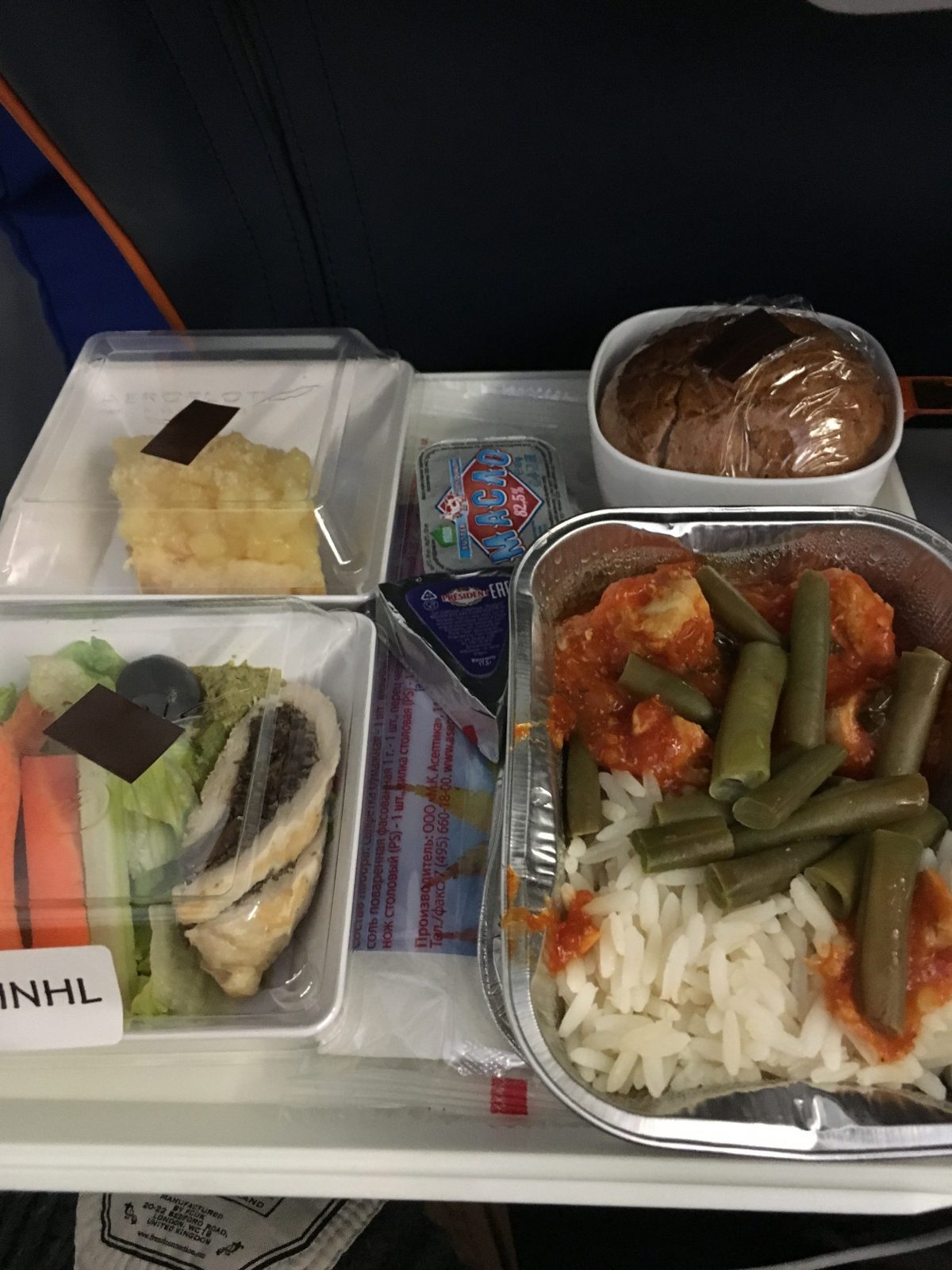 It turns out that a Hindu meal is any meal that is prepared in Indian style. You might get curry-based food with other traditional Indian food items such as naan, curd, dessert depending on the flight and the route.
Hindu meal does not guarantee whether it is vegetarian, vegan or non-vegetarian. You may get the chicken cooked in Indian style (which is what I got in my Hindu meal in Aeroflot) or get some nice lentil soup with rice… yummy!
How can you ensure a Vegetarian Hindu Meal in flights?
The trick to getting vegetarian Hindu meal and not Chicken tikka masala is to check for keyword "vegetarian" during the flight booking process. The special meal choices should either say Hindu Veg or Vegetarian Hindu meals. If it just says the Hindu meal, then it might not be the right option for you.
Virgin Atlantic specifies Hindu meal as a meal that is free of beef, veal, pork, but may contain goat, lamb, poultry and egg. If you are looking for vegetarian Hindu meal, then book Asian vegetarian meal which is a spicy option for all you vegetarians!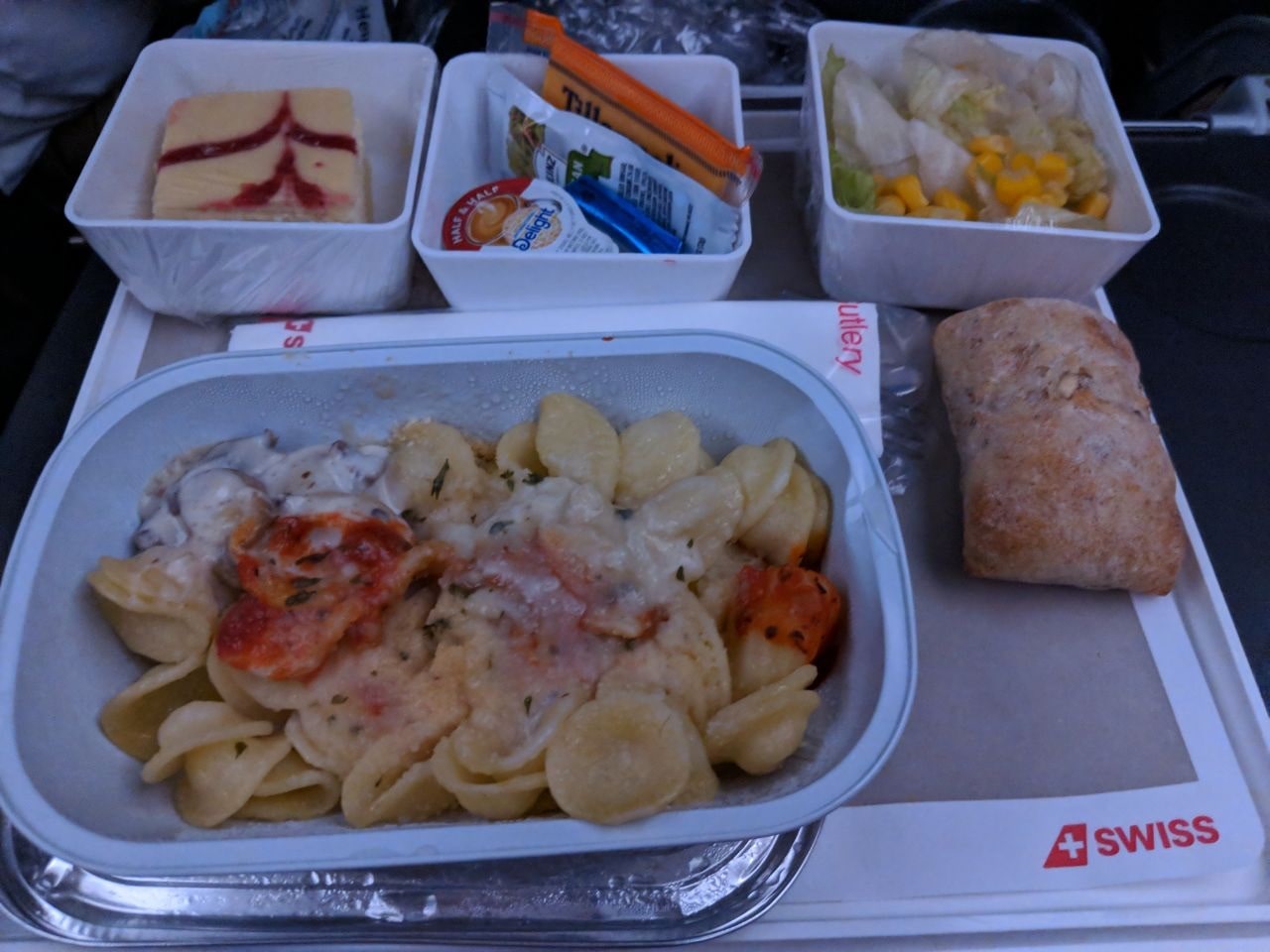 Swiss Airline, on the other hand, provides Vegetarian Hindu meal as well as Vegetarian Jain meal along with other vegan meal options. Therefore, I had no issues while flying to Zurich last September! Switzerland is experiencing a rise in vegetarianism and veganism! I am not even kidding, while I was returning from Zurich to Miami, everyone got a vegetarian meal by default in the flight. This was so strange to me that I had to confirm with the person next to me.
All Nippon Airways (ANA) offers a Hindu meal (non-veg), vegetarian Hindu meal and some other kind of vegetarian and vegan options.
Why Should I Order a Vegetarian Hindu Meal?
Whether you are a vegetarian or not, I think there is a word that airline chicken is not the best chicken. I have never tried it though. Nevertheless, that is what my friends told me when I told them about my incidence of finding chicken in my meal. So, why not order a vegetarian meal that is lighter and probably better!
Other reasons to order a special meal
Your meal comes before others
Special meals could be fresher than the regular meal
Your meal may be more filling
No doubt that your meal will be more interesting than the regular meal
Special meals are not just about ordering vegan or vegetarian food. If you are not one of those, you can order kosher, or halal, or low sodium or baby food. I hope this article is helpful to you even if you are not a vegetarian or vegan.
How to ensure your inflight special meal preference?
Airlines usually suggest registering your special meal preferences 24-48 hours prior to departure. I think this could be late in some cases. I register my preference exactly at the time of booking. This is an important step of booking and you should not leave it blank.
In case you are booking a flight within 24-48 hours of your flight departure then make sure you call your airline and confirm your meal choices!
Lastly, don't be shy of carrying your own snacks in the flight!
Now I know why I got chicken in Aeroflot dipped in curry!