Top 7 Vegetarian Food from Macedonia
Macedonia is famous for its delicious food. In Macedonia, you can find food that satisfies every taste. The food is abundant in fresh fruits and vegetables and tourists usually say that that's one of the best traits of Macedonian cuisine. Here you will find five traditional vegetarian food from Macedonia. If you have the chance, you should try every one of them! Are you vegan? No worries! Here you will find top five traditional vegan food from Macedonia.
1. Melted Cheese
Melted cheese or cheese in the oven is a very delicious Macedonian speciality (Important: Not all cheese are vegetarian). You can find it in almost every Italian-styled restaurant that serves pizza or pasta. This dish is a combination of three or more different types of cheese. The first layer is usually white cheese and melted yelloetaw cheese is on the top. Some restaurants serve it with tomato sauce in it and some serve it with a side of crispy bread sticks with sesame seeds on them. The town of Krushevo is especially known for this dish since they make it with their own local cheeses.
It is recommended that you split this dish with a friend since it is not a light meal! If you are someone who likes to watch their calorie count, then this is not for you. Be sure that you will be missing out on some very delicious food if you don't try this.
2. Burek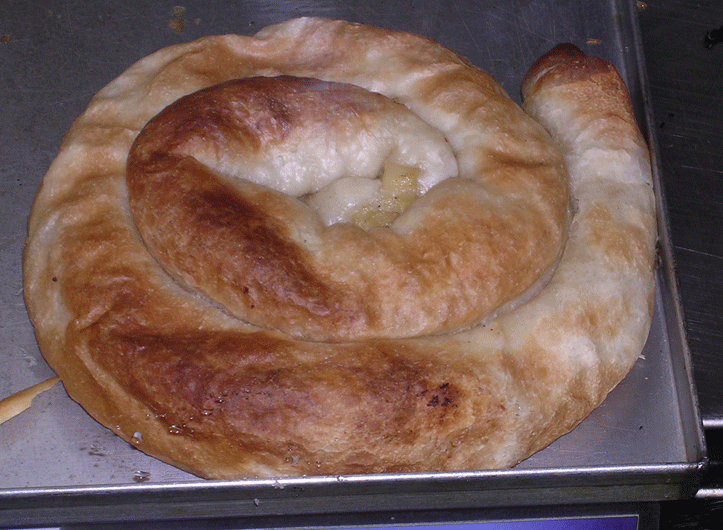 Burek is life! This traditional dish is usually a breakfast option for many people. It's made out of layers of pastries which can be stuffed with white cheese, spinach and white cheese, meat (but we don't want that), or potatoes. The origin of burek dates back to the former Ottoman Empire, but since it's so good it stuck to this very day. You can find it in literally every pastry shop around Macedonia. It has a circle form, like a pie, and the salesperson will ask how much you would like to buy. Burek is also very cheap and locals eat it with a side of yoghurt. Again, this is not the healthiest option to start the day with. It's definitely not a light meal, it's very greasy, but it's also very good!
3. Shopska Salad – popular vegetarian food from Macedonia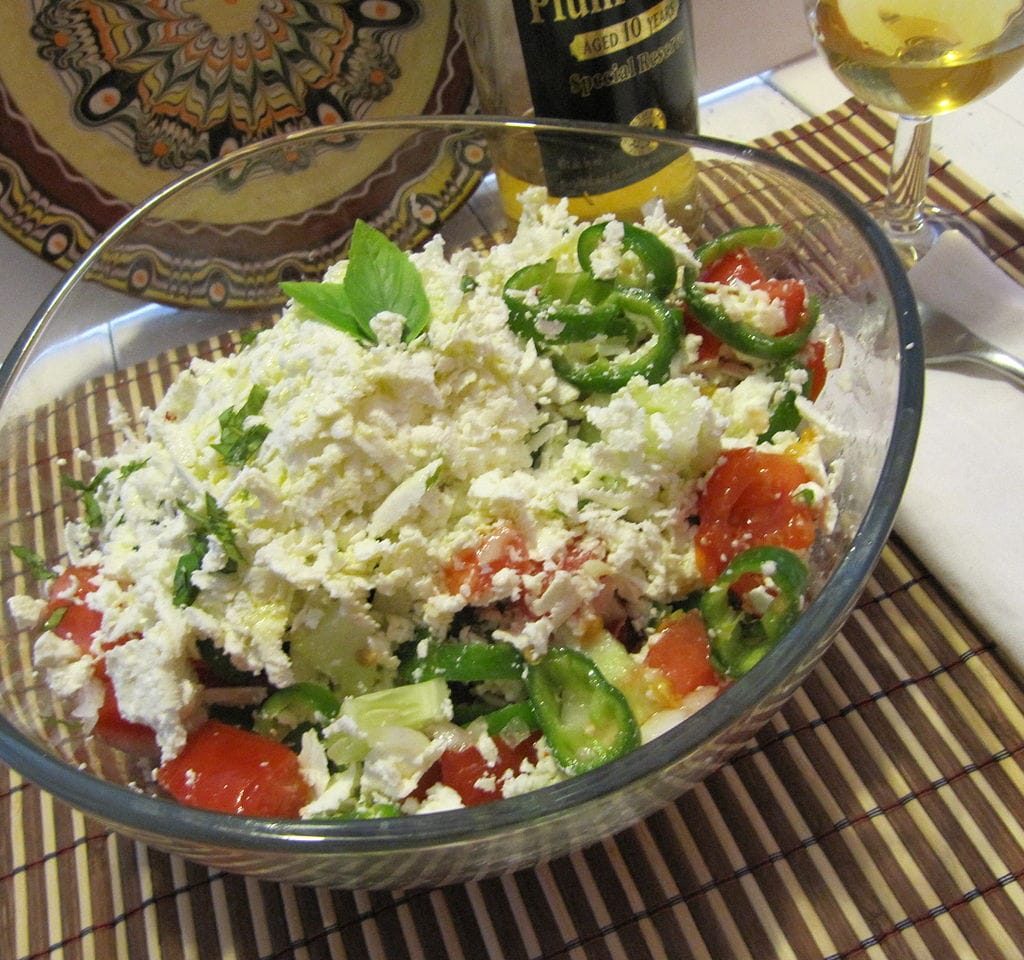 Shopska salad is one of the most popular vegetarian food from Macedonia. It is usually made with big chunks of tomatoes, green peppers, cucumber, onions and it's covered with a layer of grated white cheese. You can find this salad in every restaurant you go to. Some restaurants like to add olives or fresh parsley in the salad. This dish also works well if you split it with another person. Some people like to have this salad while drinking rakija. Rakija is Macedonia's traditional alcoholic drink. It is very strong, so do not drink it on empty stomach! When you order rakija you will see that it comes in a shot glass, but this drink is not supposed to be consumed as a shot. You should sip on it and drink it slowly with some Shopska salad! You can find Rakija in most of the restaurants in Skopje.
4. Palachinki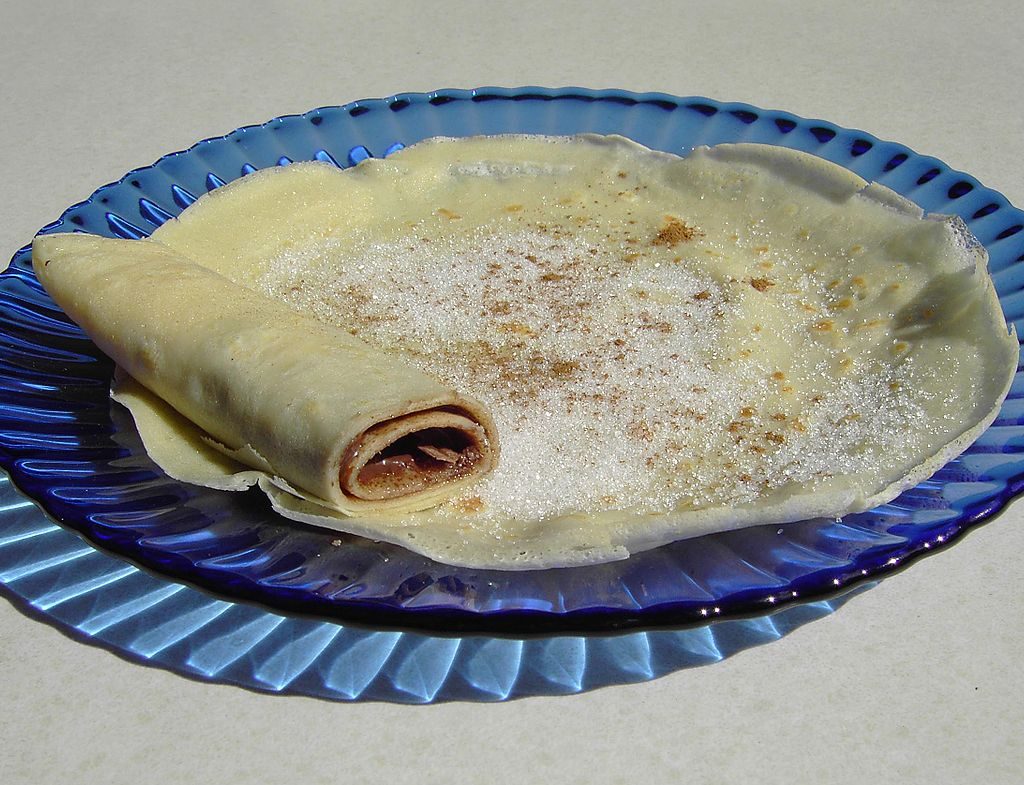 Palachinki are Macedonia's typical dessert. They are pancakes, but not American-style. Macedonian pancakes are thin, like crepes, just chewier. They are very sweet and most places serve them with honey and walnuts, jam, or vegan chocolate crème or Nutella. They also come with some kind of fruit on top, such as bananas and with whipped cream. You can find them in a savory version as well, but most people prefer the sweet ones.
5. Baklava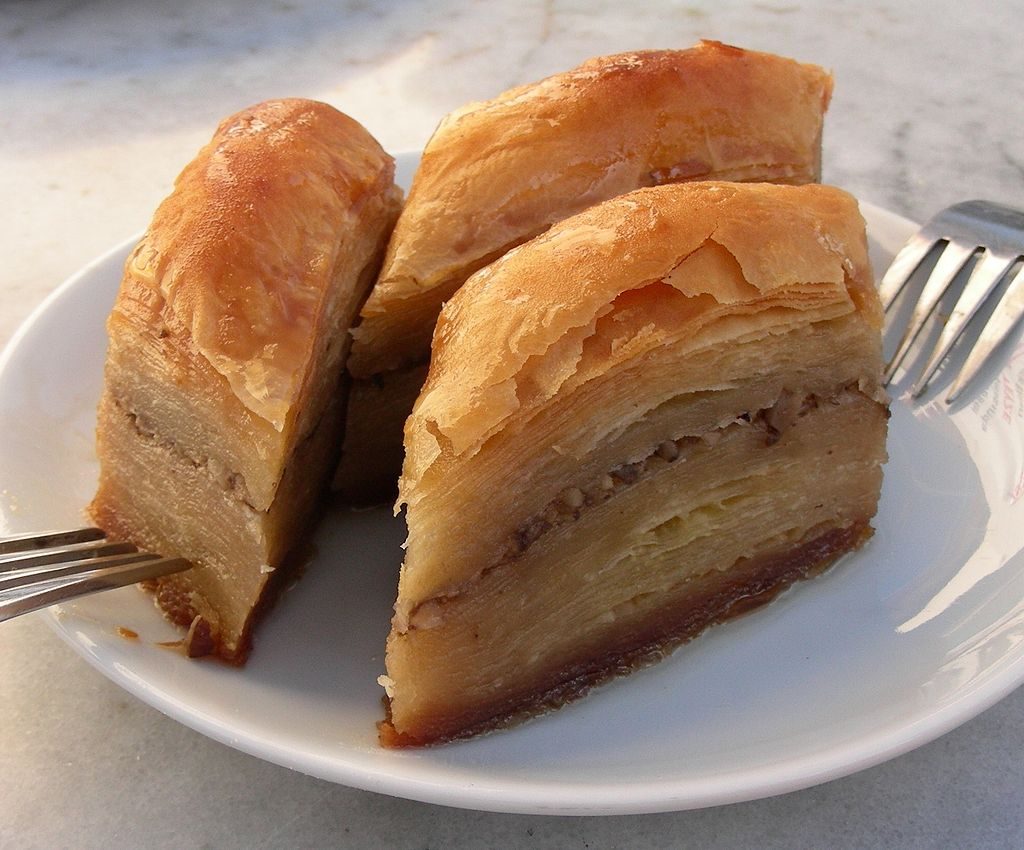 Baklava is another typical dessert in Macedonia. It is usually prepared for special occasions, but if you come to Macedonia during some of the national holidays, you might find it in restaurants as well. Another idea is to go visit your Macedonian friends and eat homemade baklava! This dessert is also typical of the cousin of the former Ottoman Empire. Baklava is a rich, crunchy and very sweet pastry made of layers that are covered with a syrup called sherbet. Between the layers, there are crushed walnuts and sometimes dried raisins. Baklava is extremely sweet, so make sure not to order too much, and always have water by your side. The best place to try it is in the small cafes in the Old Bazaar in Skopje. Sometimes, you can find baklava that is vegan (with no eggs and honey). Vegan baklava is usually prepared during the feasts.
6. Pogacha (Round loaf)
Pogacha is a Macedonian traditional round loaf. Macedonians usually make it for special occasions, such as holidays or celebrations. There are many variations of pogacha. You can find it plain or stuffed with white cheese. Some people add different fillings but these two are the most popular around Macedonia. Most often pogacha is not vegan because it contains eggs and milk, but vegan pogacha is made during the winter holidays. It makes a great bread substitute because it's soft and sprinkled with sesame seeds that give it a nice flavour. Pogacha is difficult to find in restaurants, but if you have Macedonian friends you should definitely try homemade pogacha.
7. Sutlijash (Sweet rice pudding)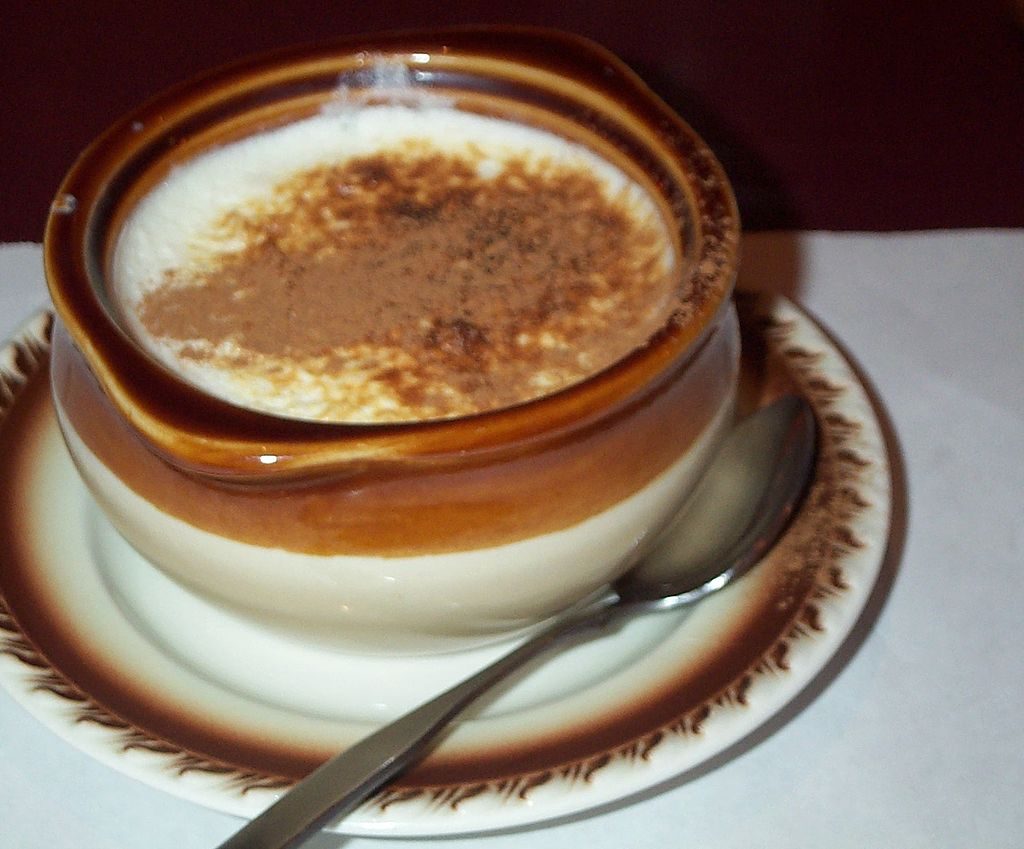 Sutlijash is originally a Turkish recipe, but it was brought to Macedonia during the former Ottoman Empire and it's a very well-known dessert in Macedonia to this day. Sutlijash is very easy to prepare and it makes a perfect family dessert. The rice is boiled in milk and sweetened with honey or sugar and then it's put in the refrigerator to cool. After it has cooled down, it's usually sprinkled with a lot of cinnamon. People like to make it in larger quantities because it tastes even better if you leave it in the refrigerator for a day.
What's Next?
Let me know in the comment section how many dishes out of the top 5 vegetarian food from Macedonia have you tried?