Slow down at Alabama Chanin
In the past year, I have been fortunate to visit Florence, Alabama twice as I follow a personal passion for learning about "Slow Fashion" and hand embroidery at Alabama Chanin's The School of Making. While it may seem unusual to find fashion forward and intricate detailed needle work being taught in a town this small, Alabama Chanin's school is bringing artisans from all around the county to learn more. I consider myself to be lucky, as both times I've attended an event at Alabama Chanin, I have been one of the few that only had a two hour car trip. I've met many others who have drove many hundreds of miles or flown across the country to attend an event at this unique destination.
What makes Alabama Chanin so special? For one, tucked in the North West corner of Alabama, Alabama Chanin, is housed in an old t-shirt factory in Florence, Alabama (a city that was once surprisingly the T-shirt capital of the world). As you drive up and park at a warehouse, you're not really expecting very much. That is, until you step inside. My most recent visit earlier this summer, led me to a T-Shirt workshop and BBQ at their in-house café.
Factory
I arrived extra early and I'm glad I did. Just as they were opening, I got to take in the Factory shop before the crowds got too heavy. This is no ordinary factory. In the front of the shop they showcase their elaborate clothes. To the left are wedding and formal dresses for fine occasions. All items are made from 100% organic cotton jersey and you have to do a double take to realize t-shirt jersey really does make a fine wedding dress. They also have many other lines of clothing for every-day wear. Everything is laid out with a designer's eye- utilizing old signs and simple hanging racks. There is a lot of creamy whites and greys as a backdrop to showcase the beautiful clothes.
Café
As you walk through the shop, there is a café with a farm style feel towards the back of the facilities. Picnic tables and mismatched chairs with fresh flowers in vases are scattered about making it cozy and inviting. Again, this is not your average café, but with food delicious enough to obtain a following of hungry patrons not even there to shop or participate in the classes. These are just locals looking for a great meal. The house made granola with yogurt seemed to be popular as well as the avocado toast. Everything is prepared with seasonal ingredients using local vegetables. It is an easy place to find farm-to-table vegetarian options to sustain you while you shop and learn or simply hang out and work on your own art in the café. In fact, on the first Tuesday of every month the Factory and Café open up for artisans to collaborate and find encouragement in a relaxed atmosphere.
The School of Making
On the other side of the café is The School of Making. Some very accommodating work staff (many who are artists and highly educated instructors themselves) showed us where we could find stencils and additional supplies for the T-shirt making class we were there to attend. Rows of needles, high quality threads, sequins, beads and organic fabric make it not only eye catching but inspiring. We were shown a spot at a very large workstation and I was elbow to elbow with at least 30 others there to learn embroidery and reverse appliqué. The instructor made learning this new skill fun and easy to grasp. Part of what make a visit to this school so special is that it tends to draw a very diverse group of people who are very passionate about their crafts.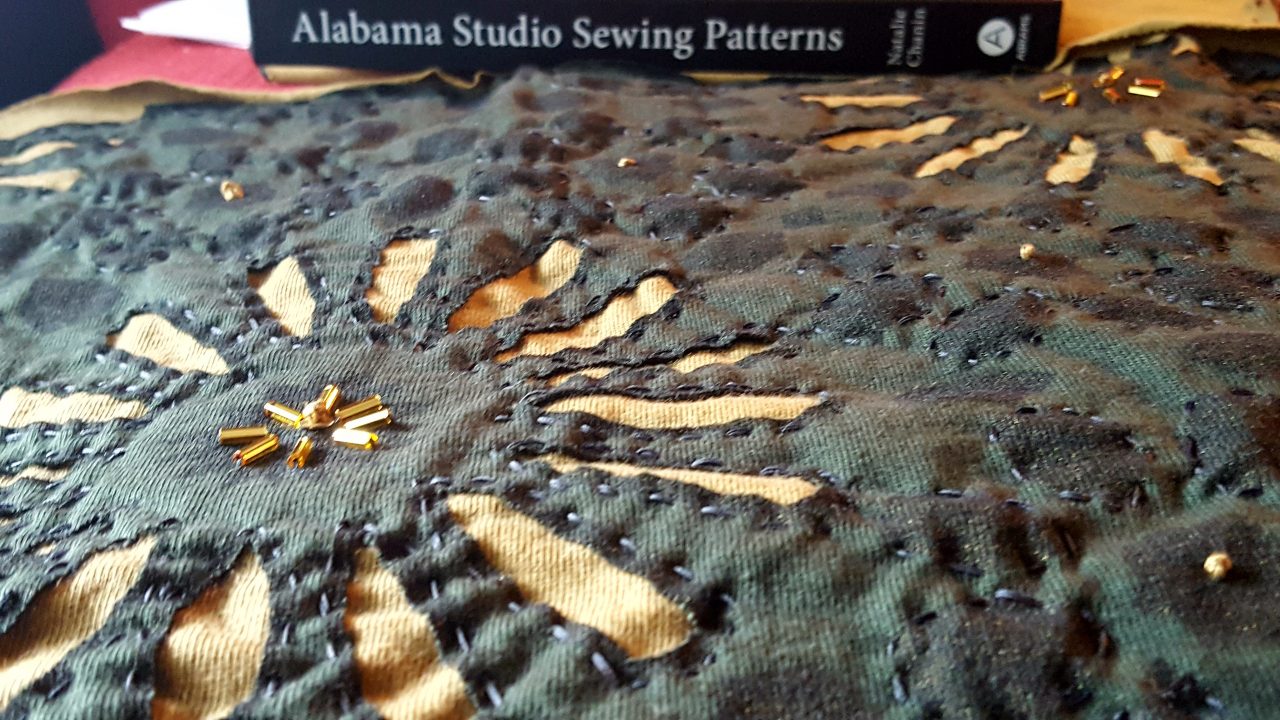 Alabama Chanin prides itself on being a lifestyle company – making sure to produce items that are sustainable, high quality and part of a slow fashion revolution. These items are meant to be handed down through the generations and admired for the attention to detail and craftsmanship- a vast difference from the typical mass produced and machine driven clothes found in supercentres today.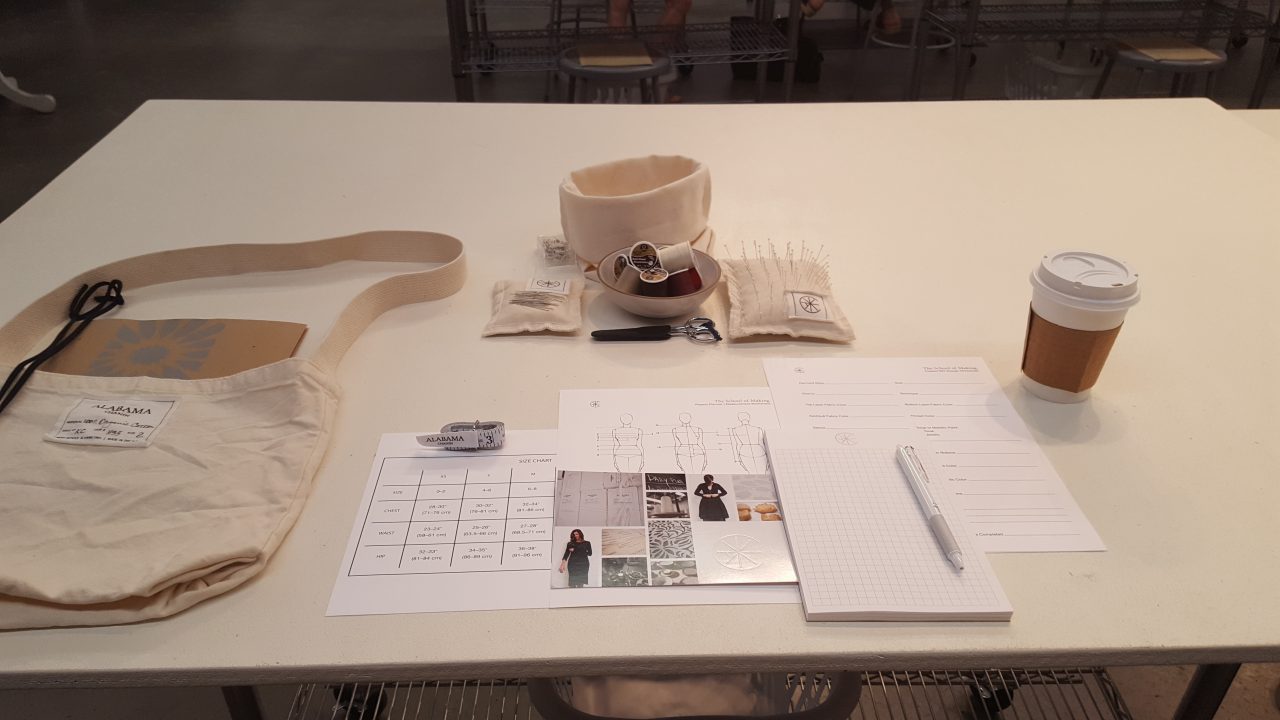 We were encouraged to take our work home to finish, but they don't leave you hanging if you still need more inspiration or help. The School of Making has a supportive Facebook group made up of former students and instructors. If you attend one of these workshops, I highly recommend joining the Facebook group (https://www.facebook.com/groups/tsomstitchalong/ ). People from around the world post regularly where they are with their embroidery skills, showcase completed projects and ask the group for help when they run into problems or have a question about patterns, fabric and stitches. It's a wonderfully supportive online community. Additionally, Natalie Chanin just started offering classes virtually if you can't make it to Florence. These classes can be found at: https://www.craftsy.com/profile/natalie-chanin.
After we completed our workshop, the café served a BBQ (vegetarian options included grilled mixed vegetables, baked beans, potato salad and a really delicious dark chocolate and sea salt cookie) and we all sat together and talked about what we learned. It was fascinating meeting other artists and hearing their stories about how they came to know Alabama Chanin.
When you walk in the facilities, you'll pick up immediately on the higher purpose Natalie Chanin, founder and Creative Director, is evoking with her work and ideas. You slow down right away. Your eyes trail to all the different elements that make this spot distinctive. You slow down to enjoy the farm to table meal. Slow down to listen to the instructors, passionate about what they are teaching in order to create future generations of craftspeople. You take everything in to absorb its beauty. There are many other great things to do in both Florence and sister city, Muscle Shoals, but I would make sure you book plenty of time at Alabama Chanin. This is one place where all things they have to offer – learning, shopping and food simply requiring time to be fully be savoured. More information can be found at: https://alabamachanin.com/